Niche Research Hub: Your All-In-One Guide To Find Your Profitable Niche.
Whether you're brand new to niche research, or want to learn advanced strategies, this is your hub for niche research knowledge.
Overview
If you want to build a profitable online business you should start with niche research.
Creating a website without doing niche research can lead you into a dark world where you might just spend months of work for nothing. So you want to find a niche where you have some real options.
On this page, you'll learn all related to niche research, like how to find a niche market, niche trends, how to find profitable niches with low competition, and much more.
This page is a comprehensive guide and a library of resources to help you learn the fundamentals of niche research to find a profitable niche.
What is a niche market?
First, let's start by explaining what a niche market is. A niche market is a section of a larger market that can be defined by its own needs and requirements, which target particular individuals. Large markets instead focus on a wider audience with broader interests.
Your target audience is very specific individuals with very defined needs and interests when you focus on a niche market.
For example, within the market of cameras, there are many different sections or niches: Action cameras, mirrorless cameras, DSL cameras, etc. All these are market niches and you still can niche down more: Actions camera for motorcycles would be a great niche market example.
There are different ways you can refine a market based on an audience's needs such as:
Demographics: Age, gender, income level, education.
Location.
Interests.
Behavior.
At the end of the day, a successful niche market needs to solve a specific problem for a specific group of people. And the good thing about going niche is that you can focus on solving a specific problem much thoroughly than large market competitors, which reduces your competition.
Ideas to find a niche market.
Although there are many methods you can use to find a niche market, checking Wikipedia to get some ideas might be a great starting point.
This is how to do it:
Step #1. Head to Wikipedia, and in the search bar, type your niche keyword and click on the desired result: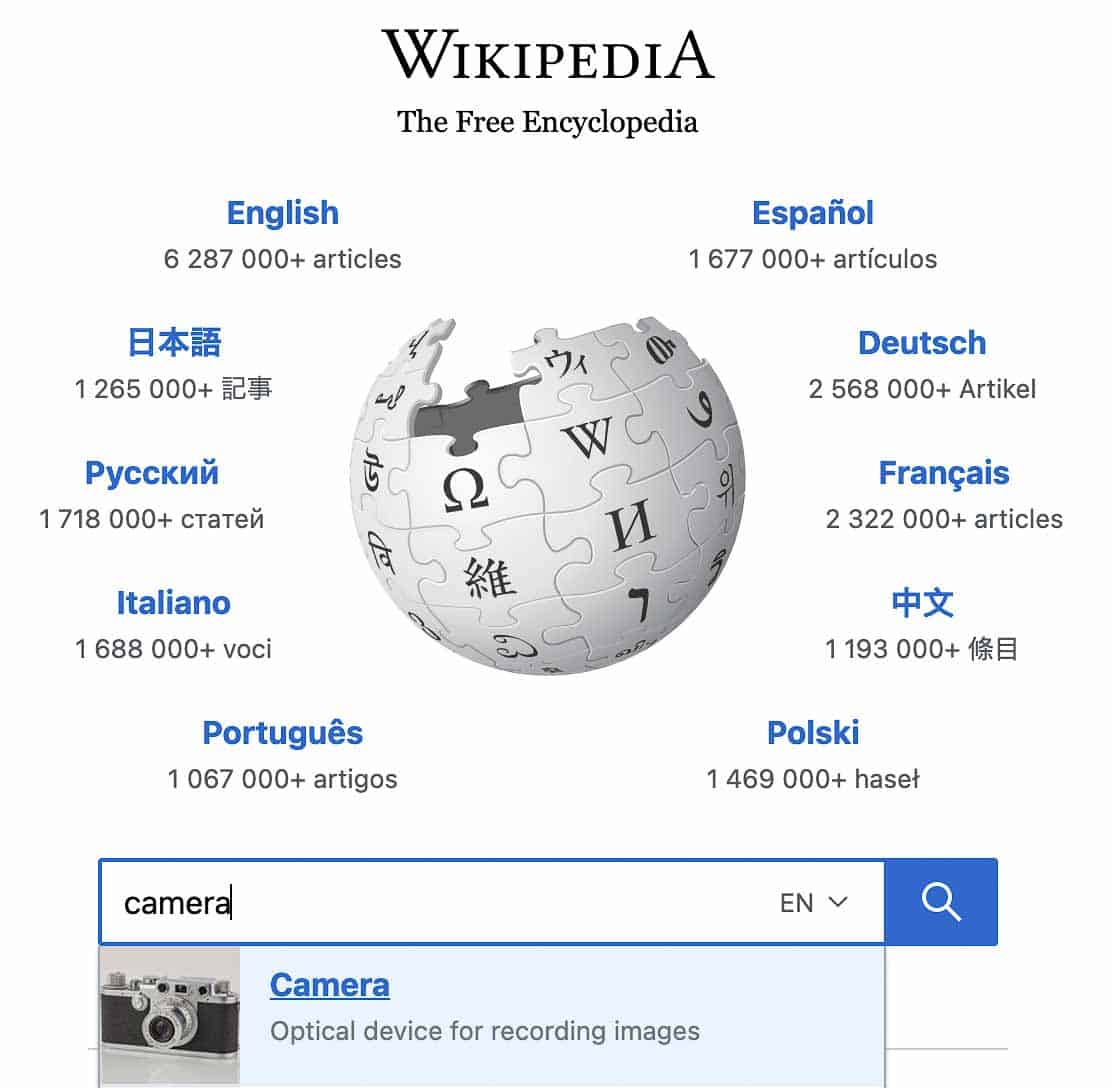 Step #2. Next, skim the page for sub-niche ideas. On some occasions, like this one, you can already find plenty of niche market ideas in the table of contents: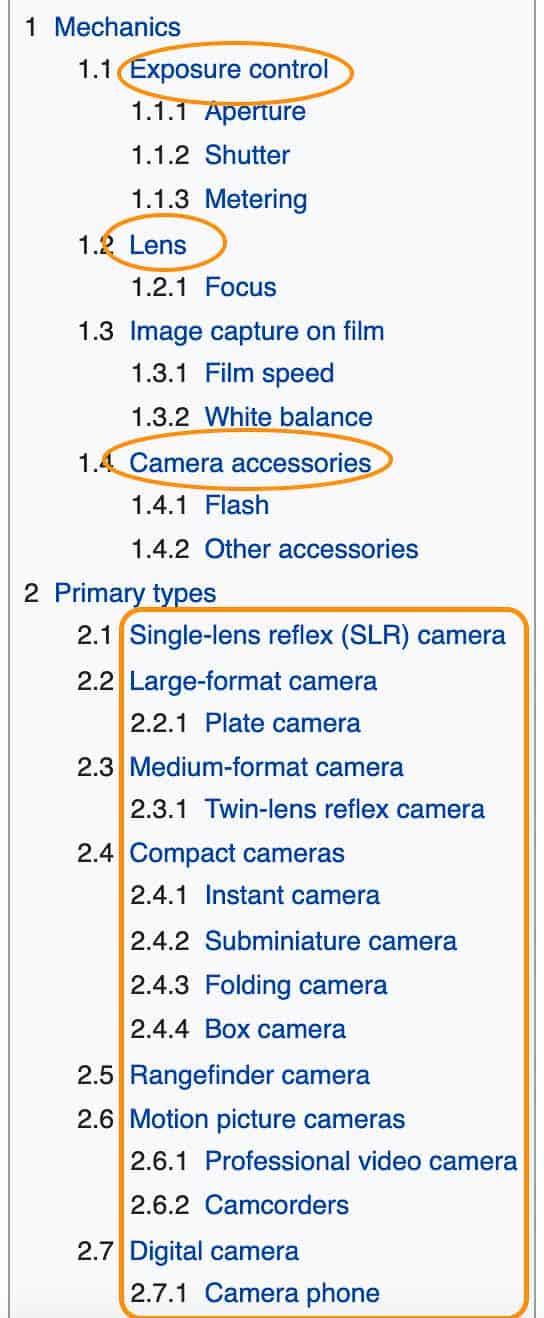 By clicking on the terms with a link, it will take you to even more niche ideas. So this is an excellent method to brainstorm niche market ideas.
You can also complement this method with Google Suggest to find more niche market ideas. All you need to do is to head to Google, start typing in the search bar some of your terms, and Google will suggest some ideas based on what people are searching: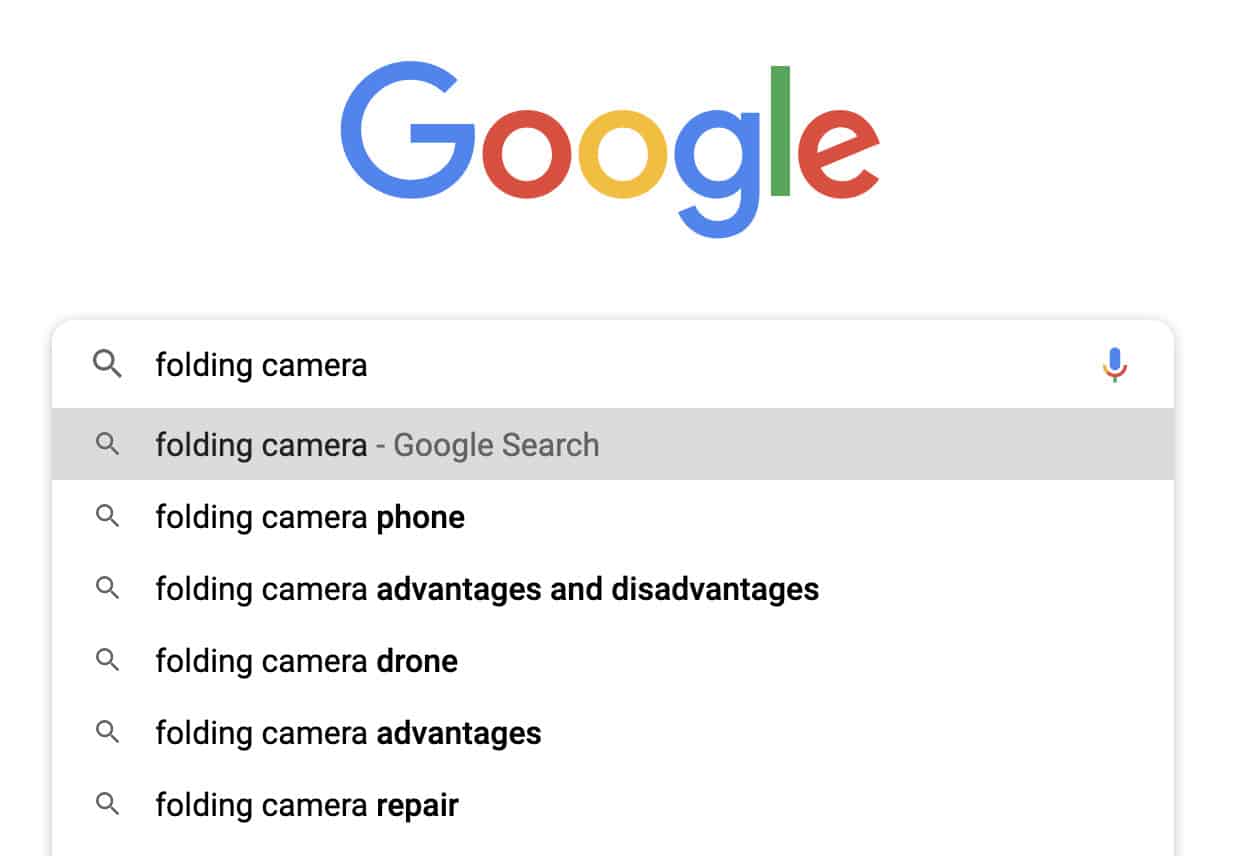 You can even keep niching them down as you type with this method. So this is a very effective and easy trick to find niche market ideas.
Niche market example.
This blog could be a good niche market example.
The Niche Guru (this blog) focuses on one problem: How to find a profitable niche.
Although there are thousands of "blogging" sites that cover this topic, this blog covers this topic in-depth and includes weekly niche reports and hundreds of related topics and tools to help my audience find the right niche.
Sure, larger websites with a larger audience can have great articles to cover this problem. But I provide more than one solution and plenty of resources to help my audience find a profitable niche.
So at the end of the day, if an entrepreneur or agency is struggling to find a niche, they will likely end up coming to my blog instead, simply because I provide a more specific solution to their problem so they can benefit better.
So instead of being a website about blogging, it is a niche website about niche blogging and more specifically focused on helping other people to find a profitable niche. This makes the audience much smaller, but so is the competition.
For more info on this topic, read the full article in the link below:
Niche trends
What are niche trends? And, how important are niche trends for niche research?
Niche trends are the portal to success for any online business. Niche trends focus on the interest in certain topics over time. This will help you identify if your niche idea is growing in interest over time or is dropping.
Checking niche trends should probably be your first step to start validating the ideas you found using the methods explained before. And there is a straightforward method you can use to check trends- Google Trends.
Google Trends is a tool designed by Google specifically for this. So if you want to create a niche business and want to be found on Google, or simply check if there is interest in that niche, this makes sense as the first step.
How to Analyse niche trends.
To analyse trends and validate your idea this is what you need to do:
Step #1. Go to Google Trends.
Step #2. Type your niche or topic on the bar and click on the "topic" result.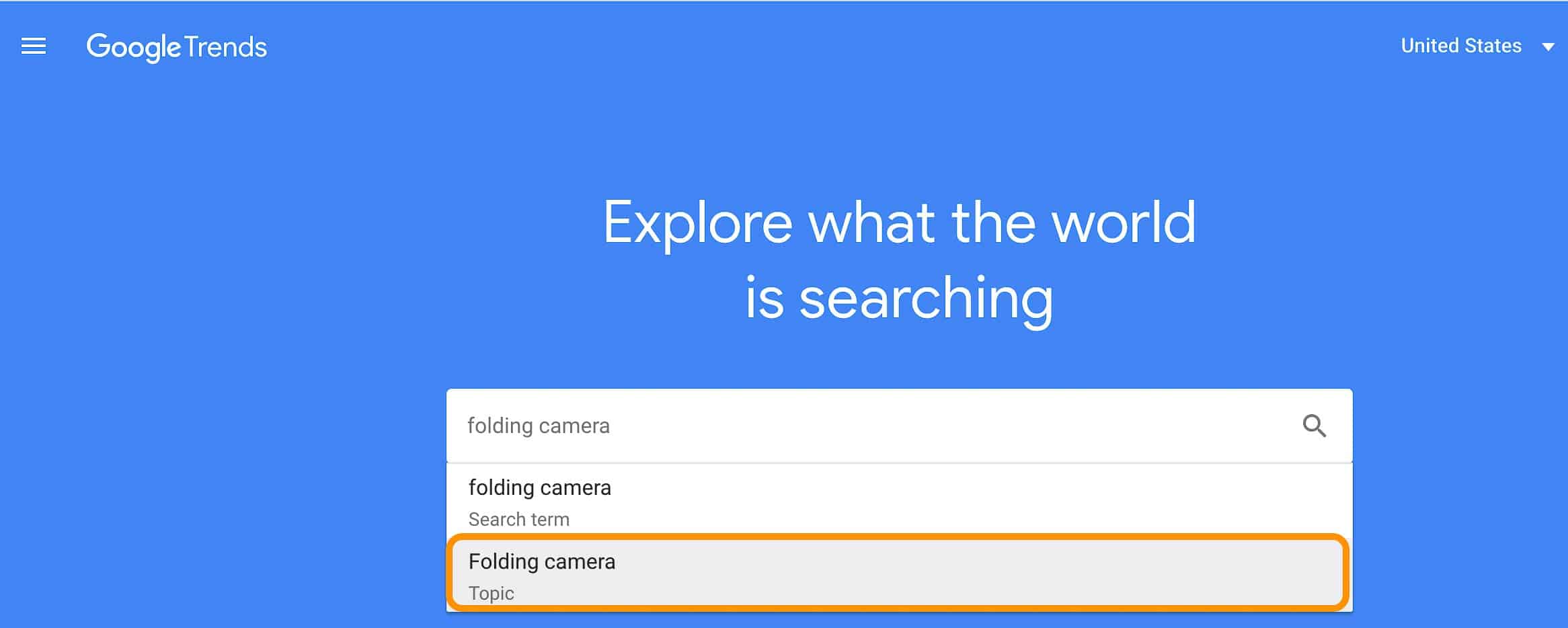 When validating a niche, topics are more relevant than search terms.
When you search for terms, it will show matches for all the words in a query.
When you search for topics, it will refer to a group of terms that share the same concept. So the result is broader.
So you want to focus on topics whenever is possible. However, emerging niches won't probably have "Topics" available yet. In that case, you can use a search term to get an idea about how popular it is and to know if people are looking for it.
Step #3. After you click on your result, a graphic with interest over time will show. Here you can filter by time and categories. I have set it to location "worldwide" and for the past "5 years." This will give you a good idea about the trend evolution.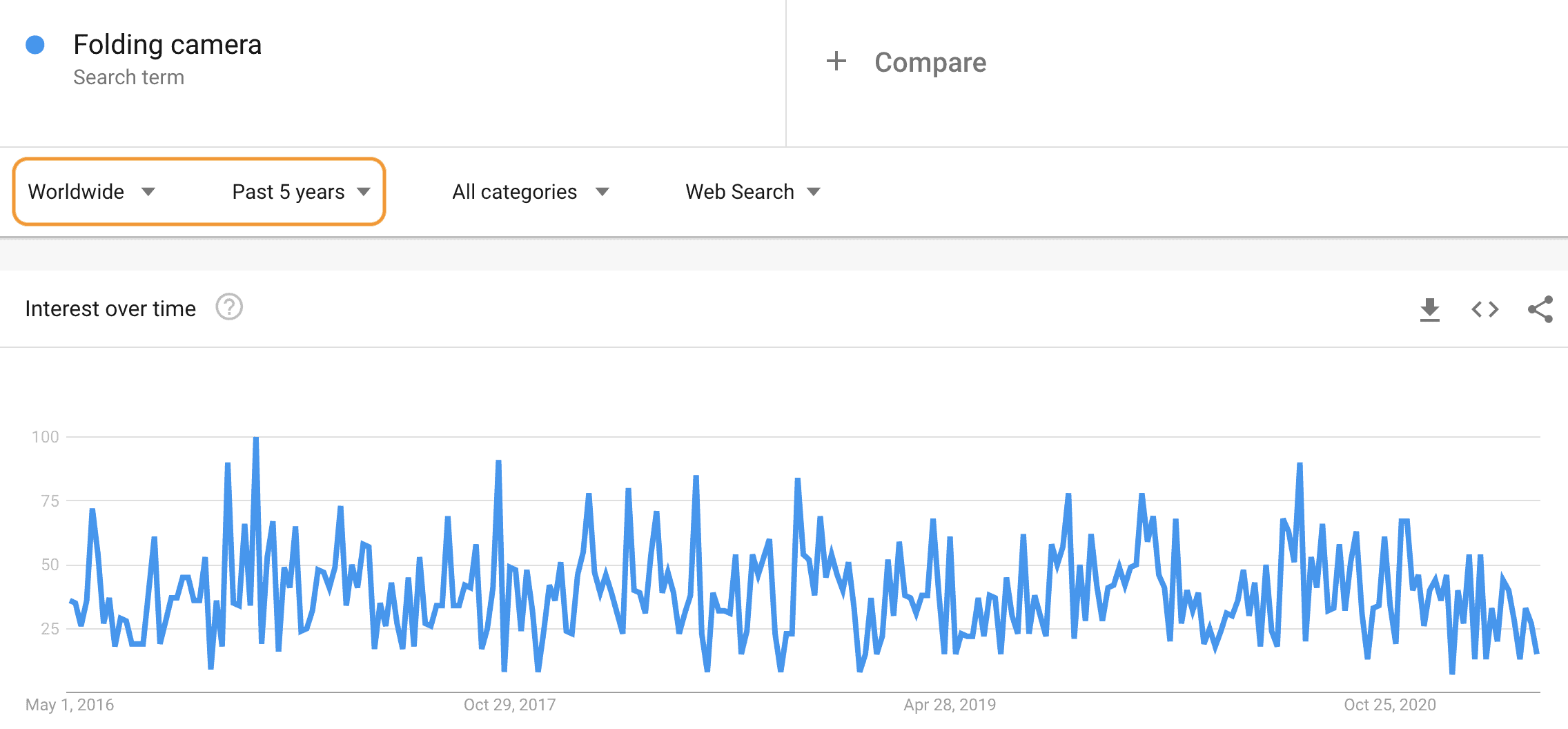 In this example, you can see that the interest in "folding cameras" for the past 5 years has been stable. This suggests it could be a valid niche market to start a new business.
However, there is one important note when checking trends- New trending topics such as new products, new procedures, or new services might not show a big interest over time in this tool. And this is because Google Trends needs time and a lot of data to present these numbers.
So if you think you found a new trend and want to validate your idea, but this method does not work, I suggest you check on popular forums and social media and find if people are already asking for it. That could be a good indicator and can give you some insights about a lack of information that you could fulfill.
For more info on this topic, read the full article in the link below:
Niche Competitors.
When it comes to niche research, finding your niche competitors and analyze them is a priority task.
If most of your competitors are big companies very established in your desired niche, you might want to choose another option. Ideally, you want to focus on a niche where you can get some shares in the market and make it to the Google page one to gain exposure.
Also, by analyzing your niche competitors, you can learn what strategies they are applying. This can be a powerful method to learn what is working for them and might work for you as well.
This is what you need to do next:
1. Identify your niche competitors.
The first step should be to identify who are your niche competitors.
There are two different ways you can find them:
1- Search in Google by niche. This might be the easiest way to find them- all you need to do is to browse Google search results, click on results related to your niche, and inspect the websites. If the results you find are totally focused on this niche, and all their content is about this niche, they are direct competitors.
However, if you click on the Google result but the website has only a few topics covering this niche, this website probably focuses on another niche. It won't be a direct niche competitor.
2- Search in Google by your niche keywords. For this method, just Google search some of your niche keywords. For instance, if you were to create a website on the camera folding niche, you could search terms like 'camera folding equipment,' 'best camera folding lens,' 'camera folding mobile, etc.
Same as before, click on the results and check if these websites are on this niche or is just a one time post.
2. Find your Niche Competitors top keywords.
Keywords are vital to implementing a successful SEO strategy. And the good thing is that you can "steal" some of your competitor's keywords effortlessly.
You might not be able to rank exactly for the same keywords, but at least they will give you an idea of what terms are driving traffic to their sites.
Although the best way to get a list of your competitor's keywords is with a paid SEO tool like Keysearch or SE Ranking (which, by the way, are the cheapest ones in the sector,) you can also use some free tools like Ubbersuggest.
All you need to do is:
Step #1. Head to Ubbersuggest and type in the search bar one of your competitor's domain and click "search". For this example, I will check Dronerush, a website about drones.

Step #2. Scroll down to the 'SEO keywords' section. Here you will find a list with the keywords driving most of the traffic. You could even use some of these keywords as a niche market like 'race drones' for instance.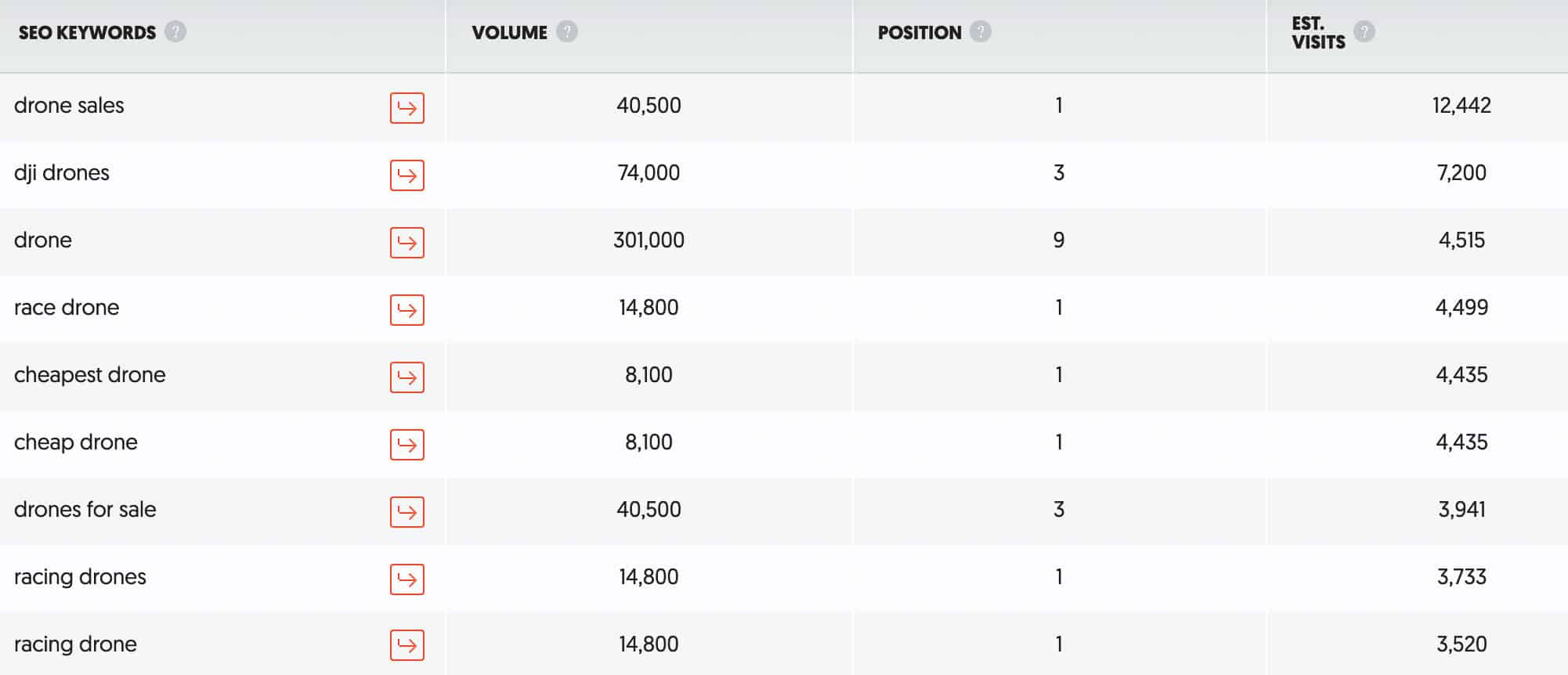 This is a great way to find both market opportunities and keywords that you could potentially use to drive traffic to your site.
Free SEO software has some data limitations though. With tools like SE Ranking you could get a much thorough report very rapidly: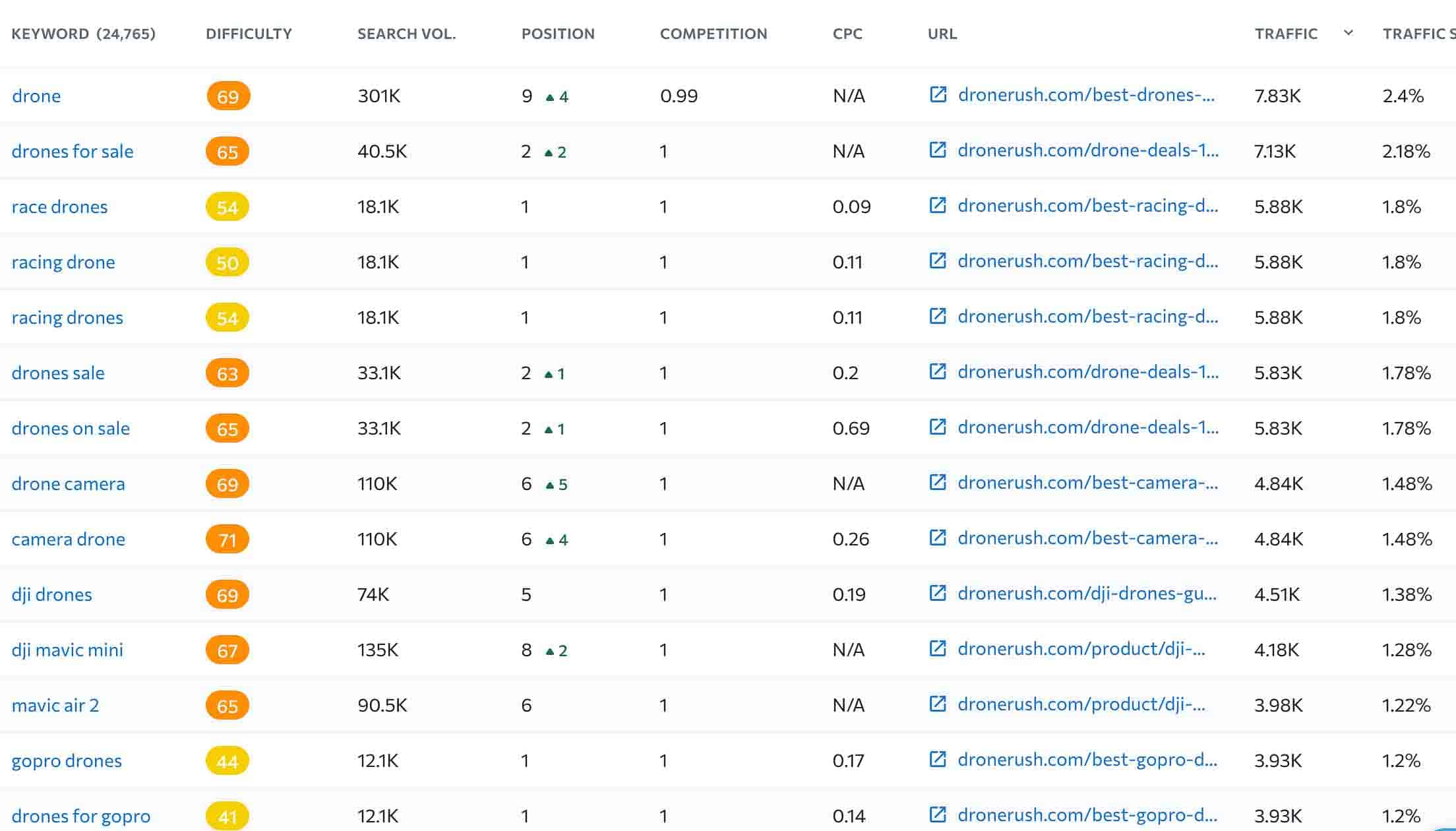 When you are starting a blog, you shouldn't go for keywords with a lot of competition. Start by checking if there are any keywords with low competition from your competitor's list.
If not, you can always create SEO silos to improve your chances of ranking for competitive keywords.
Alternatively, you can use keywords with a lot of traffic as a specific niche market. This will remove some of your competition, and you can focus on a targeted audience and will be able to find less competitive terms.
3. Analyze your competitor's Content.
Checkin the kind of content your competitors publish is a great method to learn how they attract their audience and how they monetize.
Some things you want to pay attention to are:
How often they post content?
What kind of content do they write about?
How are they engaging with their audience?
How do they convert their readers into subscribers?
How long are their blog post? 500 words? 2,000 words?
How do they monetize?
These can be some useful questions that can help you greatly. You might learn some good strategies you can apply to your website by doing this. Also, you should try to improve whatever they are doing to "steal" some of their readers.
Content is the main aspect to analyze in your competitor's website- Check if they focus on listicle or how-to articles, for instance, if they use more videos than images and things like that. They probably have already optimized their strategy and use what works the best. So why not taking advantage of that?
My personal advice is to analyze every aspect, write them down in a list, and then create something better. Generating better content than your competitors is the best way to get rankings and an audience faster.
4. Analyze How They Drive Traffic To Their Site.
Most of your competitors will likely be using SEO to drive most of the traffic. But that does not mean it is the only strategy.
A very easy and effective way to check how you competitor is driving traffic to his site is by using Similar Web.
All you need to do is:
Step #1: Head to Similiar web, type your competitor domain and click 'Search.'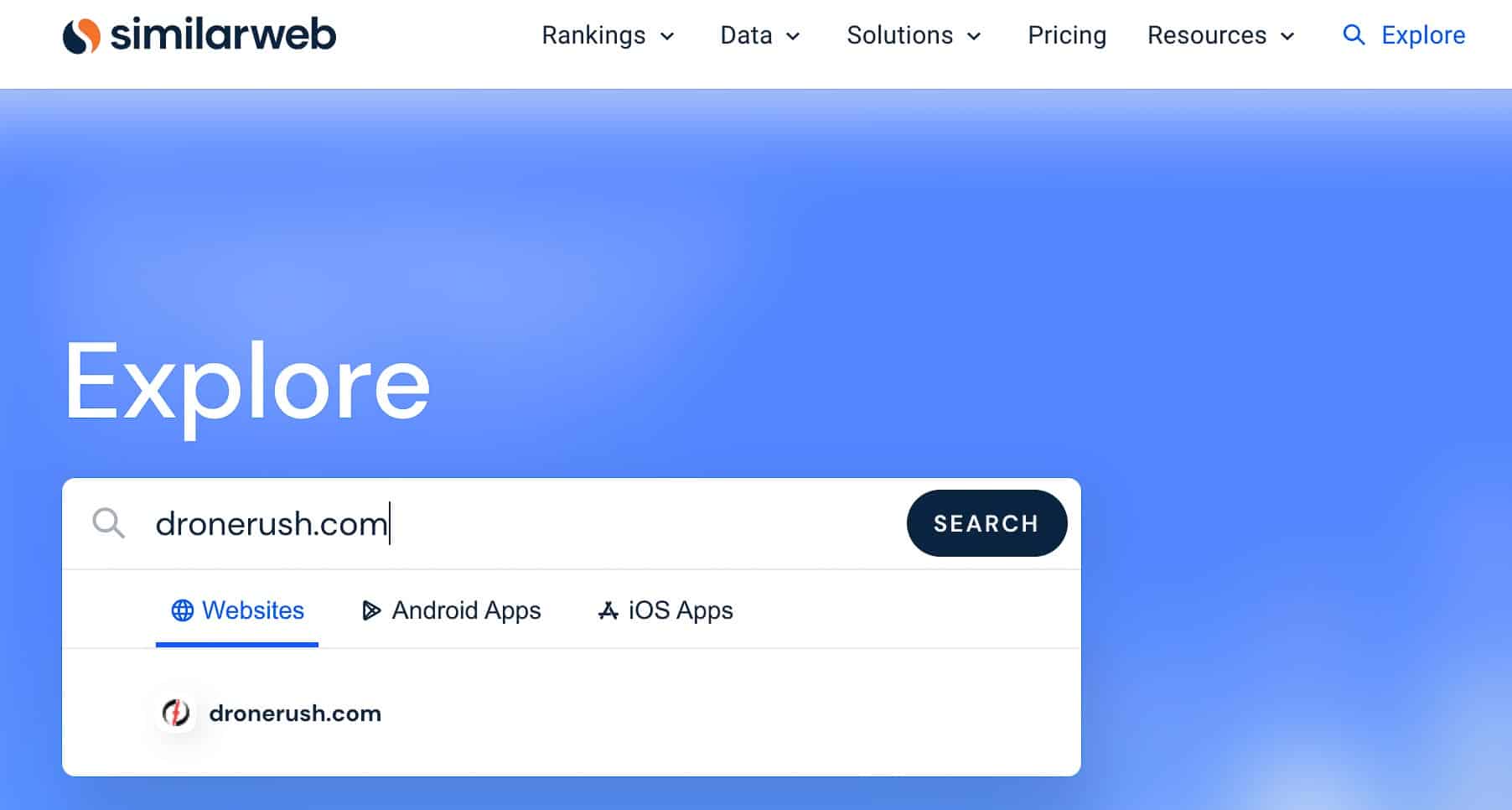 Step #2. Scroll down to 'traffic sources' and you will find how they drive traffic to their site:

For this example, you can clearly see that most of the traffic is search traffic (organic.)
If you keep scrolling down, you can also find which keywords are the top 5 driving traffic, top referrals and which social networks drive most of the traffic:

In this case, Facebook is what drives most of their social media traffic. Although it is clear they clearly focus on organic traffic.
In conclusion, if you use these 4 methods, you will have a better understanding of what kind of content to create, keywords you should focus on, main traffic sources, and even some ideas on how to monetize your website.
For more info on this topic, read the full article in the link below:
Niche keyword research.
Another critical factor in your quest for niche research is niche keyword research.
What is niche keyword research?
Niche keyword research is when you target particular long-tail keywords that pertain to a narrow industry. When you target these long-tail keywords, your content is more specific, attracting a more targeted audience and removing some competitors from high-level markets.
When you are starting an online business, niche keywords can impact your SEM (search engine market) strategy. They normally tend to have less search volume and are less competitive, which gives you a chance to rank for them.
How to do niche keyword research.
To perform niche keyword research, you are going to need an SEO tool.
Although there are some free SEO tools that you could use, they have some serious limitations. Also, if you want to have a real shot with organic traffic, you will need a proper SEO tool. So my personal recommendation is that you use one on the lower end but powerful enough to start with, like Keysearch or SE ranking.
For the purpose of this article, I will teach you how to do niche keyword research with a 'free' tool like Ubbersuggest. The method is exactly the same for any SEO service or tool you use.
1. Brainstorm keyword ideas.
Most of the current SEO tools come with a 'brainstorm module,' which provides you some keywords suggestions as you type.
First, head to Ubbersuggest Keyword ideas module and type your keyword.
In Ubersuggest, type your keyword idea directly in the search bar, and click 'search.' A list with plenty of keyword suggestions will appear.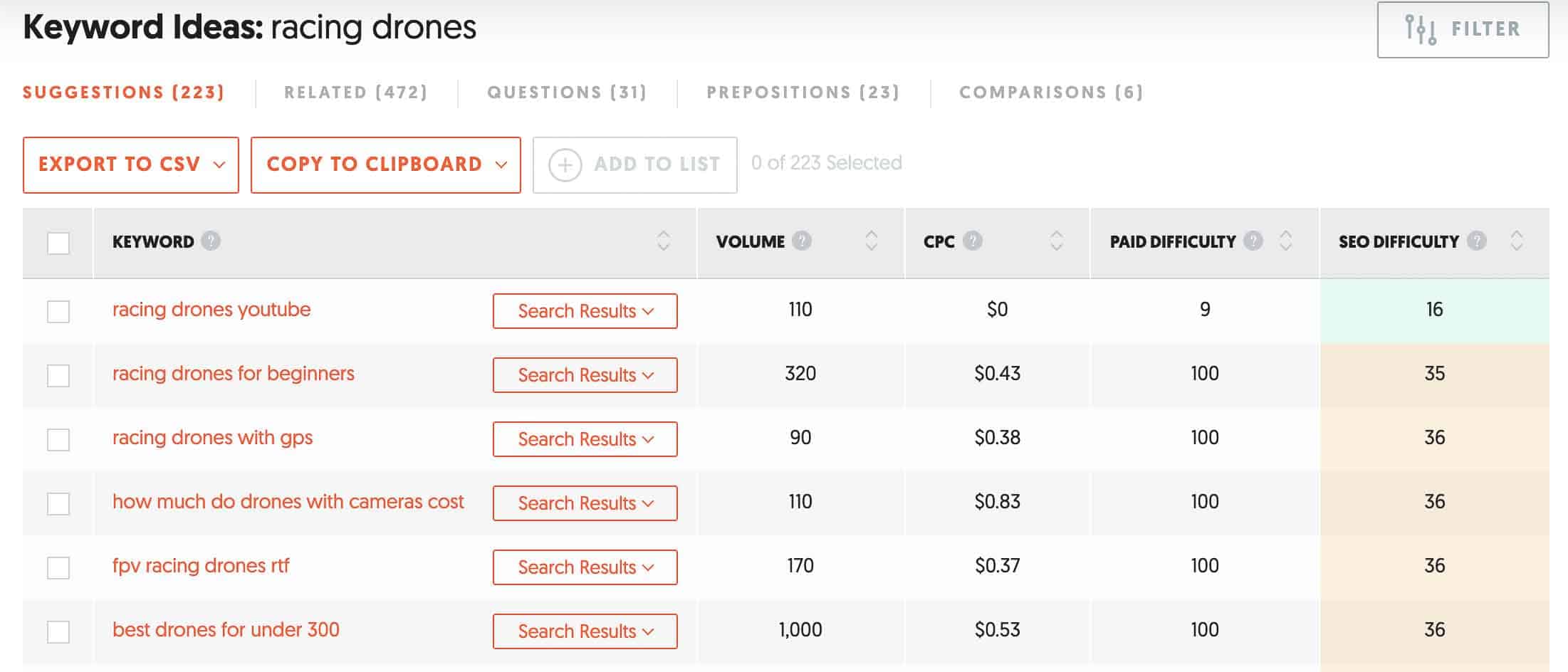 You can even filter by SEO difficulty or any other value by clicking on the top of the column.
This is a great method not to only find some keyword ideas, but also to find directly keywords with low competition.
If you use any other SEO tool, the keyword research module will likely provide you with keyword suggestions and related terms. So just write down a list with all the keywords you'll want to target.
Some other methods to brainstorm keyword ideas involve researching forums and social media platforms where your targeted audience gathers. You just need to inspect them thoroughly and maybe even search by keywords to find out what people are asking about, and maybe you can create content about it and even come back later to share a link to your article with this audience.
2. Refine Your Niche Keyword List.
Once you have a list of keywords, you'll need to refine your list.
When refining your list, some of the factors you need to consider before choosing a keyword are:
Volume: Search volume shows approximately how many searches Google is getting for a particular keyword each month.
CPC: (cost per click) shows how much advertisers are bidding to get their ad shown on Google when that keyword is searched. The higher this number, the more money it's behind it.
PPC: (pay-per-click) It's an advertising model for the internet in which advertisers pay for publicizing their products on a website or search engine. Each time users click on the ad, they will be guided to the advertiser's site.
Score or SEO difficulty: The score is to know how difficult it is to rank for a specific keyword. Every tool has its own difficulty score, which is calculated slightly differently, but generally, they provide good enough guidance to know if you should pursue a keyword or not.
Refining your keyword list will be complicated if you use a free keyword tool since these free tools offer severe limitations when it comes to keyword research.
You still can do it with Ubbersuggest for free as long as you stick to three searches per day, which is nothing. Also, find the SEO score of Ubbersuggest quite off compared to any other tool.
Still, if you want to go ahead and check it Ubbersugest for free, all you need to do is to type your keyword in the search bar and hit 'search.' Alternatively, with the keyword ideas list we got previously, we can filter by SEO score: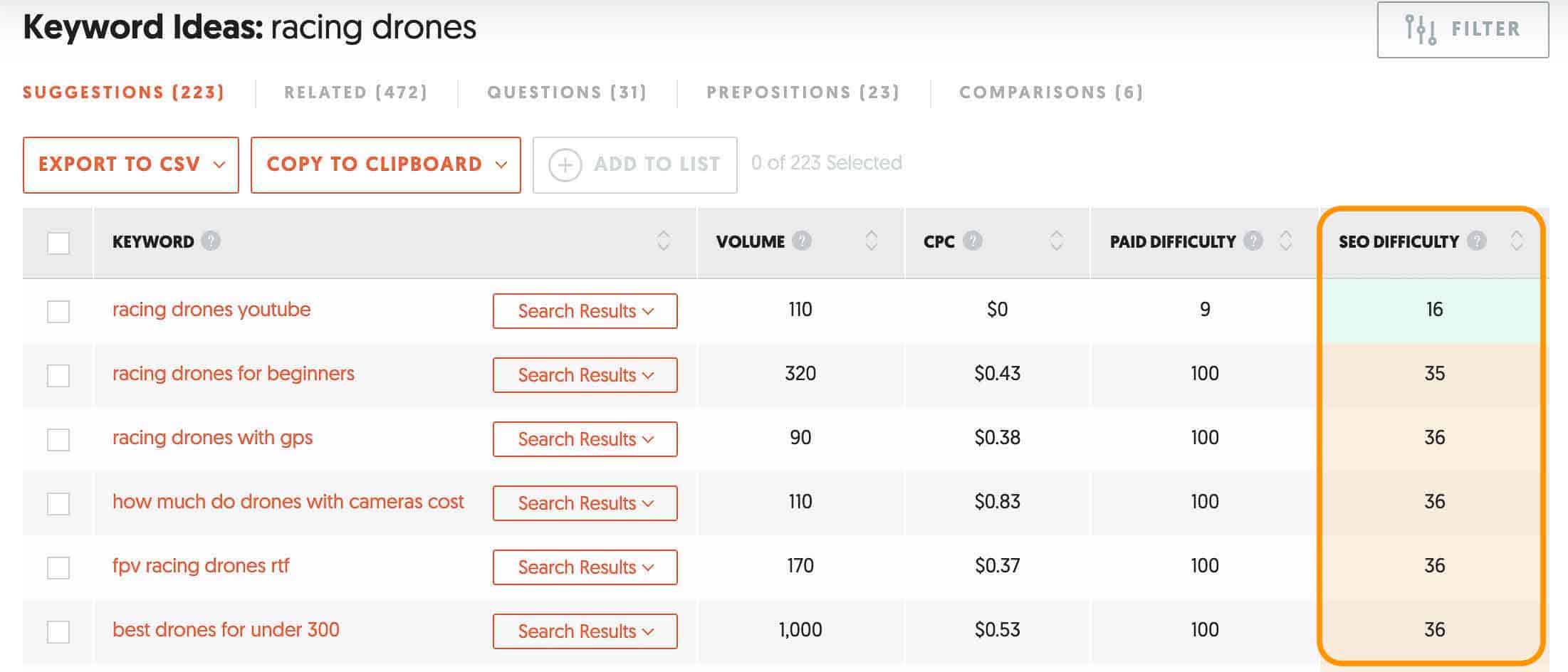 Next, you can click 'filter' at the top right and set some parameters to refine your keywords. This will help you filter for less competitive terms still with search volume: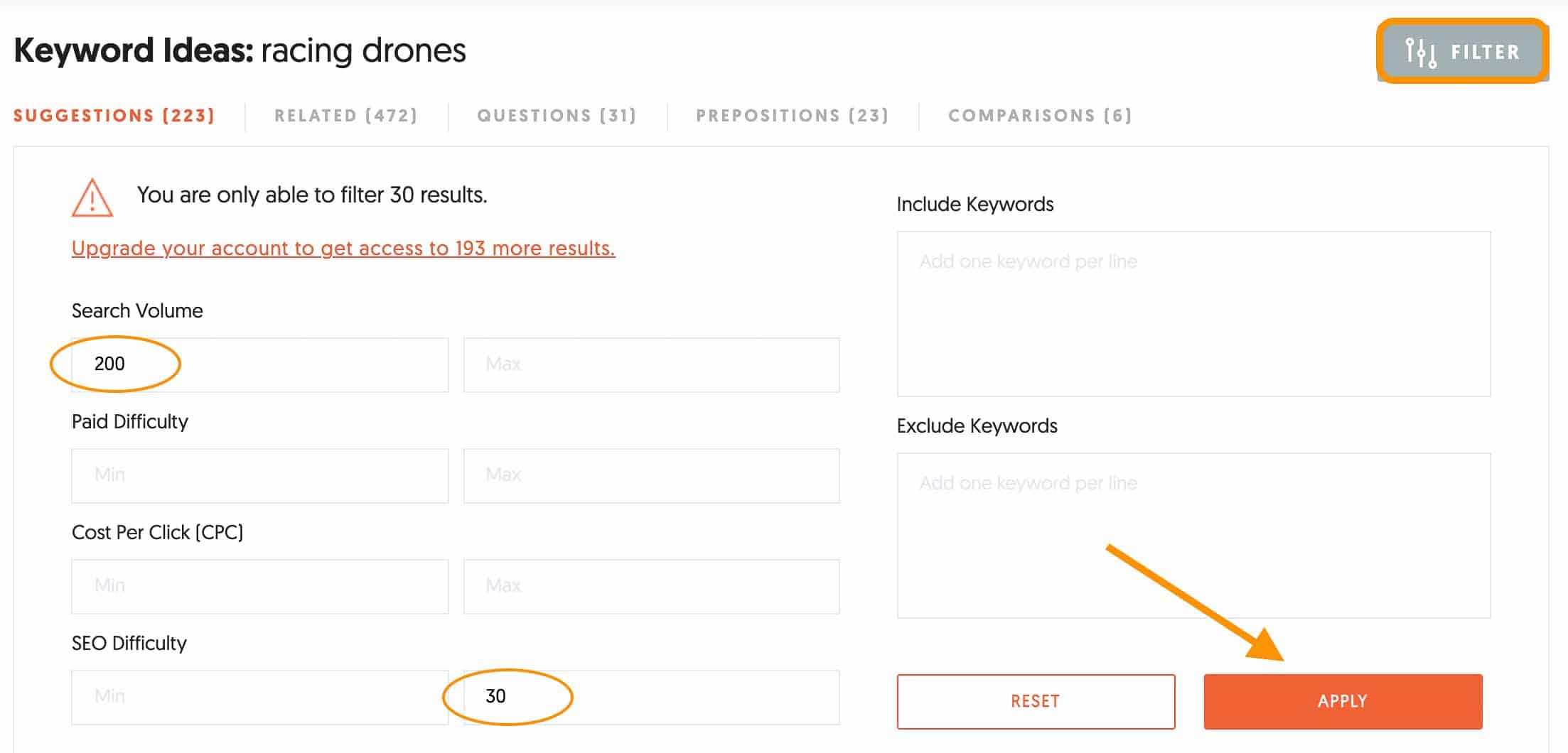 For this particular example, Ubbersuggest did not through any term with these conditions. However, I performed the same search with SE ranking and Keysearch, and this is what I found: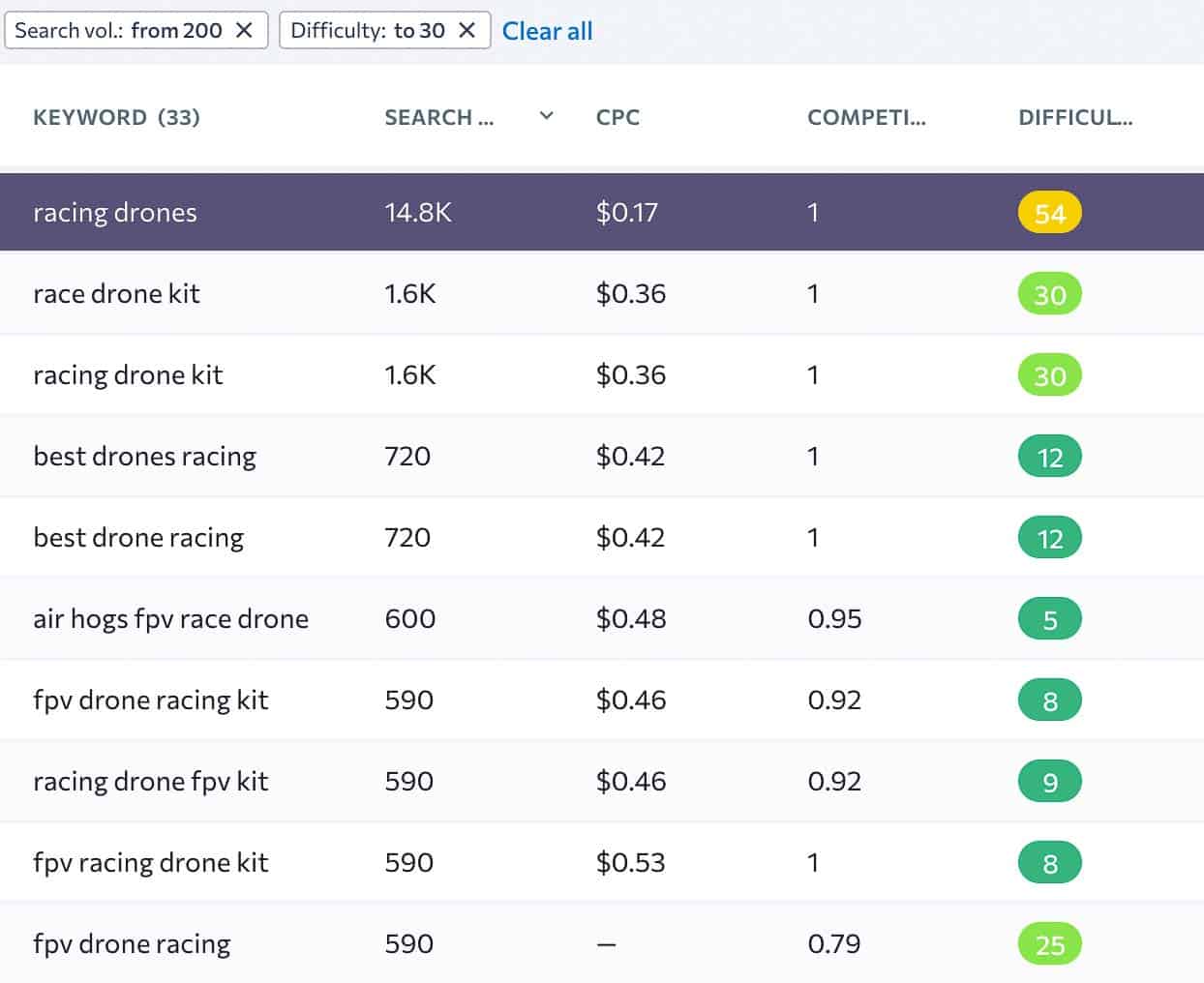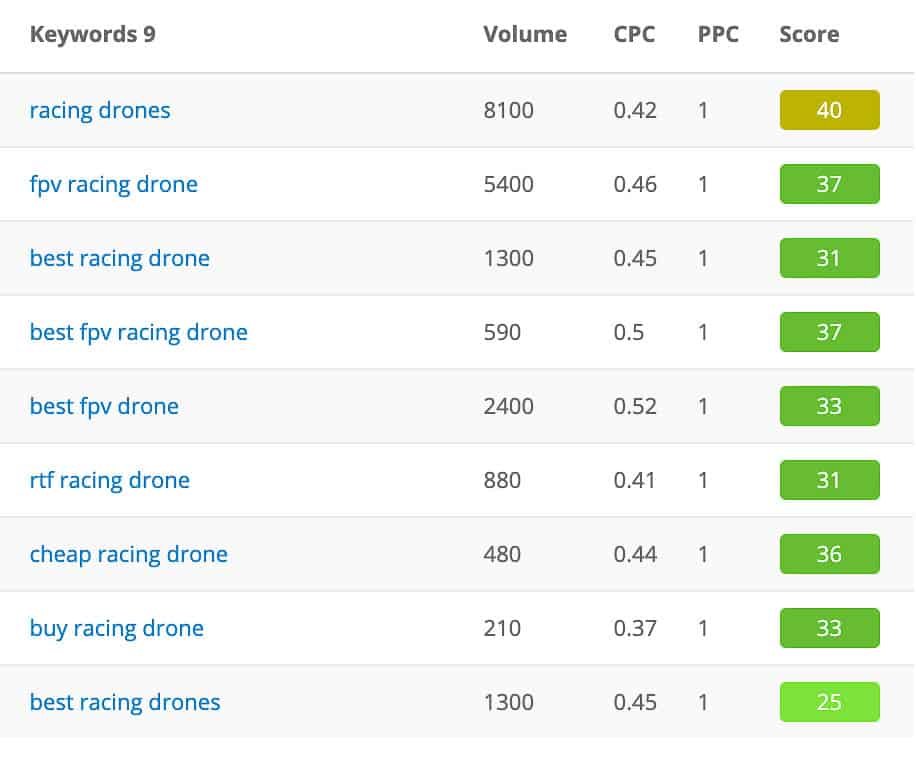 So as you can see, every tool will provide you different results. you just need to try different alternatives until you find keywords with good search volume and a low SEO competitive score.
Your goal is to develop a list of keywords with reasonable search volume, commercial value, and low competition. Once you have all this, you can start planning your content creation strategy.
You can learn more about keyword research with Keysearch in this guide.
3. Plan your content strategy.
Your keyword research strategy does not end with your list of keywords. Next, you should create a content strategy that allows you to grow your traffic and authority.
You should divide your list of keywords in two piles:
Keywords for your cornerstone content. These should be the most complete and thorough articles on your website. They should cover a topic in depth. Aim for 2,000 words at least.
Supportive content. These should be long-tail keywords related to your cornerstone content. The idea is that each section of your cornerstone article should be supported by an extended version. Aim for 800 words at least.
Once you have your list of keywords ready, I suggest you:
Create content silos. These would be your cornerstone pages and you should use the keywords with the largest search volume. When possible, try to avoid very competitive words. This is an example of how to do this.
Set up a content calendar. Try to be consistent and post at least once a week. For instance, you could post once a week if you create cornerstone content, and twice a week when targeting long-tail keywords.
Define your goal for each piece of content. Every piece of content you write should have a goal: Get subscribers, drive traffic with informative content, sell something, click on affiliates, etc.
Create your buyer persona and write your content accordingly. When you write especially to your buyer persona is when you attract targeted customers which will convert more easily. Click here to create your buyer persona.
In summary, to successfully perform niche keyword research, my recommendation is you get an SEO tool. It will make the process much easier. Also, planning your content strategy is a must and will help you maximize your keyword opportunities.
For more info on this topic, read the full article in the link below:
How to find a niche market.
In order to find a profitable niche market, you will need to put together all you have learn from the previous sections:
Brainstorm niche market ideas.
Validate your niche idea.
Study your niche competitors.
Perform niche keyword research.
1. Brainstorm niche market ideas.
In the previous sections I showed you how to brainstorm niche market ideas. There are also a few methods can help you with your niche research. And what of the most powerful to find relevant content are forums and social media platforms.
People are constantly discussing issues or asking questions about specific topics on different platforms. You just need to pay attention to popular threads and check why they are popular. Maybe there is a brand new product people don't know how to use. Or maybe there is an issue that people are not sure how to solve, and you can fill the gap.
Try to look for a "popular issue" within the community, and your product or service could be the solution to that problem.
Some of the best places where you can start looking for ideas are:
Facebook Groups: Type in Facebook's search bar a topic and press enter. Then in the filter column on the left-hand side, look for groups and click on them. These groups would be a gold mine of ideas for a topic.
Reddit: Type in the search bar a topic and press enter. Sort the results by "top" and you'll find the topics where people are more interested in
Quora: Type in the search bar a topic and press enter. Now scout through the different results and check the ones with more answers. These would be the ones people are debating the most and worth checking for ideas.
2. Validate your niche idea.
Once you have a list of keywords and topics, you can easily validate them with Google Trends.
The great thing about this tool is that you can even compare several ideas in parallel to help you decide.
For instance, let's say that our niche ideas are drone cameras, action cameras and 360 cameras and we put them together in Google Trends.
There are a few things we can learn from the graphic below:
All the trends are very stable and have a good number of interest over time.
Drone cameras seems to be the one keeping interest over time, with spikes during Xmas season.
Actions cameras are also very stable but interest has slightly dropped after 2018.
360 cameras started very strong, but also lost some interest after 2018.
It is interesting to see how by 2022 all the trends are quite similar. So they all seem valid niche ideas.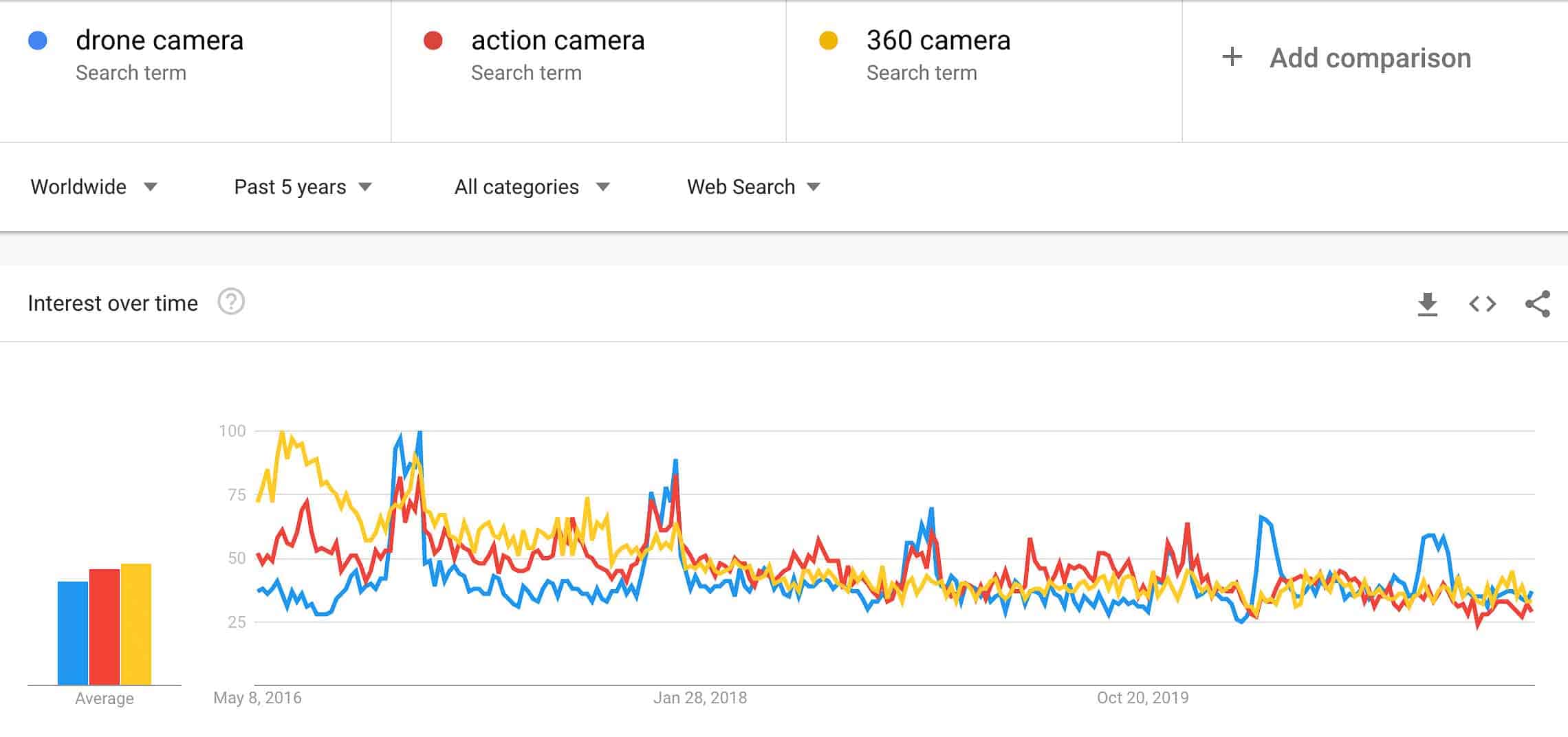 Before deciding on them, you'll need to find out how the competition is in these niches. These still are very high-level niche categories, so I can anticipate the competency is probably tough.
3. Study your niche competitors.
The simplest way to find your competitors is by Google search your niche keywords. Let's say I decide to go for the drone cameras niche.
Then, I'd go to Google and type drone cameras, and click search.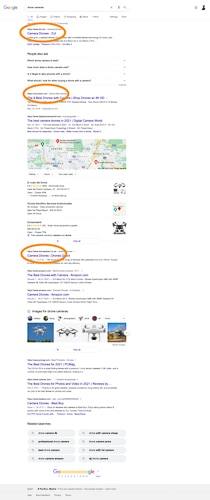 In this initial search I can observe two things:
There are 3 direct competitors whose primary business are drones on Google's page one: DJI, UAVcoach, and DroneDirect.
The rest of the results are big established companies that sell drones like Amazon, Best Buy, and big websites like PCmag and Digital Camera World.
You don't want to compete with big brands- They will resources to position their content you simply won't have. Also, it is important to check your competitor's domain authority to find out how established they are:
Step #1. Head to WebsiteSEoChecker and introduce your competitor's domains and click check: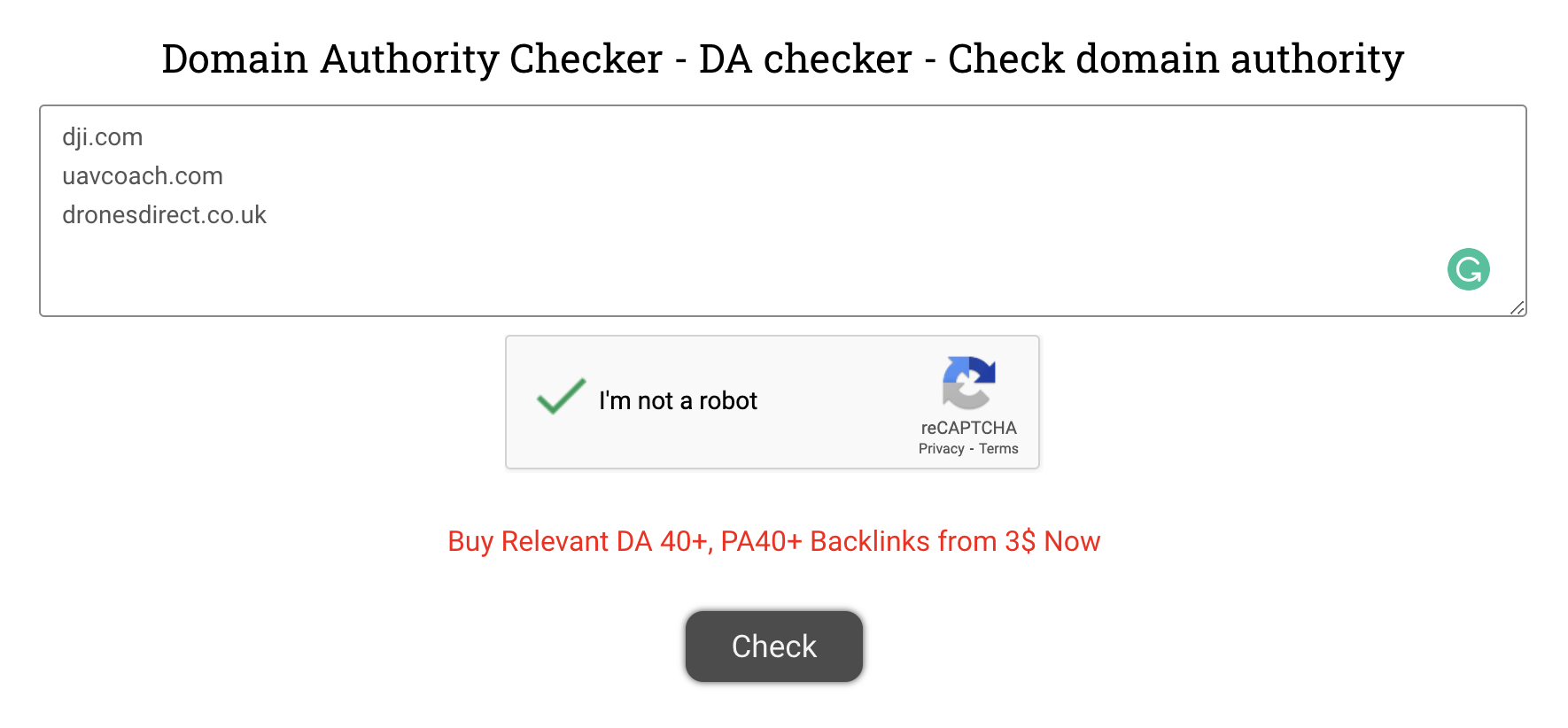 Step #2. Next, check the domain authority and age columns to get an idea of who you'll be competing with. In this case, they all are aged websites with a high DA, which will make it difficult to outrank them.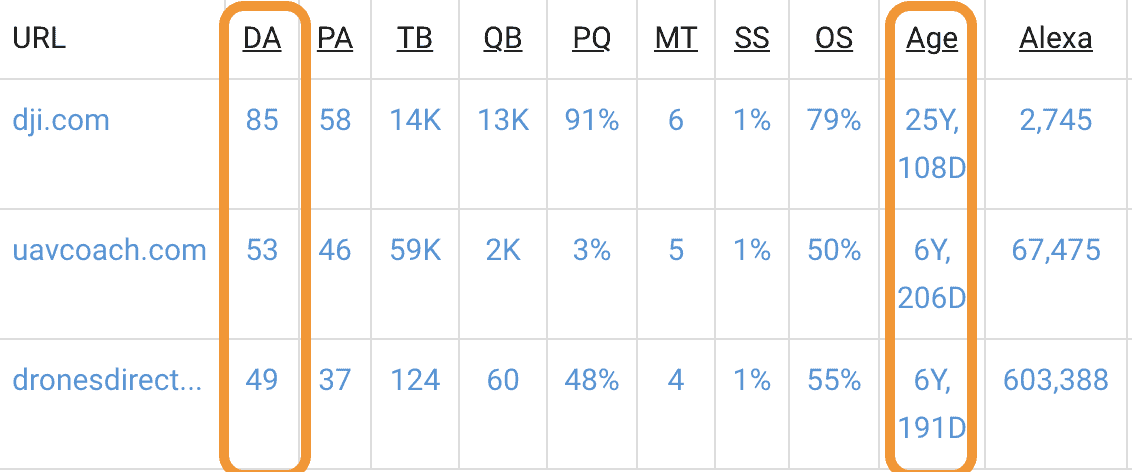 In cases like this one, niching down a level always helps to remove big competitors. Instead of 'drone cameras' which is a broad term for drones, I will try 'drone for travel' and let's see what we find: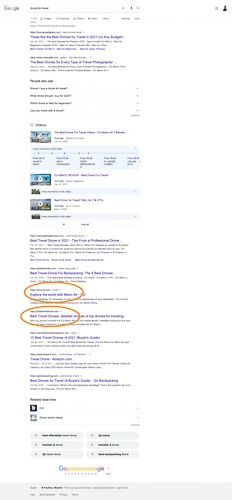 Now this is a massive change. From all the results, there are only 2 direct niche competitors. Also, there is no sign of other big brands like in the previous example.
DJI (DA 85)
And Best Travel Drone. (DA8)
This is already a great improvement. This means that if you stick to creating content about drones for travel, you might be able to make it to Google page one.
That is why studying you competitors and niching down are great strategies to increase your chances of succeed.
4. Perform niche keyword research.
The last step is to create a list of keywords with low competition for your content strategy.
In the previous section you can see how to do this in detail.
For this example, let's say your niche are 'drones for travel' and you want to create a list of keywords. You will need to find keyword ideas and then check the SEO difficulty:
Step #1. Head to Answer The Public and type your niche keyword. It will provide you a list of keyword ideas: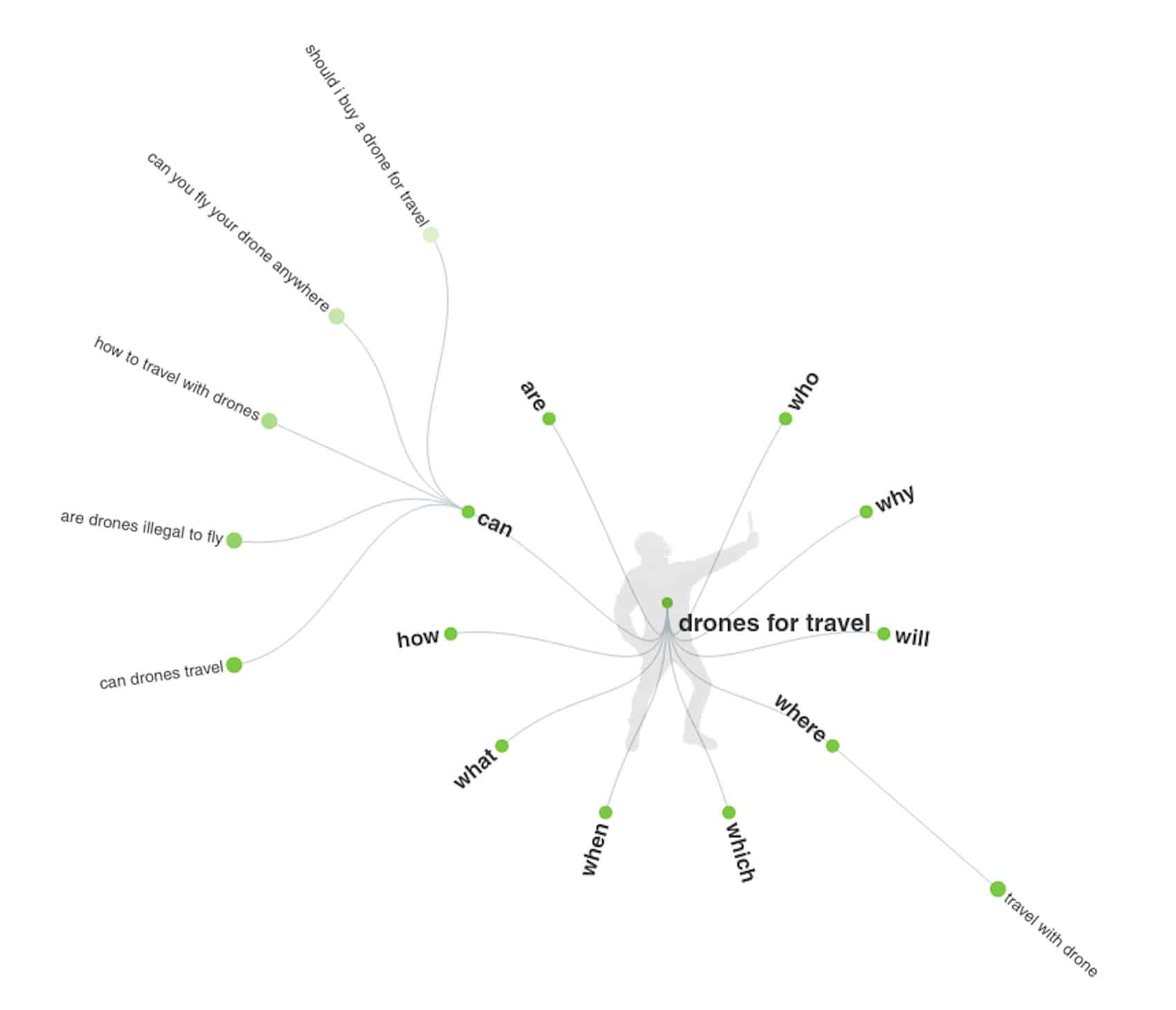 It generated some very interesting keyword ideas like:
can drones travel
are drones illegal to fly
how to travel with drones
can you fly your drone anywhere
should I buy a drone for travel
As you scroll down you will find more suggestions.
Step #2. Through these keywords into your SEO tool to check for SEO difficulty and search volume. You might struggle to find accurate search volume data for long-tail keywords with more than 3 terms. So I suggest using the filters in your SEO tool to find several options with a single search.
For instance, I will check for 'how to travel with drones' and will set the filter to a minimum volume of 200 per month and SEO difficulty less than 40:

When I click to apply the filter, I managed to get a list with 6 amazing keywords in no time!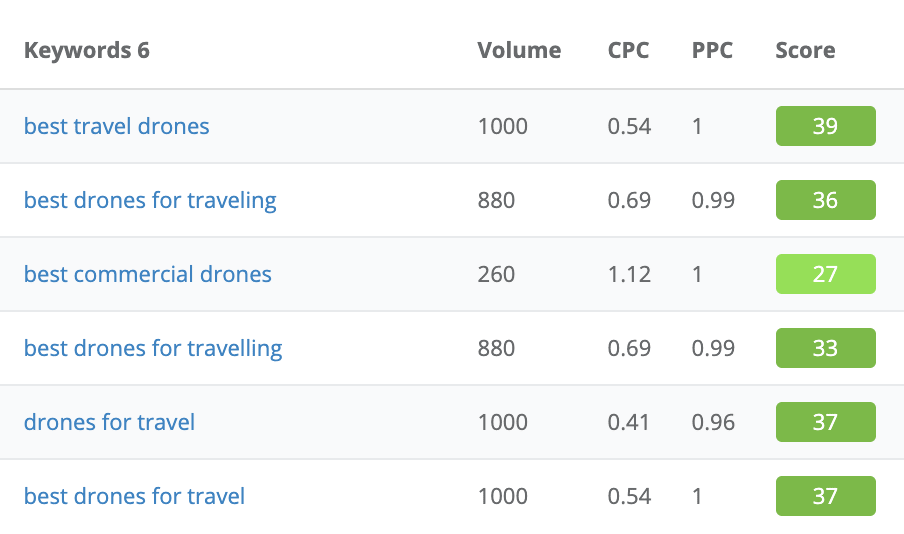 Step #3. Rinse and repeat. Ideally, you need to develop a big list of keywords, especially if you have not created your post categories yet. This will prevent messing up your website structure in the future. It will also help to get an idea of how to build your SEO content silo.
Profitable niches with low competition.
What Makes A Profitable Niche Market?
A profitable niche is a niche with demand. It is a niche in which people are already buying a product or service. And that is what a clever niche marketing strategy is about: To sell something that people are already buying.
First, you need to find a pain point and put a solution to it in the form of a product or service. It should be something that people will be willing to spend their money on. For instance:
People who love photography will normally read reviews before buying a new camera or replacing them. They need to know they are investing their money properly. So the solution to this problem would be to create a website focused on camera reviews.
People with tiny houses will be looking for furniture and ideas to help them maximize their space. A solution to this problem will be a website providing tips and resources to make the most of tiny houses.
You need to find a niche you'll be comfortable writing about and look for specific solutions within that niche. If you manage to do it efficiently, the money will follow.
If you already have some knowledge about a topic or a passion, that would be a great starting point.
How To Find Profitable Niches With Low Competition?
If you want to find profitable niches with low competition, you should always try to niche down and going micro-niche.
A mistake most first-time online entrepreneurs make is that they want to build the biggest and greatest website in the entire world. One that has reviews and information on any product you can think of. "Like Amazon…but better." Although that might be possible, the resources to make that happen are huge! So you need to set up a realistic plan.
The best niche markets are those where you look at a broad niche that is working, but you dig down into it. You should aim to dig enough to find a sub-niche or micro-niche within it.
Let's take the example of the electronics niche. It's huge, but the competition is fierce. If you decided to go this way, you'd find yourself competing with massive brands like Amazon or MediaMarkt. Instead, try to focus on something specific targeting and smaller and detailed audience. A low competition niche will make it easier for you to dominate that specific market.
Competing in broad niche markets is entirely possible, but competing in super-focused niches is just easier and more profitable. It's also a lot less work for attracting free search engine traffic, which should be one of your top objectives.
When you manage to niche down enough , your traffic will grow slowly but steady, your competence is smaller and your income will start sooner.
10+ Profitable Niches With Low Competition.
Although the list of niches below are already profitable niches which are making money, the competition can vary with time as they become trends.
Fonr instance, keto diet used to be a niche with very low competition 3 years back, and now it seems everybody has a keto diet blog.
If doing your niche research, you find that the niches below are too competitive, just go down one level, and I am confident you'll find your spot.
Some low competition niches in 2022 which are making good money are:
Wearable Technology
Home Security
Glamping
Online Dog Training
Maternity Clothing
Eco-Friendly Products
Vanlife
Garage Gym
Vegan Recipes
Massage Chairs
Drone Photography and Video
Resume Services
Crossfit at Home
For more info on this topic, read the full article in the link below:
List of niches.
In this section, I will provide you with a list of niches from different industries to help you find your profitable niche market.
Also, you will find a list of niche reports I add every Wednesday with plenty of useful information. I will perform niche research about a specific topic and create a report including:
Market.
Niche Trends.
Niches Ideas.
Niche competition.
Monetization tips.
List of niche ideas.
List Of Niche reports- Including Trends, ideas, and monetization tips.
Did you enjoy this article?
I've put so much effort into writing this comprehensive guide to provide value to the blogging community. It'll be very helpful for me if you consider sharing it on social media networks.
Share it on social media!
Need help creating a profitable niche website?