Are you on the hunt for the perfect Amazon niche to make money selling products?
Well, you are not alone. Amazon leads the ranking of the most popular shopping apps in the United States. Only in September 2019, 150.6 million mobile users accessed the Amazon app. With those crazy numbers is not weird entrepreneurs are using Amazon to make money online.
The problem is the actual number of people trying to profit from Amazon.
So whether you want to monetize via Amazon affiliate marketing, Amazon FBA, or dropshipping, the competition is brutal.
If you want to stand a chance, there is only one thing you can do: Find a profitable Amazon niche with low competition.
This is totally possible, and I will show you how to do it in this post, so keep reading!
*Disclosure: I only recommend products I would use myself, and all opinions expressed here are my own. This post may contain affiliate links that at no additional cost to you, I may earn a small commission.
What is an Amazon niche?
An Amazon niche is a specialized segment of the Amazon market for a particular product.
In other words, an Amazon niche is when you focus on a specific sub-category to reach a particular audience. By doing this, you will be removing some of the high-level competence, increasing your chances of succeeding.
For example, "Eyes Cream" would be an Amazon niche. The high-level niche would be Beauty and Personal Care > Skincare > Eyes Creams. If you were to sell 'eye masks,' you would be more likely to sell them to an audience interested in eye creams rather than an audience interested in beauty and personal care since it is broader and they might not be interested in eye products specifically.
Moreover, when you perform amazon keyword research to find niche products to promote, you will find way more opportunities with fewer competitors when you niche down.
That is why finding a good niche on Amazon is probably the easiest way to sell on Amazon. And choosing a profitable amazon niche is your first step toward success.
Amazon niche examples.
A good niche should have a good balance between search volume and profit. It is specific enough to convert targeted customers but broad enough that it allows you to make good monthly revenue.
Some good Amazon niche examples could be:
Baby wipes and holders
Hairstyling products
Pet Supplies
Beard Care
These Amazon niches could work well because they all are popular products that need to be replaced and are affordable. So people won't think much when buying them.
On the other hand, bulky and expensive products are harder to sell. Moreover, if you choose a competitive niche, you might struggle to make a profit.
How to find the best Amazon niches.
There are a few effective methods that can help you find the best Amazon niche for you.
Since you want to find a profitable Amazon niche, what better way to find it than checking on Amazon itself?
In fact, there are several ways you can use Amazon to find some ideas.
Amazon Best Sellers.
This is where you'll find the products with more demand.
Step #1. Head to the Amazon Best Sellers page. Then navigate to the menu on the left and click on the category you are interested in.
Step #2. As you click on a category, other subcategories will open down. This is a fantastic method to find the best sellers in each category, allowing you to find your profitable Amazon niche.
In the image below, you can see that "Espresso Machines" could be a potentially good niche since thousands of people are buying this product. You could even niche down another level and focus on Manual Espresso Machines or any other kind of espresso.
Amazon Movers And Shakers
This page will show you products that have performed the best in the last 24 hours.
Step #1. Head to Amazon Movers and Shakers page. Then navigate to the menu on the left and click on the category you are interested in.
Step #2. Click on a category to see the best-selling items in that category.
Step #3. Lastly, click on the item more aligned with your niche category. For instance, if my niche were Power Strips, I would click on the second item.
At the top, you will find all the different categories (niches) to which this item belongs to. This is a great method to find Amazon niches that have popular items which might be less competitive.
Lastly, you can also use Amazon Most Wished For page, similar to the other examples above. This page highlights products that many people have added to their wishlists, so you can also find Amazon niches where people are interested.
Amazon Search Bar (Amazon SEO)
Step #1. In the Amazon search bar, type your niche idea and hit search. For this example, I'll use "cat litter."
Step #2. Set the filter to "Avg. Customer Review."
Step #3. You will be able to find the best-selling products within your niche keywords easily. These are products with thousands of reviews and great valuations, which makes them great niche products.
This example shows that pet supplies could be a good niche idea. And within this niche, cat litter seems to be one of the best-selling niche products.
Once you have a list of your Amazon niche ideas, you will need to validate them and ensure they are not too competitive.
The most efficient way to do this is with niche keyword research. And to do it, you will need an SEO tool.
For this example, I will SE Ranking. This is a very affordable and powerful SEO tool that will help you find your niche keywords easily. And what is best is it includes a 14-day free plan to use it and assess if it is worth it.
Step #1. Head to SE Ranking and click on the Keyword Research module at the top.
Step #2. Type your niche keyword and click analyze. For this example, I will use "Cat litter."
Step #3. Next, you will see the difficulty score, search volume, and CPC information. In most cases, the high-level term will be very competitive. Like in this case, with a score of 70, cat litter can be a very competitive term. However, remember this is a niche idea rather than the product itself.
Now we'll focus on finding low, competitive products for this niche. Simply scroll down to similar keyword ideas, and click on "view detailed report."
Step #4. Next, click on the filter button and set your values. I have set to maximum difficulty to 40 (medium difficulty) and a search volume of at least 100 per month. When you are done, click on apply filters.
Step#5. Lastly, you will see a list of keywords with these requirements. For this example, I got 1,185 results matching my criteria. You can also sort them by difficulty, search volume, CPC, or competition.
As you can see, this is a very powerful method to find Amazon niche ideas and also less competitive products.
Tips for finding profitable Amazon niches.
Look for products with a good profit margin. You must account for shipping, advertising, Amazon fees, and other similar charges. You can use an FBA calculator or any of the recommended tools below. Usually, anything above 15% is a good margin to work.
Select niche products that do not suffer from seasonality. The ideal product guarantees a stable turnover, allowing you to anticipate stock changes. The only acceptable seasonality is the peak sales during the holiday season, but try to stick to products that sell well all year.
Focus on new products or products without much competition. Competition is a good sign since it means there is money behind it. However, it can also make it impossible to rank for a certain product. I recommend using Jungle Scout to find less competitive products seamlessly.
Choose the right product size. Small and lightweight products sell better than heavy and big products. It makes sense if you think of it from a logistical point of view since they are the most expensive to handle and deliver.
Spy your competitors. This will give you insights into what products work best and their best-selling products.
Amazon niche finder.
There is even a faster and more effective way to find your Amazon niche. And that would be with an Amazon niche finder like Jungle Scout.
With Jungle Scout's opportunity finder, finding your Amazon niche could not be easier. It pulls data directly from Amazon.com and sorts it all by the filters that you select. Using that information, you can find niches people are most interested in.
This is how you can use it to find your niche:
Step #1. Head to Jungle Scout and select a plan. No worries, they offer a risk-free 7-day money-back guarantee, so if you don't like it or it is not what you expected, you will have your money back, no questions asked. Also, you can start with just one month.
Step #2. Once you have your account, log in and head to the opportunity finder.
Step #3. Use the filters to find your ideal Amazon niche.
Pick categories that are easy to deal with. For instance, nonrestricted categories, categories easy to manage without many returns, and categories with small products rather than large ones.
Set 'Average Monthly Units Sold' to 200 – 500 units per month.
Slide 'Competition' to 'Very Low.'
Set 'Average Monthly Price' to $18 – $50
Slide 'Niche Score' to 7 or higher.
Click the 'Exclude Top Brands' box.
Step #4. Next, you'll see hundreds of awesome keywords pop up. There will still be some branded searches in there, but look past those, and you'll find some real money-makers.

Validate your Amazon niche idea.
Although the method explained before with a keyword research tool will help you validate your niche idea, there is a more straightforward method to do it.
For this method, all you need to do is:
Step #1. Login on your Amazon account.
Step #2. Open the Jungle Scout's Extension on a keyword results page to learn more about potential Amazon product niches.
For instance, let's check for "Glass Weather Predictors."

Step #3. When the search page is open, click on the "JS" button to the right of your Google search bar to bring up Extension. Within seconds you'll have access to plenty of information, including:
A niche's average monthly sales
Its average sales price
Its average reviews
Opportunity Score
All of the search page's products listed
Step #4. When looking at Amazon's data, try to find products with an average monthly sales of 300 units between the first ten products on the list. You also want a good average sales price, something between $25-$50.
Step #5. Next, you want low competition, which you can estimate with reviews. Usually, if there is an average of fewer than 100 reviews, that's a pretty good sign that competition is on the low side.
Step #6. Finally, if you're not sure, Jungle Scout's Opportunity Score will rate the niche on a scale of 1 to 10, with 1 being "avoid like the plague" and 10 being the "holy grail" of products. A 6 is pretty good, but a 7+ is preferred.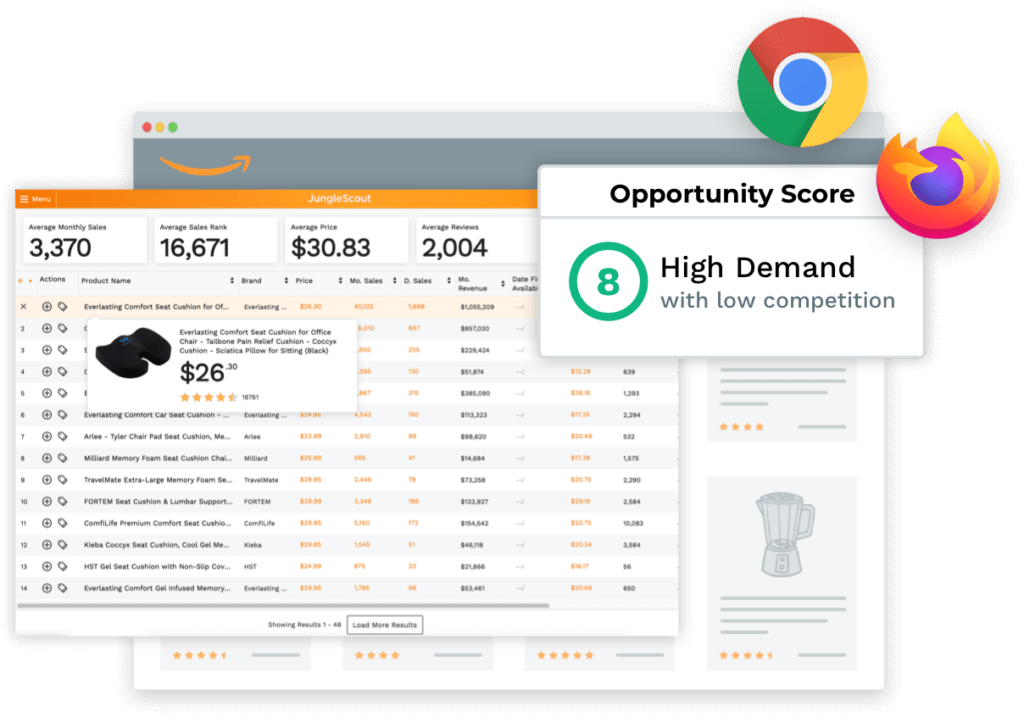 amazon product research.
When looking for niche products to sell on Amazon, there are some characteristics you should focus on.
If you are a novice seller, regardless you are using Amazon FBA or Amazon affiliates, leave the big products to big names. Instead, focus on products that make your business easy.
Characteristics of good niche products that you should promote are:
Small, robust, and lightweight.
Products priced between $10-$50.
Private label products can be less expensive to purchase because they don't come from big names, meaning higher profit margins.
Low competition – providing a chance to enter the market.
These criteria help you conduct instant research and make the product research task less overwhelming and daunting.
Most of the time, Amazon buyers don't buy bulky, expensive, and branded products impulsively. So it's crucial to opt for small, lightweight, and robust products, which fall into the impulse buy category.
Some tips that will help you perform thorough Amazon product research are:
Use An Amazon Keyword Research Tool.
Find Low Competition Keywords Triggering Product Ads On Google
Use WatchCount To See What EBay Products Sell.
Use Amazon Search And Amazon Reviews To Find Product Market Gaps.
Search Alibaba For White Label Products.
Check Amazon Best Selling Categories.
Use Source Mogul To Find The Best Product To Sell On Amazon.
Reverse Engineer Top Industry Amazon Affiliate Publishers.
Research Trending Topics On Google Trends.
Power Browse Amazon Listings With A Chrome Extension.
For detailed information about each of these 10 steps and how to do them, visit the best products to sell on Amazon FBA.
The 10 Best Amazon Niches in 2023.
Pets have always been an important part of life for many people, and after Covid, even more.
Even though the pet supplies trend has not changed much, the trend for both dog supplies and cat supplies has notably increased. This creates a perfect business opportunity for an Amazon niche where you can provide disposable products and items that pet owners need to buy recurrently.
Some of the best-selling products in pet niches are:
Dog hair remover
Dog training collar
Pet harness
Cat bed
Cat litter.
Pets were not the only increase during this pandemic. The baby niche also has a lot of potential. And more, taking into account how fast they grow and the constant need for care and items they need like wipes and diapers.
Also the baby market is also growing since technologies are opening new opportunities in this market, like toys and tools to monitor a baby comfortably.
Some of the best-selling products in this niche are:
Wipes.
Disposable Diapers.
Baby Bibs.
Childproof Cabinet Lock.
Baby Thermometer.
Car Seat.
Breast Pump.
The gaming niche industry has seen a massive increase during the last couple of years. Sure, the pandemic played a big role since people were forced at home.
But the truth is that games are getting better and more accessible than ever. You can play games on many different platforms, from a pc to an iPad or a Play Station. That is why gaming headsets are a common option for gamers from different platforms.
Some of the best-selling products in this niche are:
PC Game Headsets
Xbox One Headsets
Nintendo Switch Headset
PlayStation 5 Headsets
Gyms have always been a popular solution for people who want to stay active and fit. But what happens if you are confined at home and you can't go out to train? That you turn your home into your own gym.
Many have realized they can do the same they do at the gym at home with the right equipment. In fact, with a kettlebell, some lifts, and a fitness bar, you already have most of what you need. I suggest you check the fitness niche report for more ideas.
Some of the best-selling products in this niche are:
Kettlebell
Fitness bar
Resistance bands
Weight bar
Beard care is a growing Amazon niche. Especially during the winter months.
Beards are trendy, and the truth is that to maintain a healthy beard, you have to use good products and use them daily. That is why this market offers a great opportunity where there is still an opportunity for new players.
Some of the best-selling products in this niche are:
Beard oil
Beard brush
Beard shampoo
Beard trimmer
Eye care is another Amazon niche with a steady trend full of opportunities.
Not only products for eye aging are increasing in popularity. With the time we spend in front of our screens, our eyes get tired more easily, and eye drops and other eye products aimed to relieve eye sore are very popular.
Some of the best-selling products in this niche are:
Eye mask
Eye balm
Eye drops
Eye cleanser spray
During the last few years, it seems people are getting more conscious about the environment, and big brands have noticed this. So now, most of them are starting to create a line of sustainable clothes.
Although big brands might have the lead, the truth is they can't go niche on this because this is not for everybody. This is exactly what can give you an edge over other competitors: When you go niche, you can offer variety and distinction.
Some of the best-selling products in this niche are:
Sustainable shorts
Sustainable fleece
Sustainable pants
Eco jacket
This is another of the niches that surged after Covid, but it is here to stay.
More and more people are turning into digital nomads, and they can easily work from home as long as they have a laptop.
Companies realize they don't need all their employees to go to the office every day, so people build their own home offices. And this is where you get it and provide them with unique home office products.
Some of the best-selling products in this niche are:
Small computer desk
Ergonomic desk chair
Cable clips
Led desk lamp
Laptop stand
This is a relatively new trend that could make an interesting Amazon niche. Staying healthy is an evergreen trend that is now influenced by vegan alimentation. But most vegans need to include supplements in their diets to stay healthy and avoid the lack of essential vitamins.
Plant-based supplements are great for this and are even used for beauty purposes, making this a great opportunity in a market without much competition.
Some of the best-selling products in this niche are:
Plant-Based Protein Powder
Vegan Collagen
Vegan Omega-3
Vegan probiotics
Zero waste products are a relatively new trend that is starting to take off, which makes it the perfect opportunity for Amazon sellers who want fewer competitors.
It is a market with products easy to sell and replace, with a good profit margin.
Some of the best-selling products in this niche are:
Reusable Makeup Remover
Bamboo Cotton Swabs
Reusable Napkins
Organic mesh Bags
Bamboo Toothbrushes
Compostable Bags
you might want to read next:
Conclusion
Finding a profitable Amazon niche with low competition is not easy or fast. But with the resources in this post you will be able to achieve it.
If your business is dedicated to being an Amazon seller, I really recommend you invest in a tool designated specifically to help you with this, such as Jungle Scout. Not only will it help you find a profitable niche, but it will also help you find the best products to sell on Amazon in a fraction of the time and very effectively.
Now it is your turn!
Which Amazon niche will you take?
Leave a comment with your answer below.
FAQs
Don't forget to share this article!
If your brand is on social media, you can be part of an online conversation,…
RELATED CONTENT
Are you looking for the best niche vlogging ideas to grow your audience faster? Vlogging…
Are you looking for the best Youtube niches to start a profitable channel? Youtube is…
Want to know the best Adsense niches to monetize your site with ads? In order…
Fitness Niche Report: 50+ Niche Ideas, Trends & Tips In this report, you will learn:…