Are you looking for a thorough SE Ranking review to find out if this is the SEO tool you need?
Whether you are about to start an online business or already own one, you'll need a proper SEO tool to run a profitable business. A complete SEO tool should be able to provide you with a keyword research module, track your rankings, monitor competitors, and more.
This is fundamental to make sure your SEO strategies are working. In fact, the right SEO software will help you improve your rankings on search engines and allow you to grow organically. And more traffic typically means more sales.
But is SE Ranking the tool for you?
Let's find out in this complete SE Ranking review.
*Disclosure: I only recommend products I would use myself, and all opinions expressed here are my own. This post may contain affiliate links that at no additional cost to you, I may earn a small commission.
SE Ranking Review At A Glance.
SE Ranking is a great SEO tool to analyze your website, track changes, and implement SEO optimizations. The reports are visual, easy to understand, and with lots of helpful information. Personally, I think it is a must-have tool for entrepreneurs and small businesses with one of the most affordable prices in the SEO market.
However, if you need SEO software mainly for tracking backlinks, there is room for improvement, and there are better options.
SE Ranking Pros and Cons.
What Is SE Ranking?
SE Ranking is an all-included SEO software that offers all SEO tools to complete any online marketing project successfully.
SE Ranking is perfect for entrepreneurs and small business owners. This software provides a complete set of tools for keyword rank tracking and keyword suggestion tool, website audit, competitor analysis, backlink monitoring, automated professional reporting, and much more.
Besides standard SEO tools, the system offers a set of additional features such as social media management, white-label, and a marketing plan aimed at optimizing your SEO game.
SE Ranking Review.
In this SE ranking review, I will analyze:
Features
Ease of use
Support
Pricing
Also, you will learn how you can benefit from using SE Ranking and how it works.
1. SE Ranking Overview.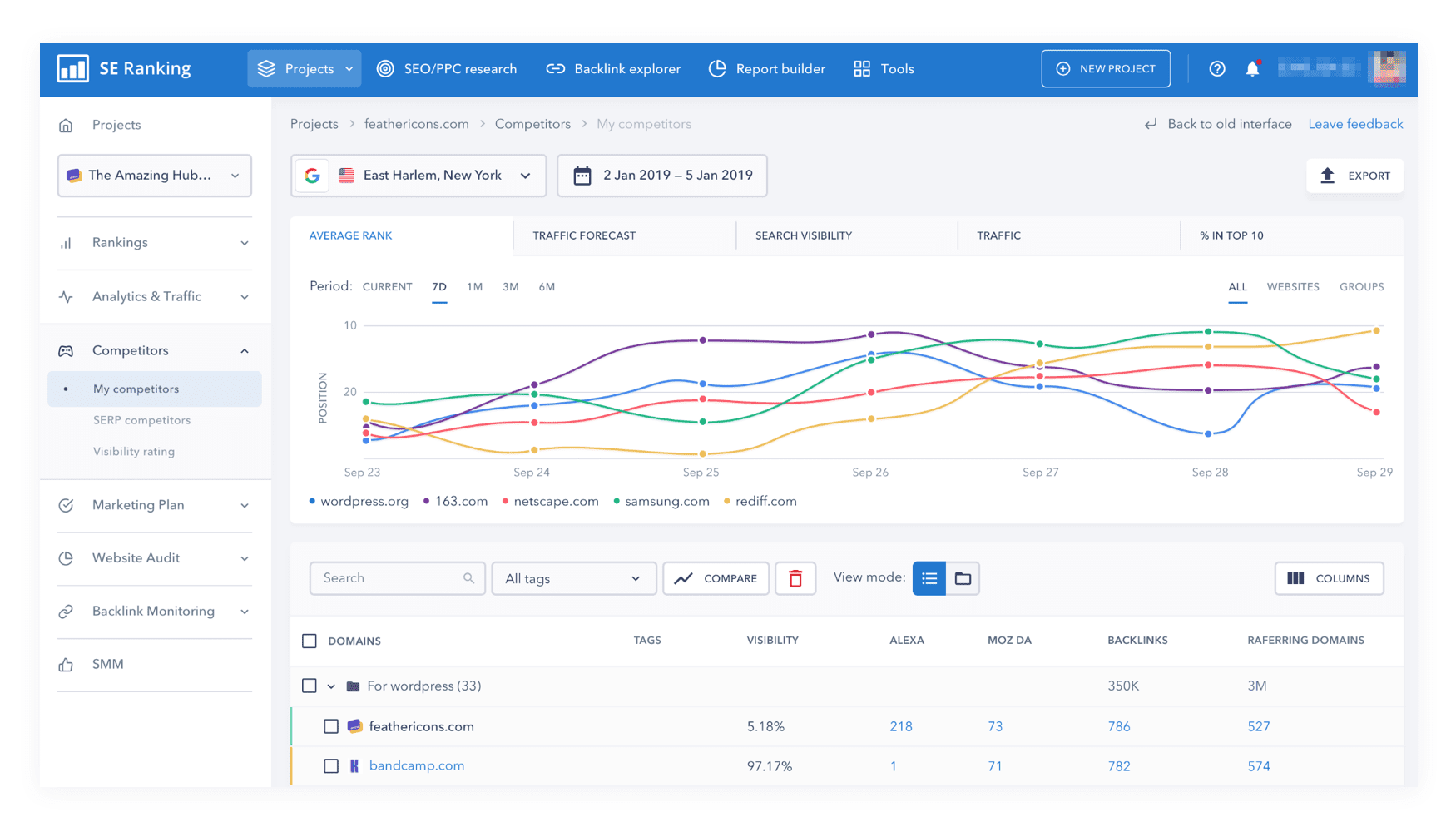 Personally, I think SE Ranking is a very complete tool for SEO.
Either if you have experience with SEO or don't, or if you are an entrepreneur or an agency, this tool will have you covered.
You can use this tool for tasks like:
Site audits.
Competitor analysis.
Website ranking.
Keyword suggestion and grouping.
Backlink monitoring.
Automated professional reporting.
And much more.
It provides you with detailed reports on the analyzed website, with data on organic and paid keywords, its estimated monthly traffic volume, and the cost of driving that traffic. This will allow you to adjust your SEO strategy and make adjustments as needed.
On top of all these practical features, the user-friendly interface makes this SEO tool a great resource.
Note: The reviews given to each section below are only my personal opinion after testing this tool.
2. SE Ranking Features.
SE Ranking provides many powerful features:
The features provided by SE Ranking cover all your SEO efforts, from getting ready to optimizing and maintaining your rankings.

As an experienced SEO user, I did not miss any important features. However, compared to other SEO software, I missed some more power in the keywords research feature and better backlinks tracking since it does not seem the more accurate, hence the four stars.
3. SE Ranking Ease of use.
Overall, SE Ranking is easy to navigate and understand. Below, I will show you how each section works with detailed steps.
Sign Up.
The sign-up process is totally painless. Just click on any of the "Start free trial" buttons and fill in the information. No credit card is required for the free trial.
Within the minute, you should have access to the dashboard:
Getting Started.

To start using SE Ranking, this is what you need to do:

Step #1. Click on "Create Your First Project."

Step #2. Fill in the general information and click "Next" at the bottom.
Step #3. Select the keywords you want to track; You can choose from the suggested keywords on the right or add them manually. Then, click the "Next" button.
Step #4. Next, fill in the search engine information. Once it is ready, click "Next" at the bottom.
Step #5. Add your competitors. You can use the "suggest competitors" button to find them easily. Then, click the green button "Add competitors" and the "Next" button.
Step #6. Finally, click on both the "Connect Google Analytics" and "Connect Google Search Console" buttons to obtain further details. Finally, click the "Finish" button.
After completing these steps, you will have full access to the different features and the panel dashboard.
Tracking a website.
Once you add a project, you can control every aspect of this project (website) with a simple click in the left menu. From this menu, you can get access to the following:
Rankings. Detailed, overall, and historical data.
Analytics and traffic. Overview, traffic, snippets, Google Search Console data, SEO potential.
My competitors. Added competitors, SERP competitors, and visibility rating.
Marketing plan. To-do list and business listings.
Website audit. Overview, issue report, crawled pages, found resources, found links, crawl comparison, page changes monitor.
Backlink monitor. Backlinks, domains, anchor texts, pages, IP's/subnets, disavow.
Social media. Dashboard, Facebook metrics, Twitter metrics.
As you can see, you can easily get a lot of information with a single click. So regardless of your experience, it is a very intuitive and easy SEO tool.
SEO tools.
Next, I will focus on the tools in the top menu. I will explain how to use them and how you can benefit from them.
Keyword Research
Let's start with Keyword research. Click on "Keyword research" on the top menu. All you need to do is type a keyword, click search, and get a complete analysis with search volume, difficulty, CPC, and more.
It also provides a list of related keywords, making your search for less competitive ones easier.
In my opinion, the keyword research module is straightforward to use and visually provides excellent information.
Competitive Research
This can be a potent method to learn what works for your competitors. All you need is your competitor's URL and click search. You will get plenty of valuable information like organic traffic, organic keywords, referring domains, their top pages, and more.
You can use this data to your advantage to create articles people love from your competitors and even use some of their best organic keywords.
Backlink Checker
Another powerful tool that will allow you to learn referring domains, linked pages, number of backlinks, and much more.
You can access more detailed information by clicking directly on each graphic or section. Again, all you need to do is to type an URL and click "Search."
This is a great way to find out who links to your competitors. You could try to reach them for a backlink for similar or more updated content you may have on your site.
In this functionality, I have missed more accurate backlink numbers and it also takes longer to see indexed backlinks.
Report Builder
Reports are great for seeing a lot of information visually with a single click.
On the top menu, click on Report Builder > Generate a report > Select a website > Create. It will create a visual report instantly.
Here you change the date range, templates, and format to export the report. This is great for you as a user and for presenting the information to a client efficiently and cleanly.
I personally use this report quite a lot for my clients and me since the data is clear and easy to understand.
SEO Tools
In the top menu, you can get access to several SEO tools. But the most practical of all of them is the SEO on page checker.
This tool allows you to analyze in-depth the SEO on a single page. To do that, click on SEO tools > On-page SEO checker and add the URL and the search query and click on "Run the audit."
The audit will take a few minutes. Once it is finished, you will be able to see the different factors preventing you from ranking higher and the suggested solutions. As you scroll down, you can see each of the issues and how you can fix them to improve your overall score.
As you can see, this is a very powerful feature that SE Ranking provides.
Finally, after testing almost every single feature, I can say the interface is very user-friendly. They provide explanations of what the issues are and how you can fix them. That is why I think even inexperienced users can take advantage of this software.
4. SE Ranking Support.
SE Ranking support works with a chat you can access at any time at the bottom right corner.
The SE Ranking team typically replies within a few hours but lacks 24/7 support. So in this category, giving them five stars wouldn't be fair. However, their predisposition and the quality of the service certainly make them deserve four stars.

When checking what other users think about them on Trustpilot, the reviews are excellent overall:
I then filtered the reviews by "support," and there were only a few negative ones related to billing issues. The rest were all good. So personally, I think SE Ranking can be rated four stars in this category.
5. SE Ranking Pricing Plans.
In my opinion, SE Ranking offers one of the most affordable SEO services in the industry.
You can select one of their three different plans:
The Essential plan; $23,52/month
250 keywords
10 websites
Website Audit for 30,000 pages
Monitor 4,000 backlinks
Check backlinks for 20 domains/day
Keyword Grouper
SEO/PPC Competitor Research
On-Page audit for 10 pages
Marketing Plan
Custom SEO Reporting
Social Media Analytics and Management
Subaccounts
The Pro plan; $52,32/month
1,000 keywords
Website Audit for 150,000 pages
Monitor 20,000 backlinks
Check backlinks for 100 domains/day
Keyword Grouper
SEO/PPC Competitor Research
On-Page Checker for 450 pages
Marketing Plan
Custom SEO Reporting
Social Media Analytics and Management
Subaccounts
Monitor Pages for Changes: 100
SEO/PPC Database Expansion: 10,000
White Label
The Business plan; $114,72/month
2,500 keywords
Website Audit for 450,000 pages
Monitor 60,000 backlinks
Check backlinks for 300 domains/day
Keyword Grouper
SEO/PPC Competitor Research
On-Page Checker for 750 pages
Marketing Plan
Custom SEO Reporting
Social Media Analytics and Management
Subaccounts
Monitor Pages for Changes: 250
SEO/PPC Database Expansion: 25,000
White Label
API
SE Ranking is quickly gaining adepts for its feature at an affordable price. Something very uncommon in the SEO world.

I don't think there is another tool this good for the price range, hence my five stars in this category.
You might want to read next:
SE Ranking Alternatives.
SE Ranking is very versatile. But it may lack the power of other tools in niche keyword research. Some of the best SE Ranking alternatives out there are:
Keysearch: Keysearch is the most affordable yet powerful SEO service for keyword research. It is the low-cost version of finding great keyword opportunities, brainstorming keywords, doing competitor analysis, and more. In my opinion, the combo SE Ranking + Keysearch is just the perfect combination for any entrepreneur. You get the best of both worlds only at a fraction of the price compared with most SEO tools.
SEMrush. This is one of the best-known tools for SEO, specifically for keyword research. It is a feature-rich tool, offering detailed PPC data, CRM-style link outreach features, phone support, and more generous project and reporting limits. You cannot get wrong with this keyword suggestion tool.
Ahrefs. This is probably the favorite tool in the SEO community. It is an excellent option for users who need data from multiple search engines, and its pricing for businesses requiring various accounts is considerably more competitive than Semrush's.
Lastly, if what you are looking is an easy online tool for quick SEO checks, Prepostseo is a good choice and it is free to use.
SE Ranking Review: Is it really worth the money?
If you are an entrepreneur or a small business, I'd say it is totally worth it. The number of practical features it offers, the friendly interface, and the very affordable prices make this tool a must-have in the SEO world.
Also, it offers a 14 day free trial. So you can try it without compromise before you commit to using this tool. But I can guarantee you that you'll find out it provides excellent value for money if you try.

So why don't you give it a try?
---
Don't forget to share this article!
---
RELATED CONTENT