Drop servicing is with no doubt one of the top businesses of the moment.
With the right idea, you can turn day to day services into very successful businesses. But first, you need to find a profitable niche.
In this post, I am going to show you the best drop servicing niches and how you can profit by using them.
Let's dive in!
*Disclosure: I only recommend products I would use myself, and all opinions expressed here are my own. This post may contain affiliate links that at no additional cost to you, I may earn a small commission.
What is drop servicing?
Drop servicing business model is where you sell services that you don't perform yourself. Instead, you outsource the job to a freelancer or agency.
Your role is to find people who do the job for you. Think about it as a middleman: A client pays you for a service, and you need to find someone who provides you this service.
For instance: You offer SEO (search engine optimization) services. Then, a client contacts you because they need to position their website and have a budget of $500. Next, you hire a freelancer to perform this job for you for less than that amount, and you find one that can do it for $300. Lastly, your freelancer performs the job, and you can keep a $200 margin profit. That is drop servicing. You hired someone to do the job for you while you're in charge of selling the service to a client.
How to find profitable niches for your drop servicing business?
The answer is with niche research.
If you want to find the best drop servicing niches, you should perform these tasks:
Analyze niche markets and trends. You will need to find popular trends and profitable markets.

Study the competition. By studying your competition, you can find out which niches are working and which are not. Also, some niches might have big competitors, so you want to avoid these.

Research niche market keywords. The best way to do this is by using a keyword research tool.
I wrote a very practical and detailed article that will show you exactly how to perform each of these steps. Check this niche research article and learn how to do it step by step.
How do you choose the best drop servicing niche?
If you want to create a winning drop service business, you want to target a demanded niche.
No one wants to spend time working on something that might not work in the end. But how do you do that? It is impossible to predict 100% what will work or won't. Otherwise, everybody will have profitable businesses.
Some indications that will increase your chances of succeeding:
Look for niches where people are already spending their money. You want to bet on something which is already working.

Focus on evergreen and popular products. By doing this, your business won't be depending on trends and will make money all year round.

Look for a niche with competition, but not a lot. if there is competition there is money. The trick is to find a niche without much competition.

It should be profitable. At the end of the day, you need to find a niche where you get a decent margin and profits.
Take a look at how to find the best dropshipping niches. Although this example is done with products, the process is very similar for services.
List of the best drop servicing niches
If you want to create a drop servicing business, here you'll find some good ideas you can turn into profit.
For this section, I have checked some of the most used services on Fiverr. Good indicators to know a service has a demand are:
The number of services available
Services with a high number of reviews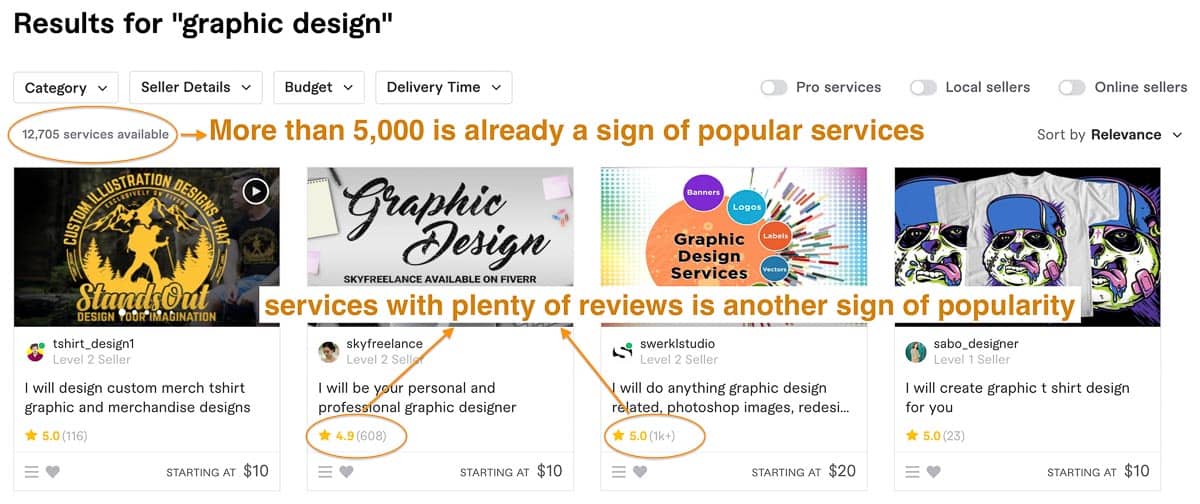 Then, to get a good estimation of how much profit you could make, I have compared the average freelancer price in Fiverr with similar services I found on Google's page one.
Note: The profits margin below are only estimations. I have used examples of both cheap and expensive services. Ultimately, your profit will depend on the service you give.
It is your job always to check freelancers' review and request work samples to make sure it aligns with what you expect.
1. Infographic designs.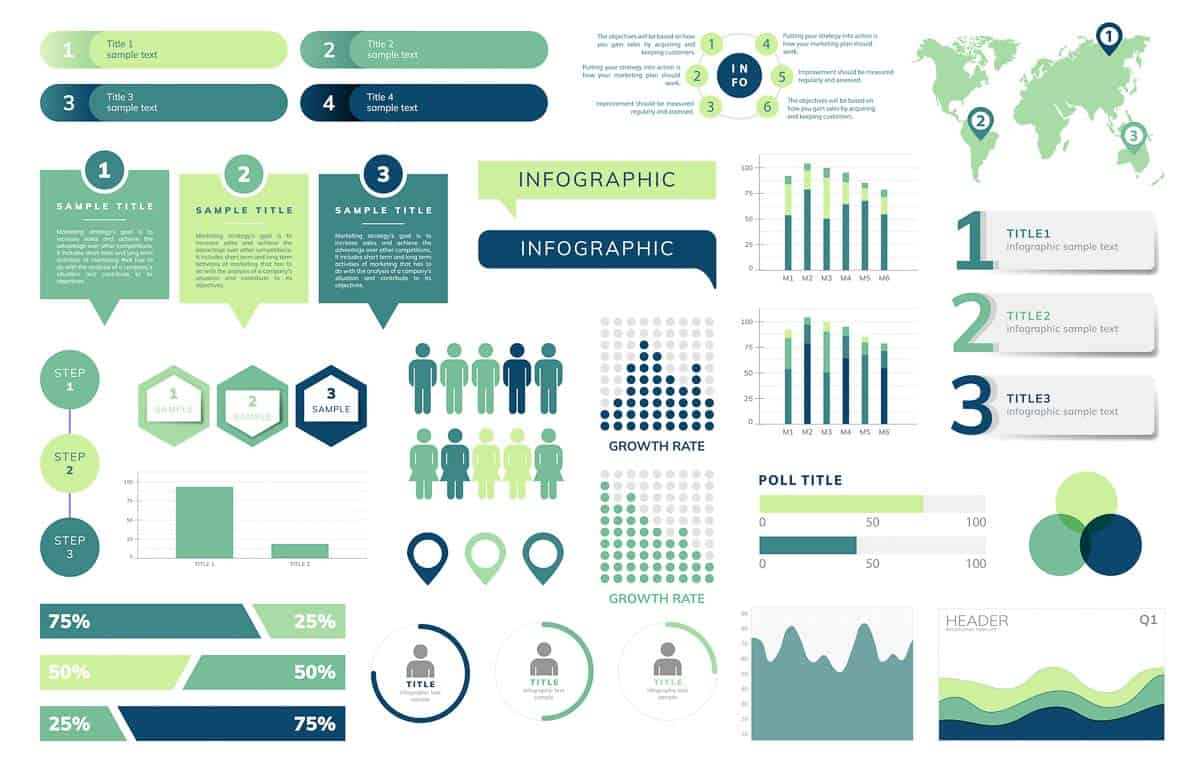 Infographics are a collection of imagery, charts, and minimal text that gives an easy-to-understand overview of a topic. It is one of the visual resources most used in the last years.
The reason people loved infographics is that they visually provide info. So people don't only like them, but they also share them a lot. That is why infographics designs are a very demanded service in the digital marketing world.
How much profit can you make in the infographics drop servicing niche?
The price of an infographic will depend on the amount of information on it. You would not ask the same price for a simple infographic covering 5 points than one covering up to 50. Also, the quality of the images used text, etc.
In Fiverr, the average price for an infographic ranges from $5 to $100.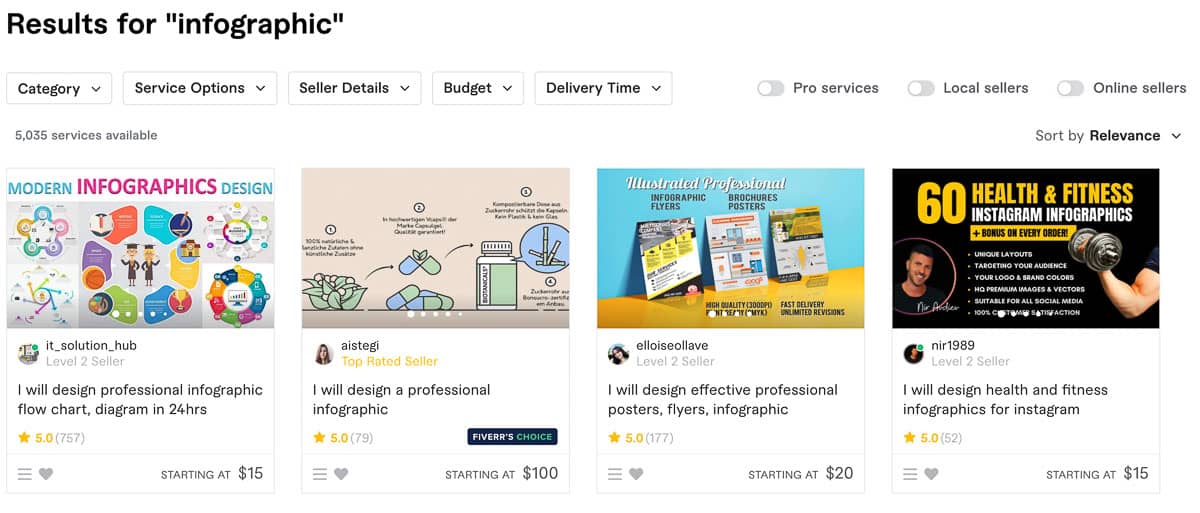 Now, if you Google "infographic design pricing" you'll see this:

This aligns with the other results I found. Being the average always above $500.
So let's say a client wants a complex infographic. You can order an infographic in Fiverr that will cost you around $70, but you can charge your client $500, and still will be way cheaper than most agencies. So you could make a profit margin of $430. Not bad, huh?
>Click here to find infographic designers on Fiverr.
2. Search engine optimization (SEO) services.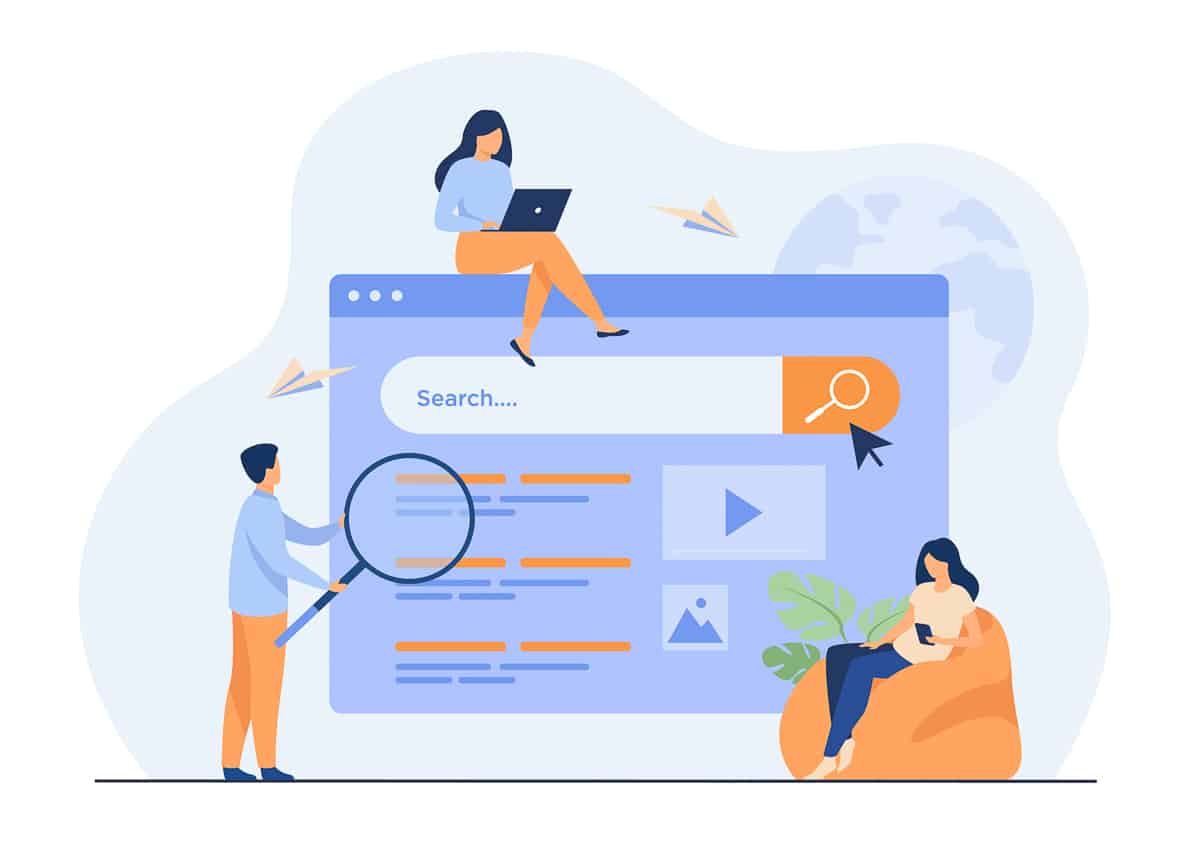 Search engine optimization (SEO) is a very important part of the internet. A site optimized for SEO is a site with higher chances to rank on Google. It translates into more organic traffic, which ultimately leads to more revenue.
With all that at stake is no secret that most entrepreneurs and businesses dedicate a significant part of their budget to SEO services.
SEO's ultimate goal is to rank to drive organic traffic. But there are a lot of things you can offer with an SEO service like SEO audits, competitor analysis, keyword research, etc.
This means there is no standard pricing since every client might have different needs. In any case, let's check some basic SEO services and how can you profit from them.
How much profit can you make in the SEO drop servicing niche?
Since there are lots of different SEO services, there is no one price fits all. Depending on the required service you can find prices from $9 to $1000.
For this specific example, let's say the client is interested in building backlinks. Prices from top sellers go from $200 to $800, depending on the number of backlinks required.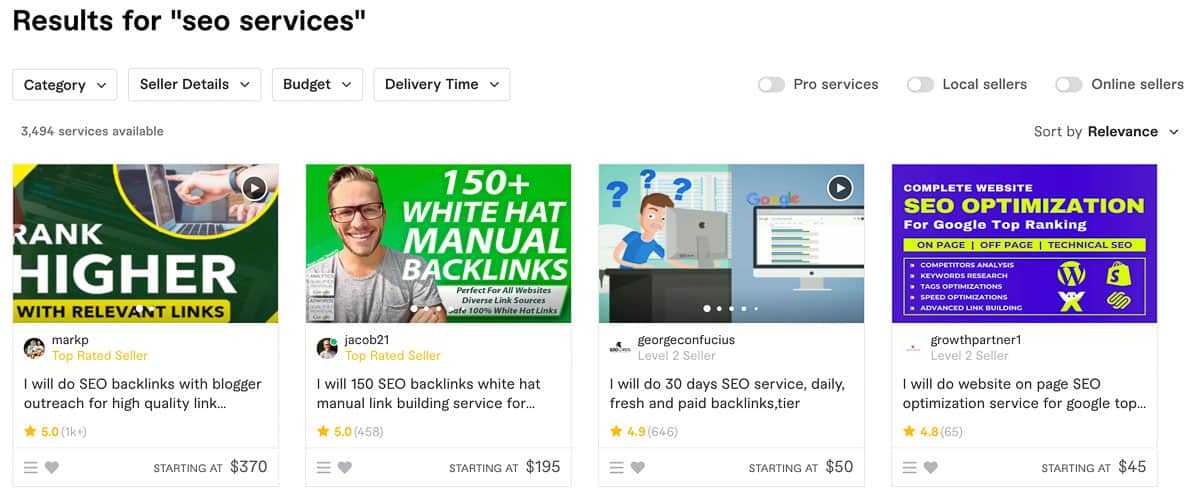 According to Ahrefs, the average SEO backlink pricing is $361.44.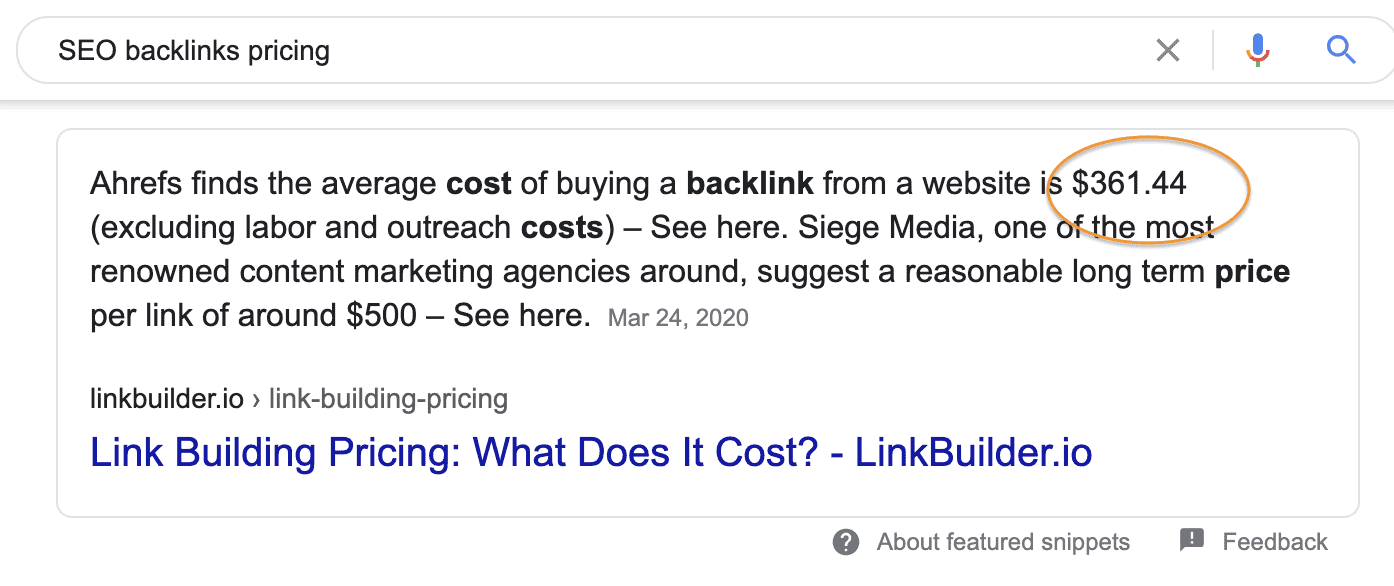 And that is just for one link.
Top sellers in Fiverr offer 5 dofollow links for $370.

So if you multiply the average price of a link ($361.44) times five, you get an estimation of $1,807.2. Which leaves you with a profit margin of $1,437.2.
You could even ask for $100 per backlink and will still make a solid profit while being very competitive.
>Click here to find SEO services on Fiverr.
3. Graphic design services.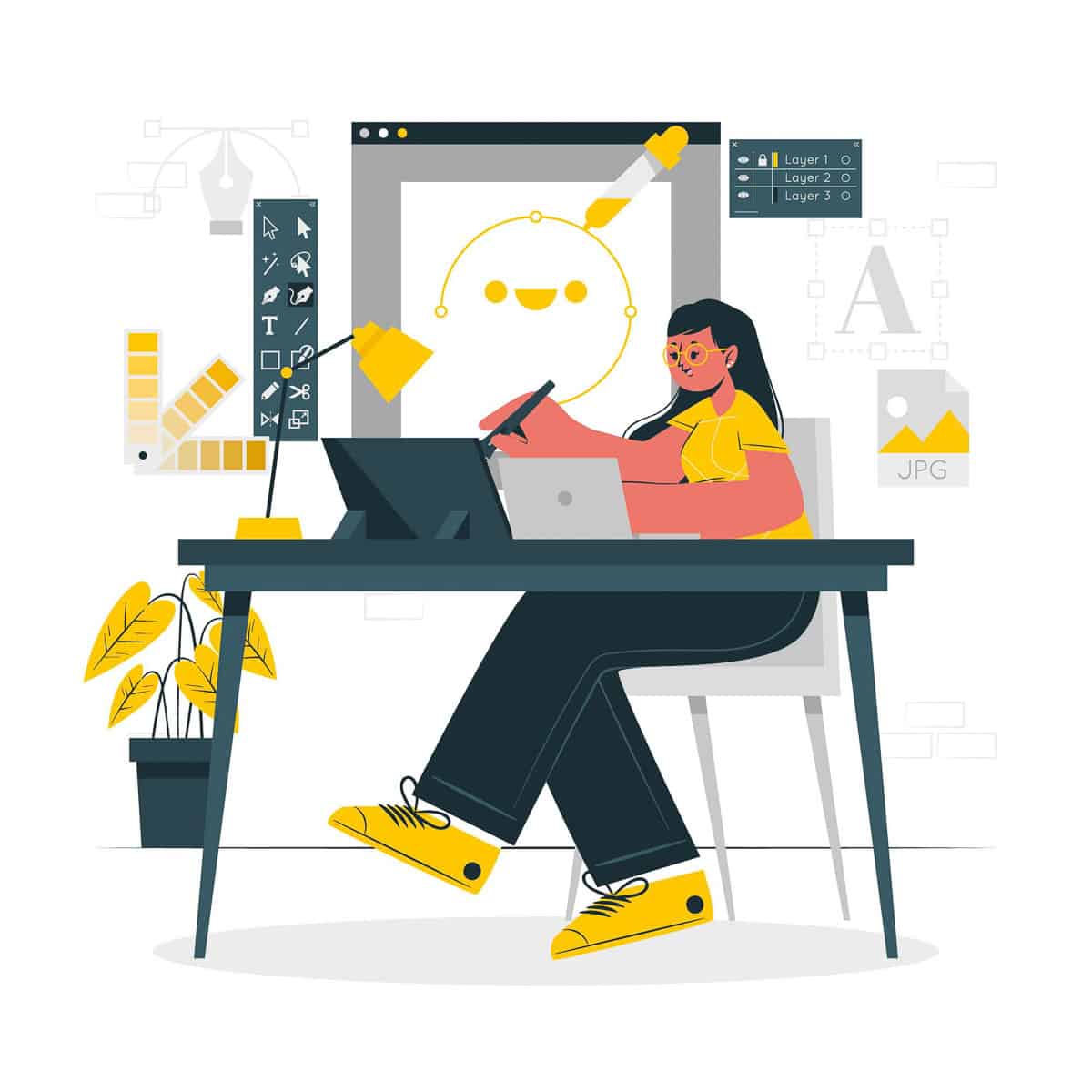 Of all the information transmitted to the brain, 90% is visual. As opposed to text, visuals are processed 60,000x faster! Hence the importance of graphics on any website.
Graphic design is key in digital marketing. Especially now we live in a world where visuals have such importance. Some examples where can be used are:
eBook covers
Videos Thumbnails
Graphics for ads
Social media covers
How much profit can you make in the graphic design drop servicing niche?
On Fiverr, the pricing for graphic design varies from $5 to $200 on average. With basic things like logos design for as little as $10 and some more elaborated gigs in the higher end.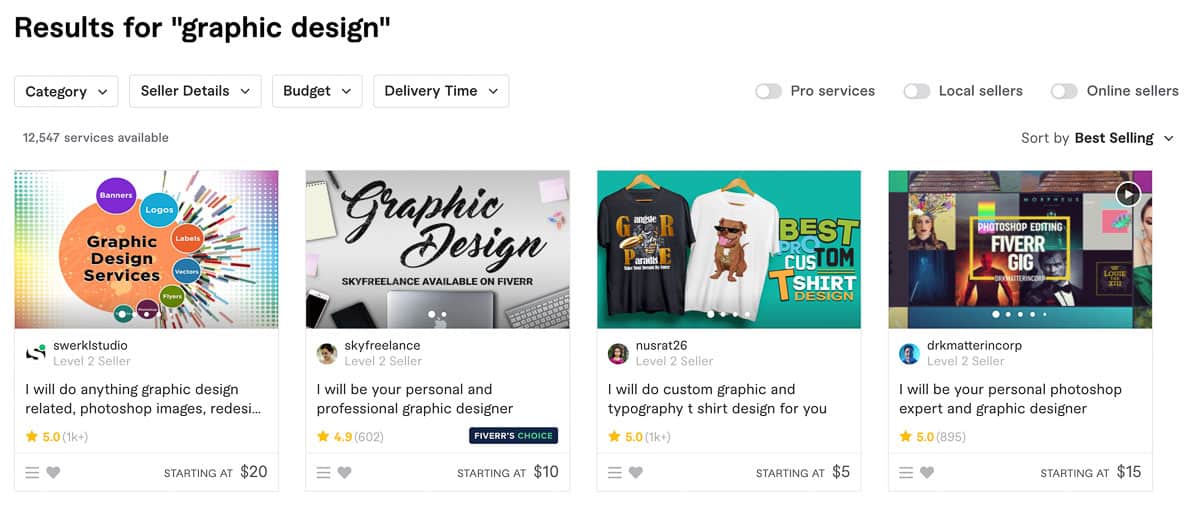 According to business2community, the average price per hour for graphic designers is between $65 and $150.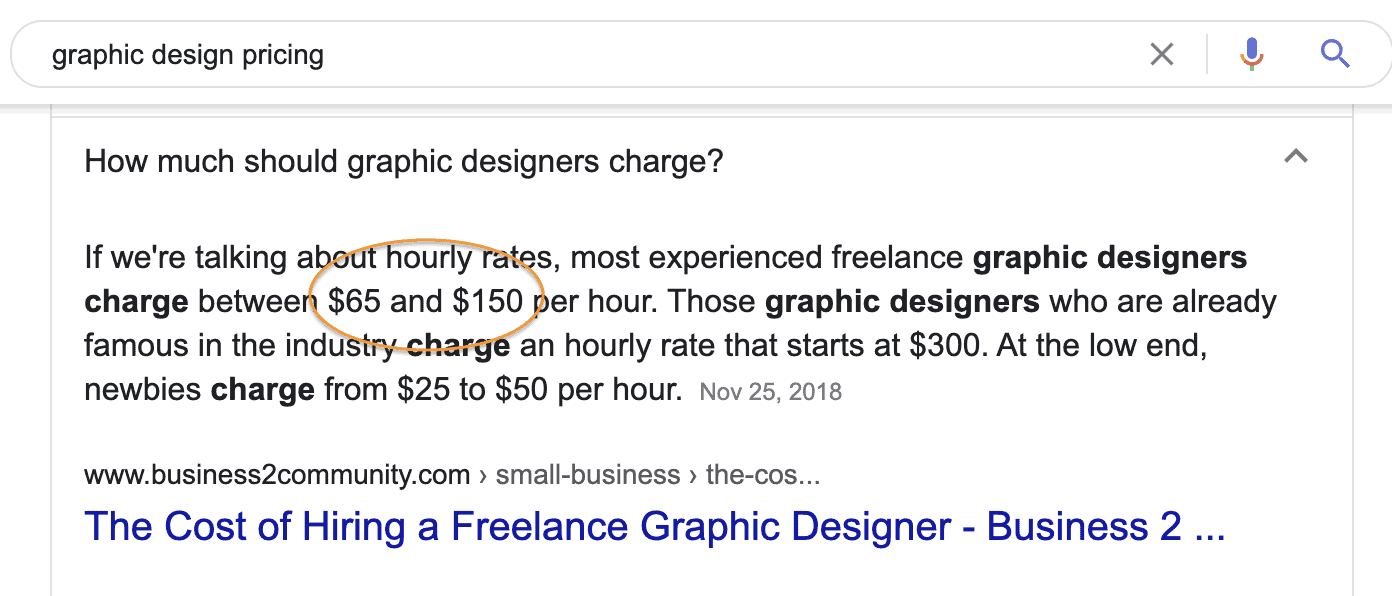 Also, I have observed that most agencies charge monthly packages from $490. Which is already two times more of what you can get on Fiverr.
Moreover, you can order simple designs in Fiverr for $10, versus at least $65 on average from agencies or other freelancers. So you can easily make at least $50 profit even for simple graphic designs.
>Click here to find graphic designers on Fiverr.
4. Coding (Programming).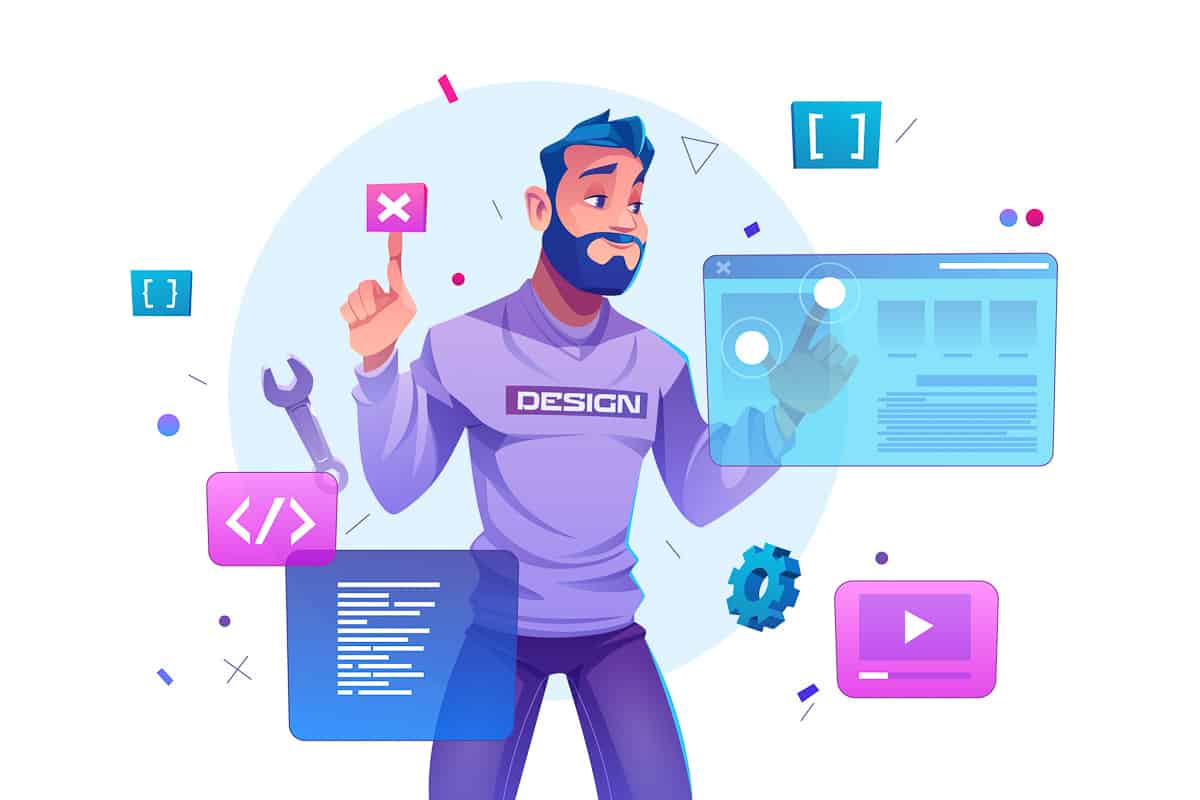 If there is something that never stops growing, that is technology. And every software, program, and tool needs a programmer behind it.
Programmers are in high demand from companies and businesses looking to create and scale their services. That is why coding is one of the best drop servicing niches out there.
There is pretty much a need for coding for existing and new services. Some examples of services growing are:
Web development
Chatbots creation
Apps development
Plugins Creation
And many more!
How much profit can you make in the coding drop servicing niche?
Programmers can work almost in everything. So pricing would depend on the requested service.
Looking at Fiverr, we can see that coding for Shopify is pretty hot. And the average service can go anywhere from $5 to $100 per service.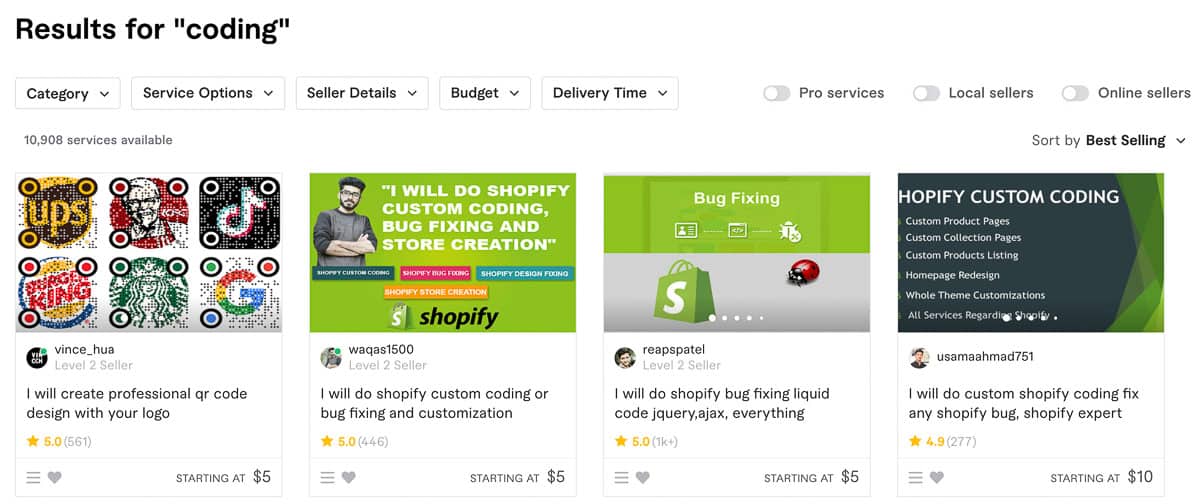 Now, let's say we want to Google for a freelancer to provide this service. According to Full Stack Labs, the average hourly rate for freelance developers is around $175 per hour.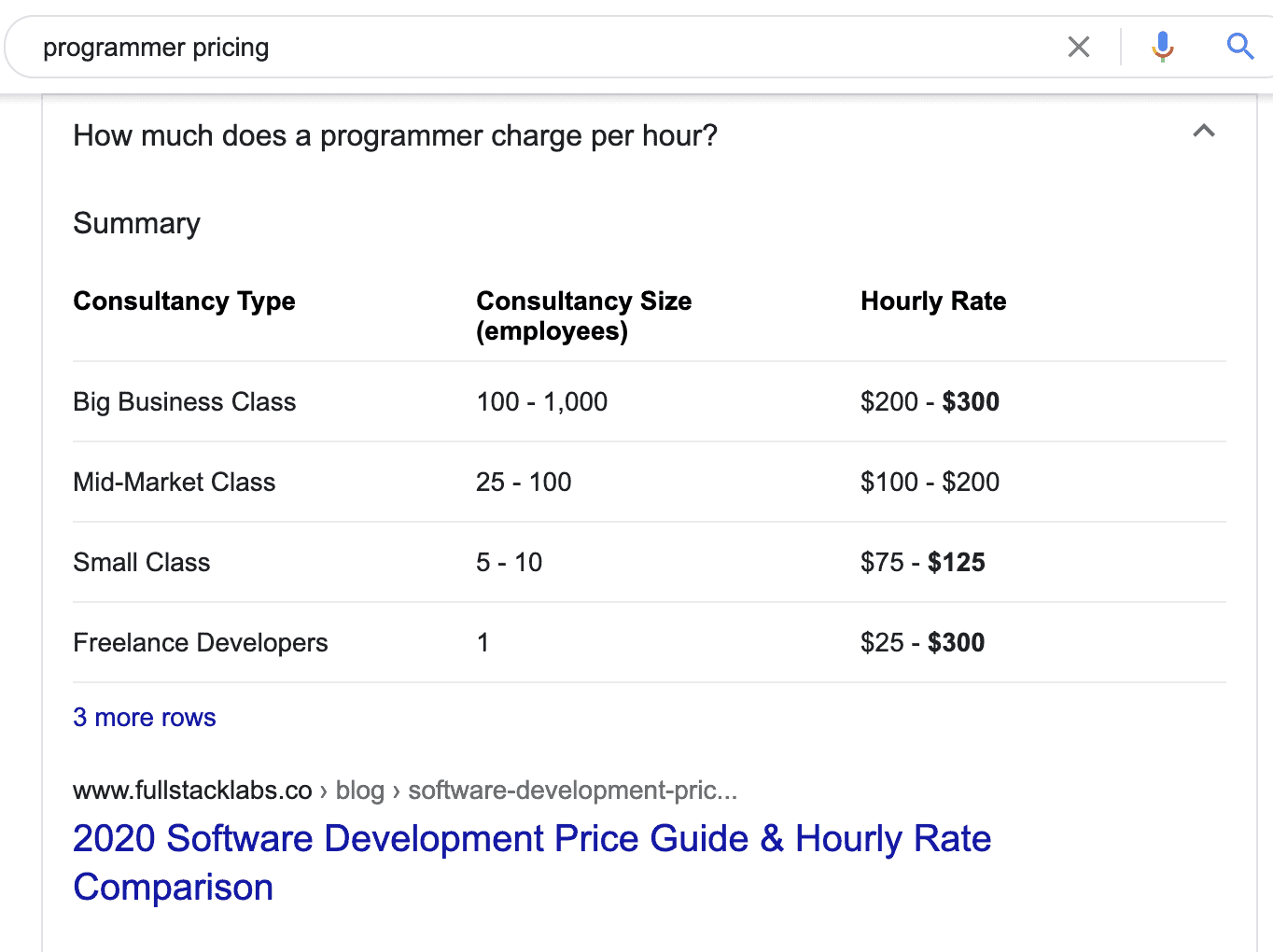 So even if you budget your client $175 to fix a Shopify code issue and pay someone in Fiverr to get it done for $100, you already get a $75 profit.
There is plenty of competition in this sector, but where there is competition, there is money. Take into account that this is probably the most demanded service on this list.
>Click here to find programmers on Fiverr.
5. Content creators.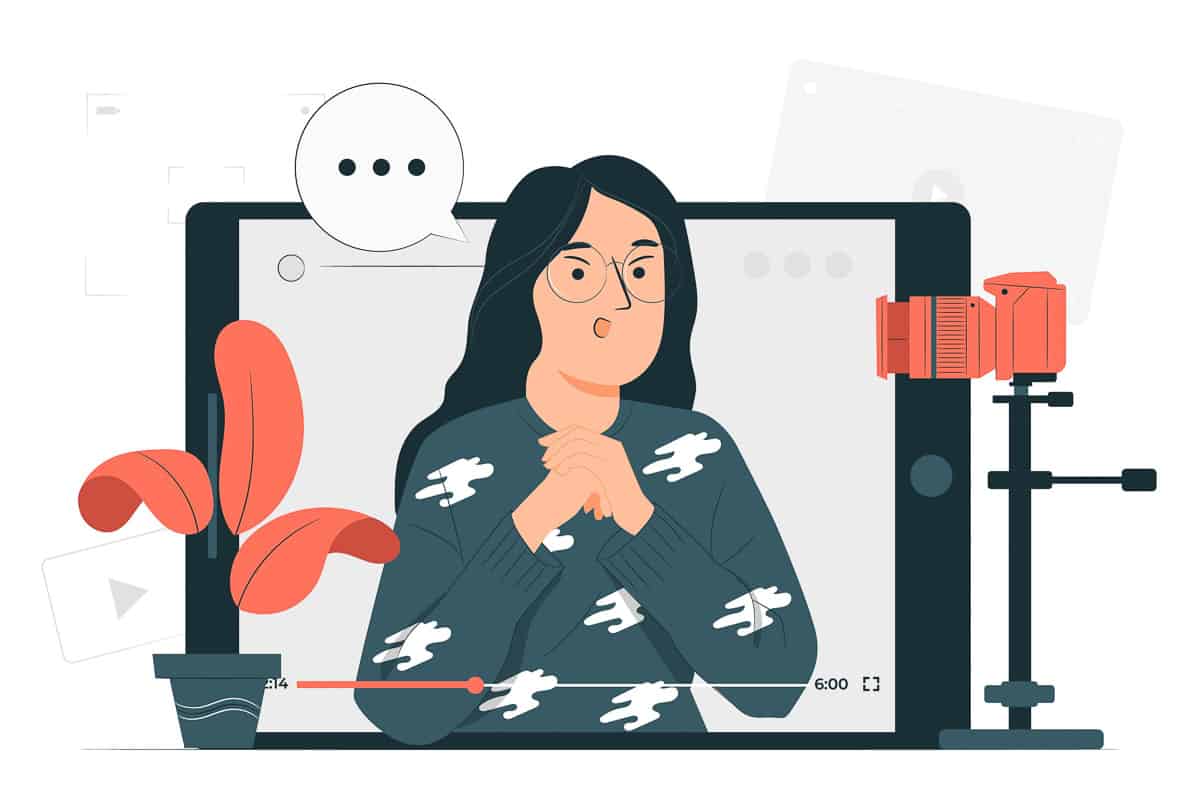 Content creator's job is probably now bigger than ever.
The only way to surpass your competition and being noticed is by creating amazing content. The more, the better. The problem is that to create amazing content you need time.
Entrepreneurs and businesses need to create content continuously. But this is very time-consuming. So most of the time they outsource this work. And here is where you get in!
Some of the Content creator's tasks include writing articles, e-books, create videos, and social media posts.
How much profit can you make in the content creation drop servicing niche?
The prices here will be very different, depending on the type of content that needs to be created.
For this example, we are going to focus on content writing.
Articles or blog posts can go anywhere from $8 to $120, depending on the number of words. And after checking several services, I founded that the average price for a 500 words article is around $15 on Fiverr.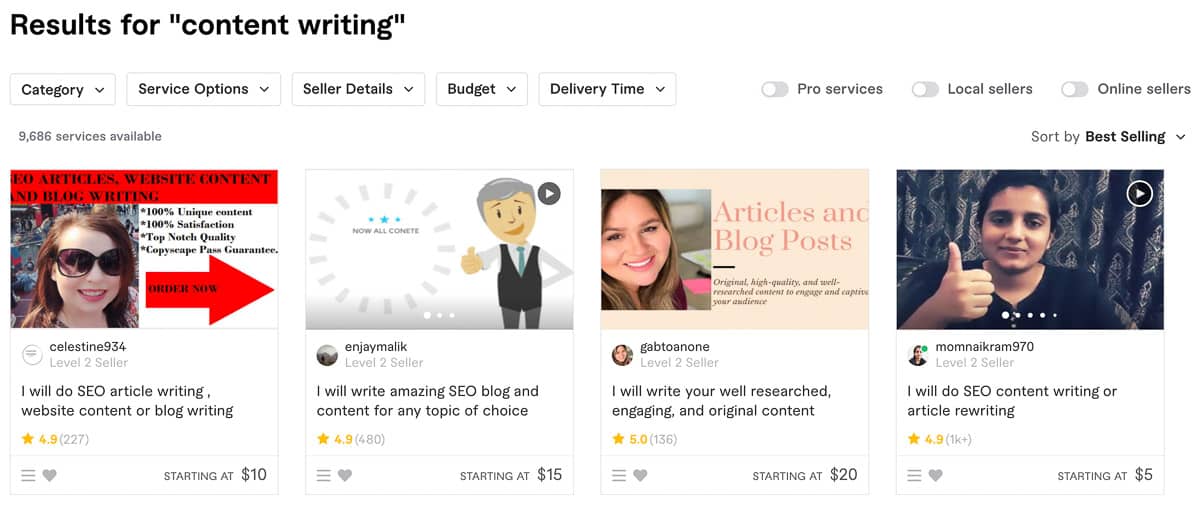 According to a survey from Freelancer Faqs, the average freelance bloggers charge $54 per 500 words.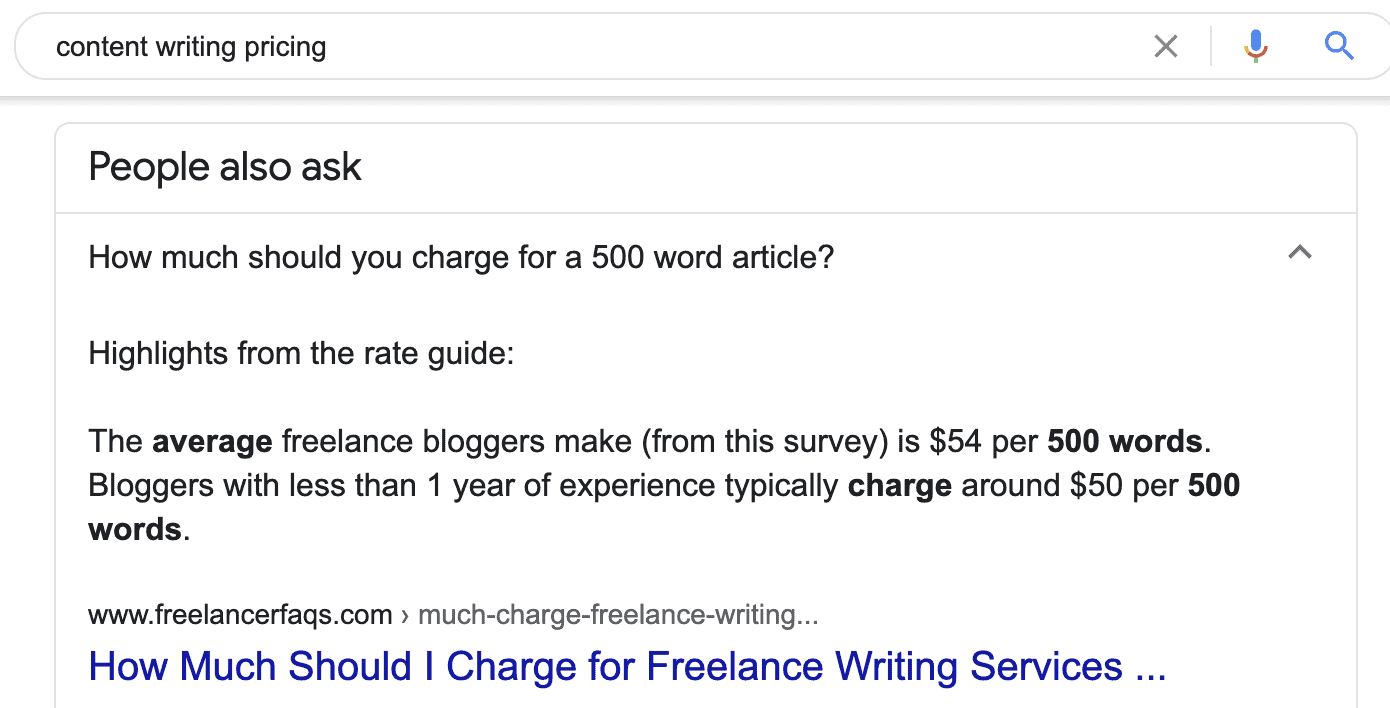 So let's say you charge a client $50 per 500 words. Then you pay a Fiverr freelance $15. That gives you a profit margin of $35.
The more extensive is the article, the higher is your profit margin.
>Click here to find content creators on Fiverr.
6. Social media management.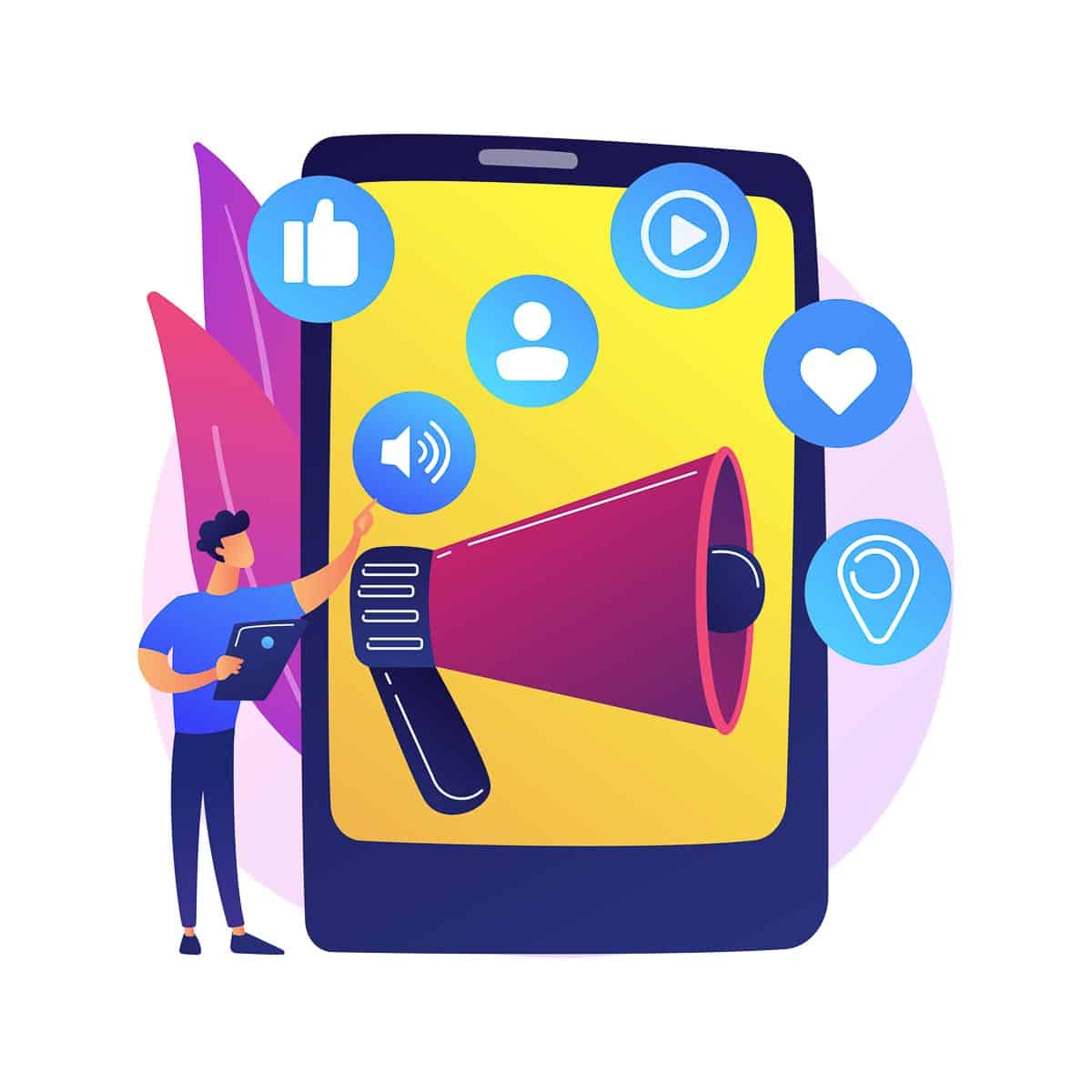 Social media management is on fire. In these times, if your business does not have social media presence you are losing customers.
Plenty of companies try to keep up with all their social media, which takes a lot of work and time. But they simply don't have the time or the knowledge to stay on top.
Also, the algorithm for social networks is constantly changing. So if you add the number of social media networks and the work necessary to keep it up, the math says there is plenty of work.
That is why this is one of the best drop servicing niches you can offer. Some of the most demanded social media management jobs are for:
Youtube
Tik-Tok
Facebook
Instagram
How much profit can you make in the social media management drop servicing niche?
Pricing for social media management services will depend on the number of platforms to manage and the number of posts.
If we check on Fiverr, we can find prices starting from $45 to $500. But what makes Fiverr cheaper is that they charge for the package and not the hours.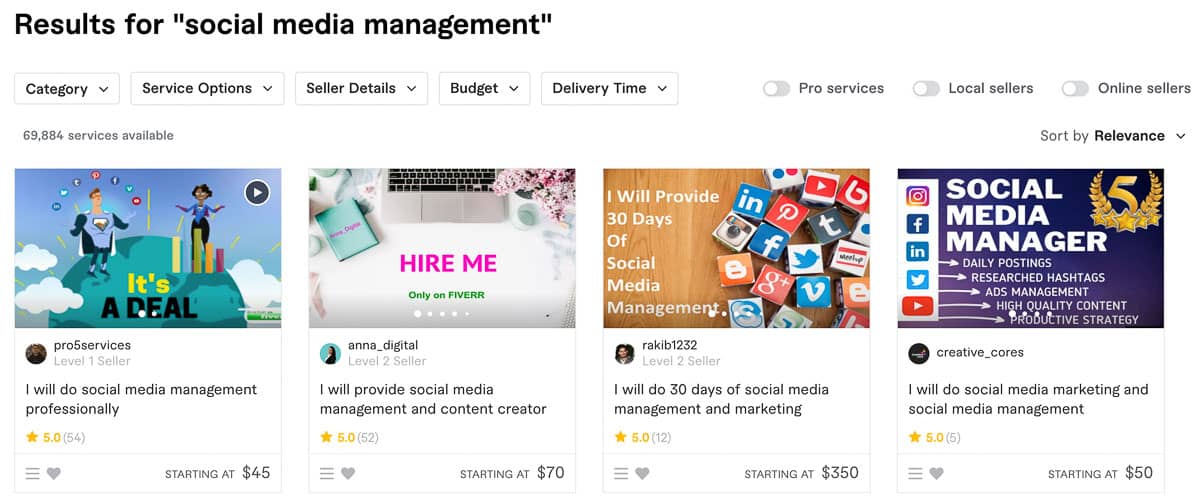 Let's say the client wants social media management for one platform with daily posts. In Fiverr, you can find freelancers with great reviews who offer this service for $170.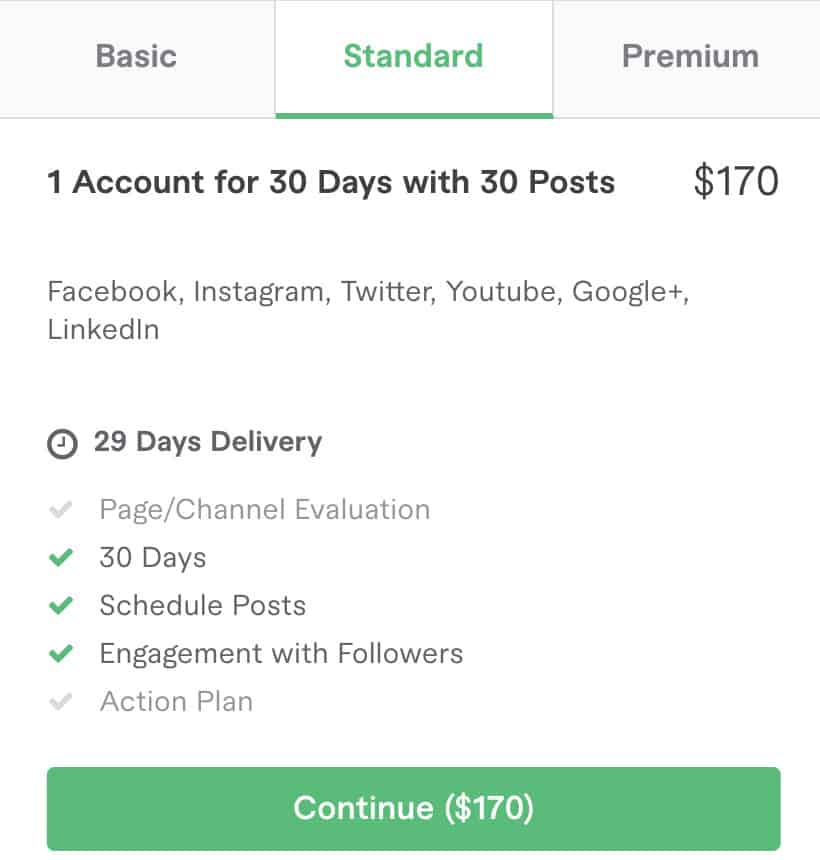 If you were to check on Google for the same, you'll find this: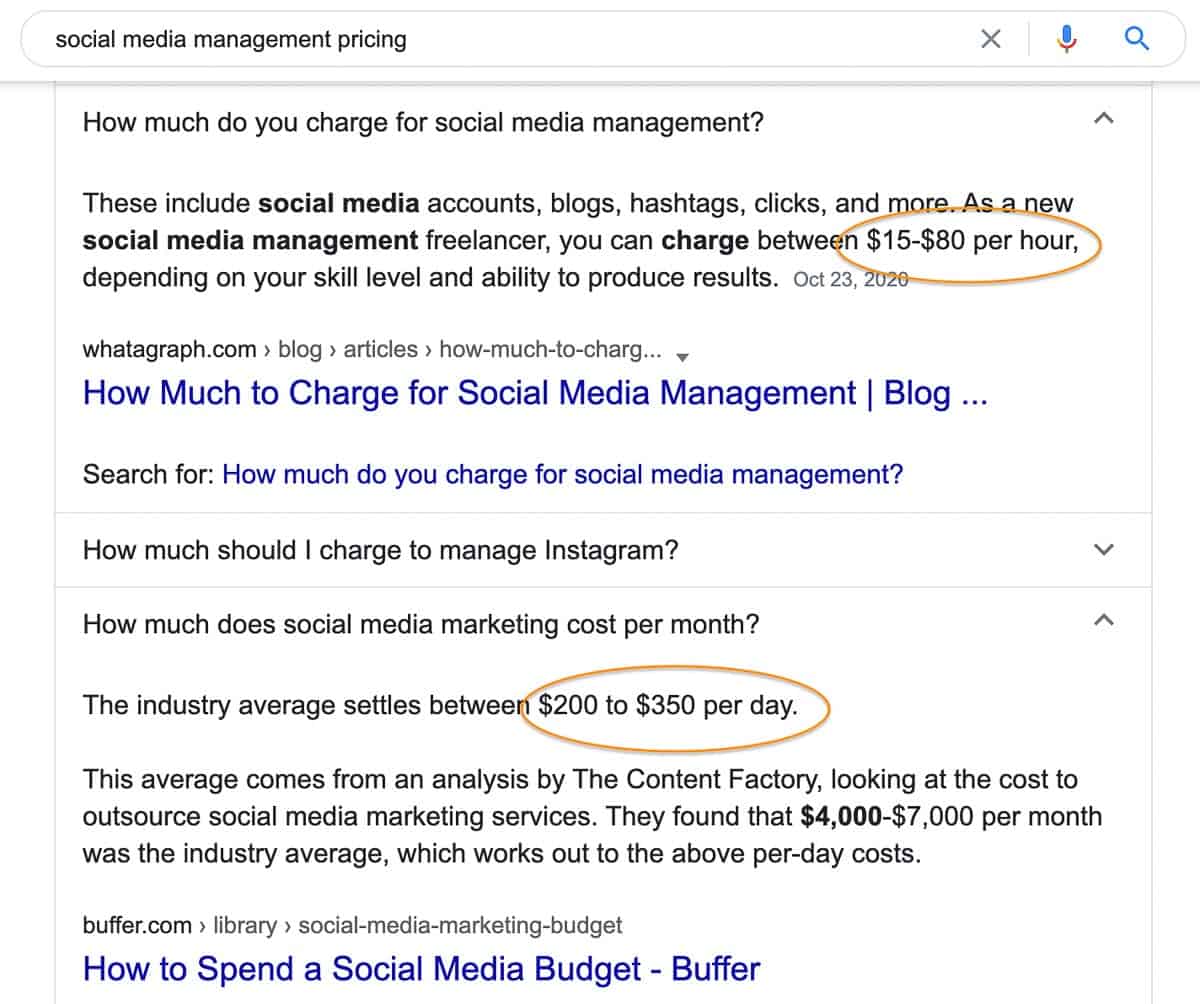 That makes an average cost of $55 per hour.
Let's assume the minimum charge per day to manage a social media account is one hour. Then we would get $55 x 30 days = $1,650. If we compare that price against the $170 price on Fiverr, the profit margin can be huge (around $1,480).
Again, the only reason you get a much better price on Fiverr is that they sell a full package. Also, this is a service normally provided to agencies. Hence the prices found on Google.
In any case, a good practice is to always agree with requirements before placing an order to make sure you will get exactly what you ask for.
>Click here to find social media managers on Fiverr.
7. Video creation and animation.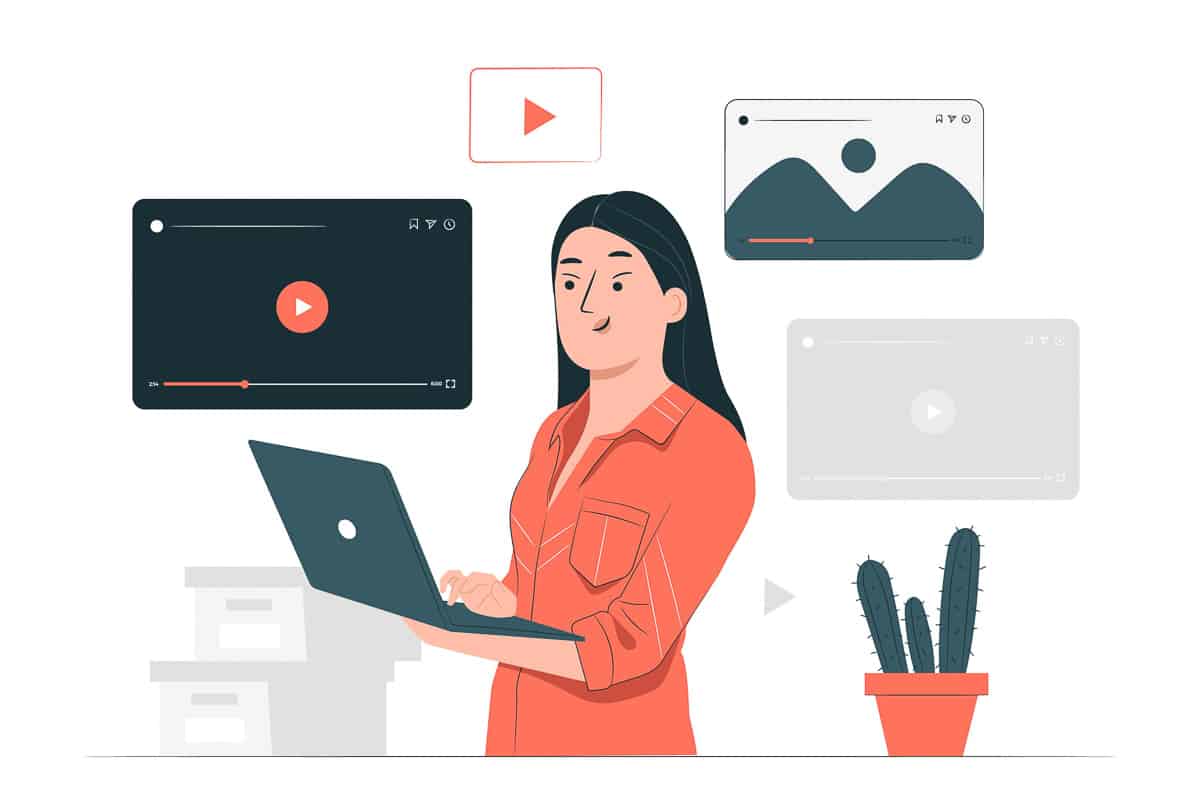 Video is probably the favorite format of content creation in 2021. According to 51% of marketing professionals, video is the type of content with the best ROI.
With Youtube growing in popularity, the demand for youtube intros, promo videos, or any other youtube kind of video is increasing.
Also, video animation is experiencing incredible growth in digital marketing. It is used for tutorials and in ads because they create more engagement. Hence, video creation is probably the best drop servicing business in 2021.
Just make sure that you select a sub-niche. This way you can focus on delivering a great service to your potential customers and reduce the competition.
How much profit can you make in the video creation drop servicing niche?
Video creation is a lot of hard work, and the price will depend on factors like quality and length.
Pricing in Fiverr is excellent, taking into account this is an expensive service overall. Is part of your job always to request work samples to make sure the video quality is what you expect.
Video fees can go from very simple and short videos costing $5, to high quality and lengthy videos costing around $500 and more.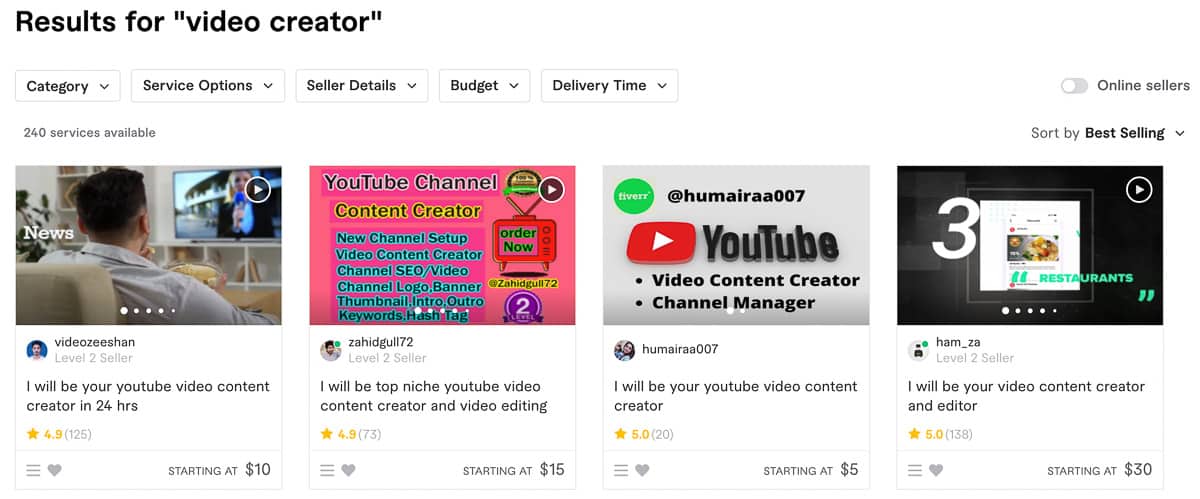 In fact, I am myself a video creator for travel videos, and my starting price for up to 30 secs video is $200. So I really find impressive those prices on Fiverr.
When searching on Google about video creation pricing, the average pricing per hour is between $75 and $200. And outsourcing video production can range from $1,200 to $50,000.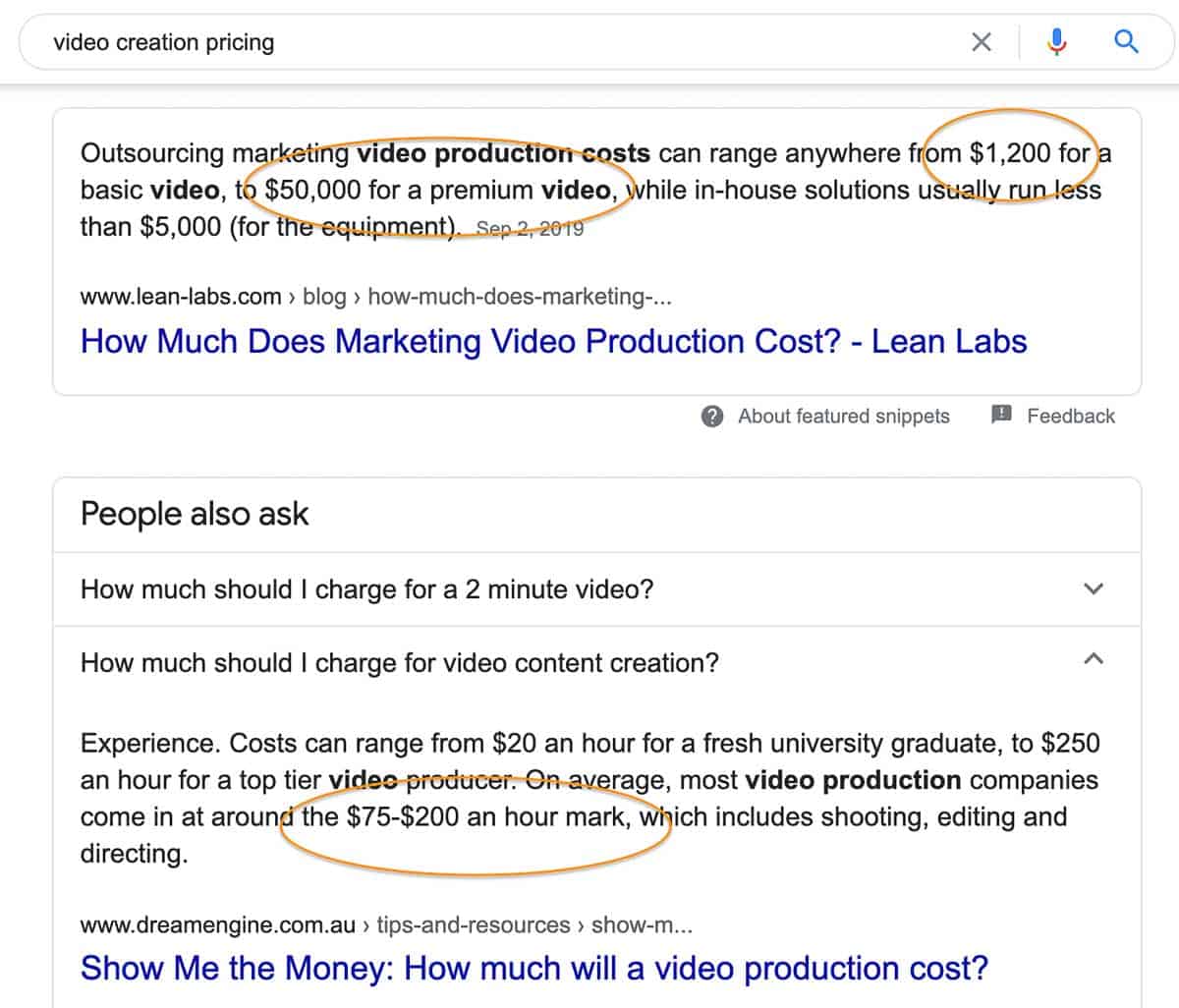 Again, there are many variables to set the right pricing for the video. But let's say the client wants a basic one-minute promotional video for Youtube.
Some of the best sellers in Fiverr can perform this task for $50.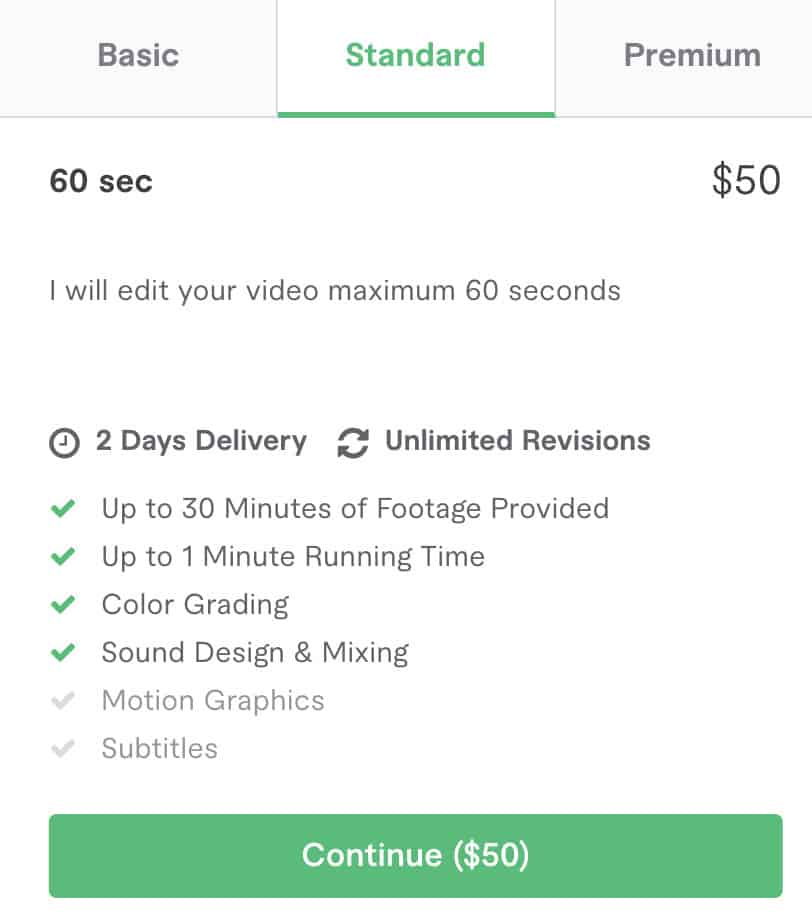 If we look for the same on Google, we find it can range from $1,000 to $10,000 according to Beverly Boy.
Even if we go to the low side, budget your client $1,000, and pay a Fiverr freelancer $50, your profit margin can be $950.
Some services are much harder o quote than others. And specifically, I think that video creation is where you find massive differences in pricing.
>Click here to find video creators on Fiverr.
8. Ads creation.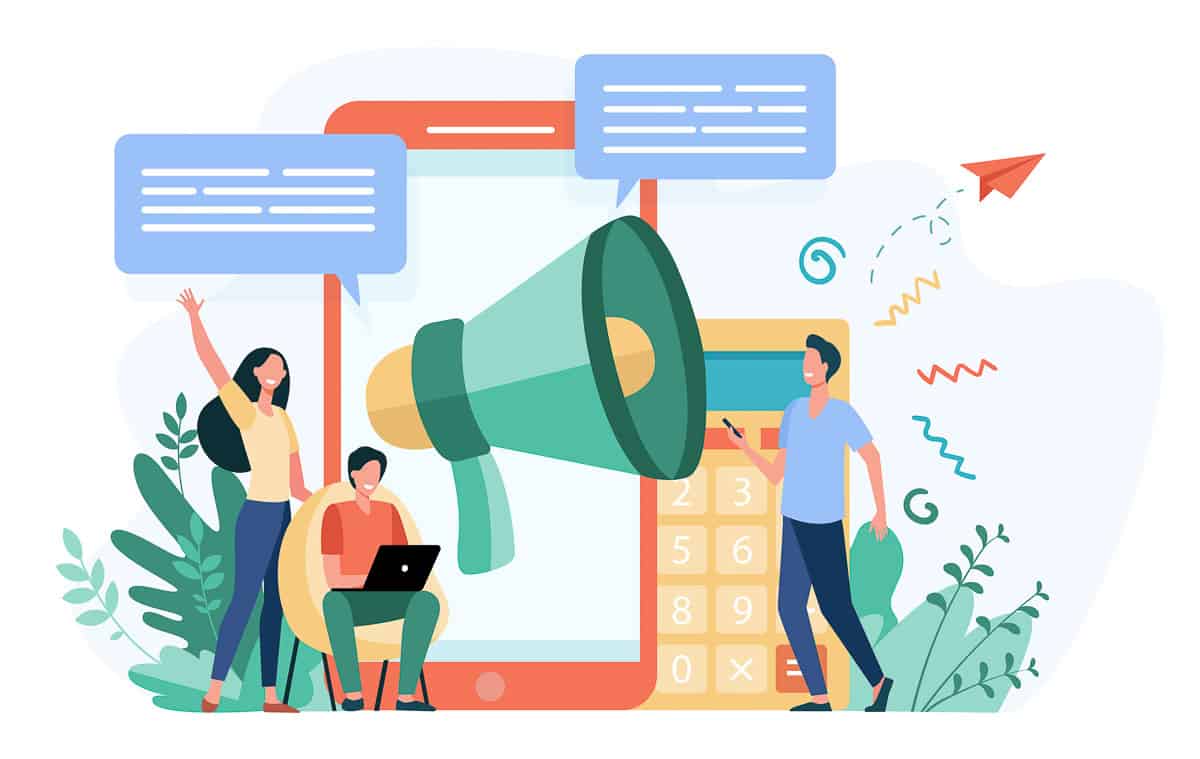 The easiest way to drive traffic to any website or business is with ads. So ads creation is another popular service.
But creating successful ads is not easy. It requires appealing visuals, compelling ad copy, and an eye-catching call to action.
It is hard to make profits with ads when you have no experience or little experience. That is why many businesses outsource ads creation.
How much profit can you make in the ads creation drop servicing niche?
In Fiverr you can find ads creators from $10 to $200. Specifically, the cost for one ad design cost an average of $10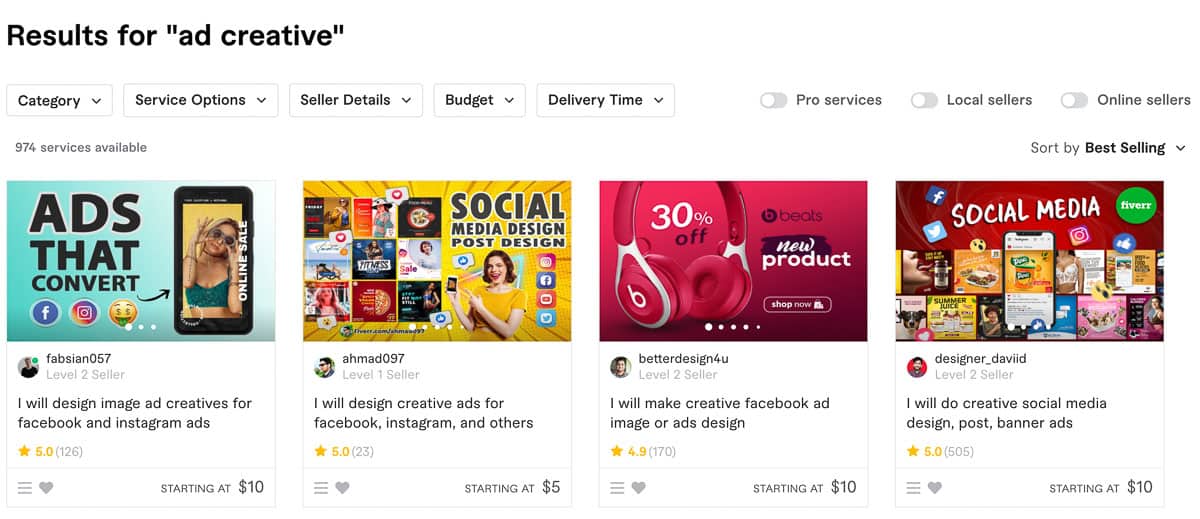 Now, if you check on Google and ask pricing to different agencies, you will find that the starting pricing is no less than $250 in most cases.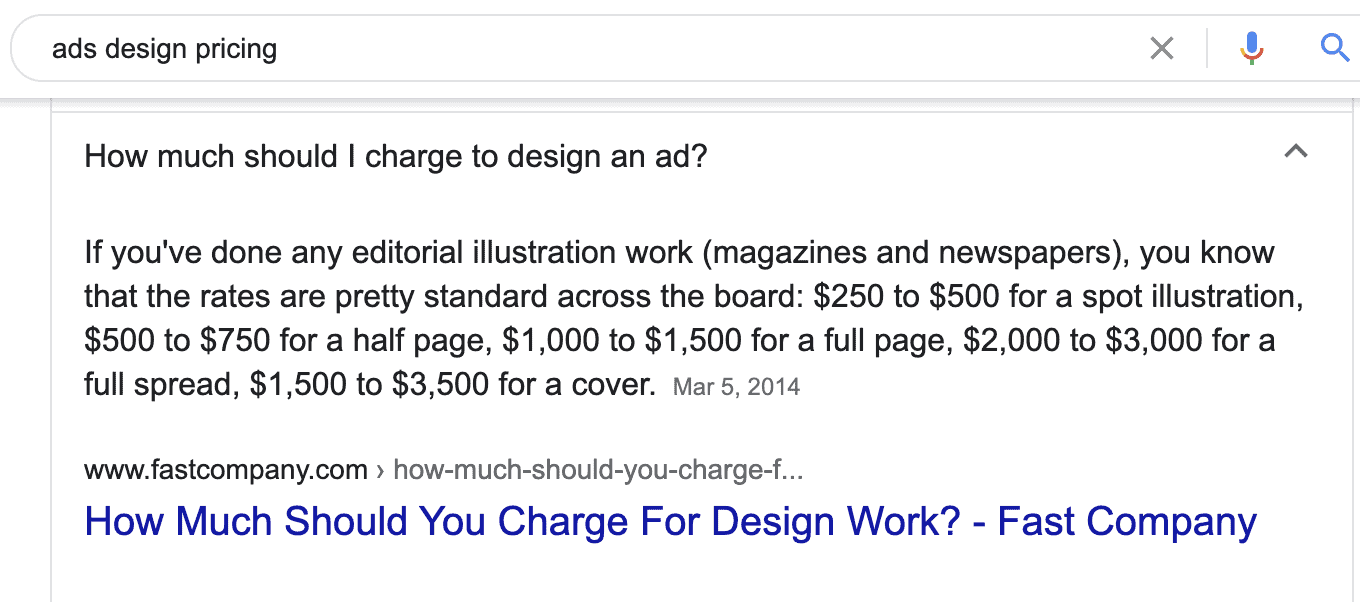 So in this case, you could budget your client $250 for an ad design, pay in Fiverr around $10, and get a profit margin of $240.
>Click here to find ads designers on Fiverr.
9. Voice over services.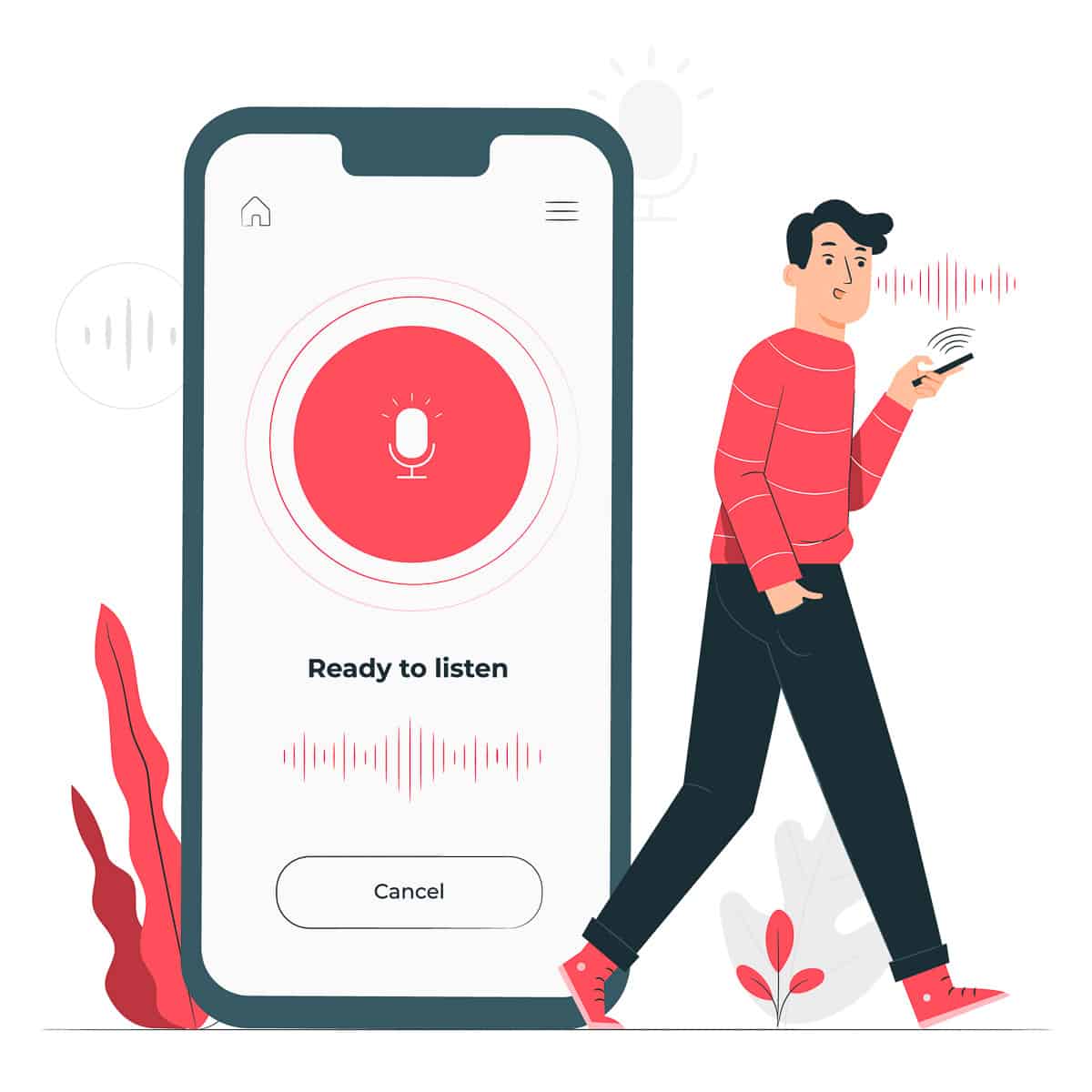 In the era of podcasts and where the narrative is key for videos and ads, voice-over drop servicing can be a gold mine. Many industries are noticing this, and are creating AI voice overs.
In most cases, this service does not include a script. Instead, you just pay an artist to read a script.
This is probably one of the top growing niches in 2021. You just need to take a look at the number of services available in Fiverr to see how popular it is.
How much profit can you make in the voice over drop servicing niche?
Voice over is measured normally by words. For this example, let's check how much would it cost 1,000 words in Fiverr (around 5 minutes).
We can see the costs range from $205 to $400.

When I Google the same, according to Debbie Grattan, standard rates range from $275 to $1,700.

That would make an average of $987.5 per service. So even if you hire the most expensive service on Fiverr and pay $400, you could still make around $587.5 profit.
>Click here to find voice over services on Fiverr.
10. Ecommerce website.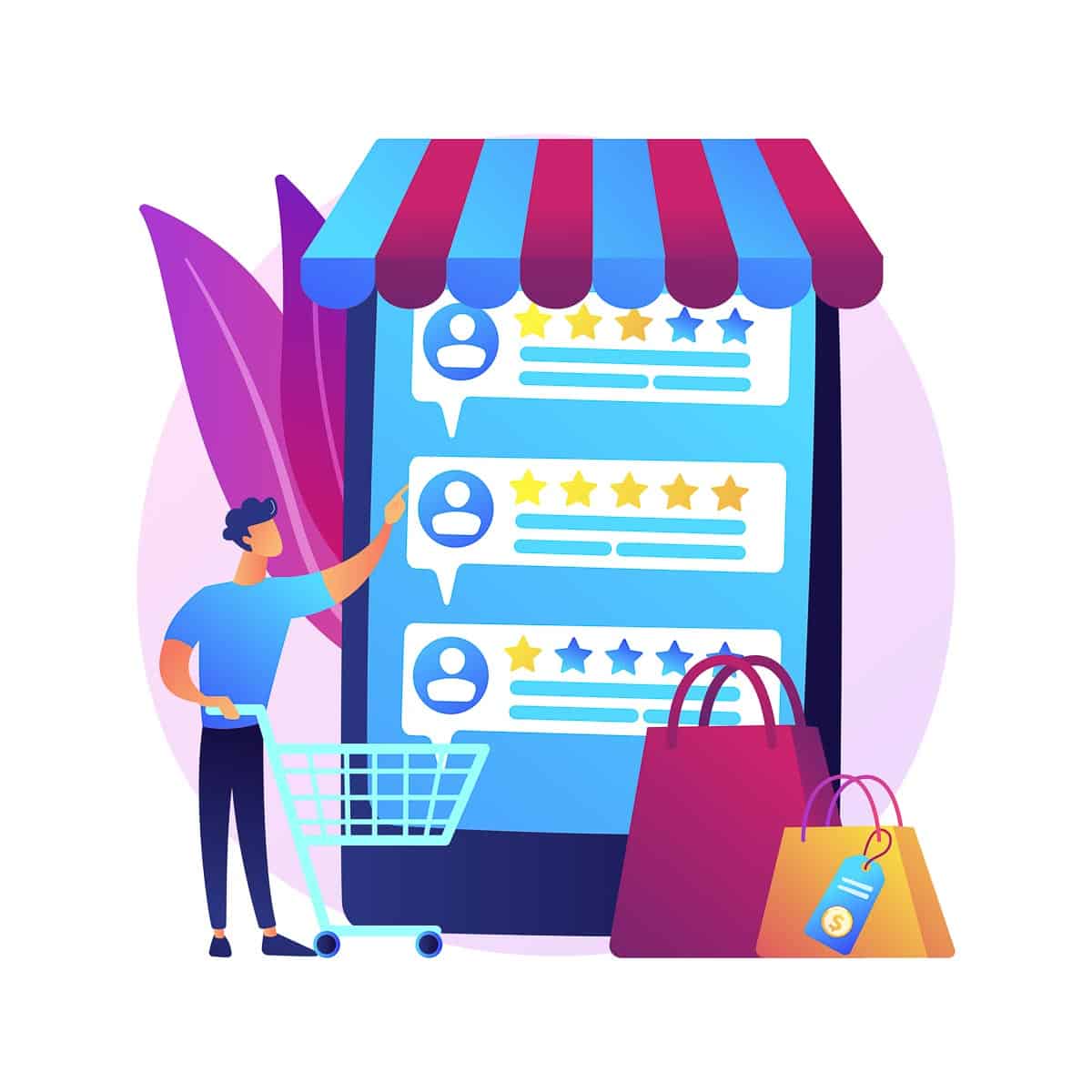 E-commerce was already pretty strong. But the covid has forced many businesses to move their stores online, making it even bigger.
Now, many people need to transfer their stores online. So they just surf the internet looking for professionals who can help them. And this is where you get in the game!
On top of that, there are endless opportunities for entrepreneurs with e-commerce websites. This is because you just need a small investment and in return can get very decent money.
How much profit can you make in the e-commerce store drop servicing niche?
Due to the number of new platforms that allow you to create e-commerce websites with a few clicks, prices are very competitive.
Prices in Fiverr can range from $20 (basic Shopify installation) to $1,000 for a totally finished e-commerce website with all you need.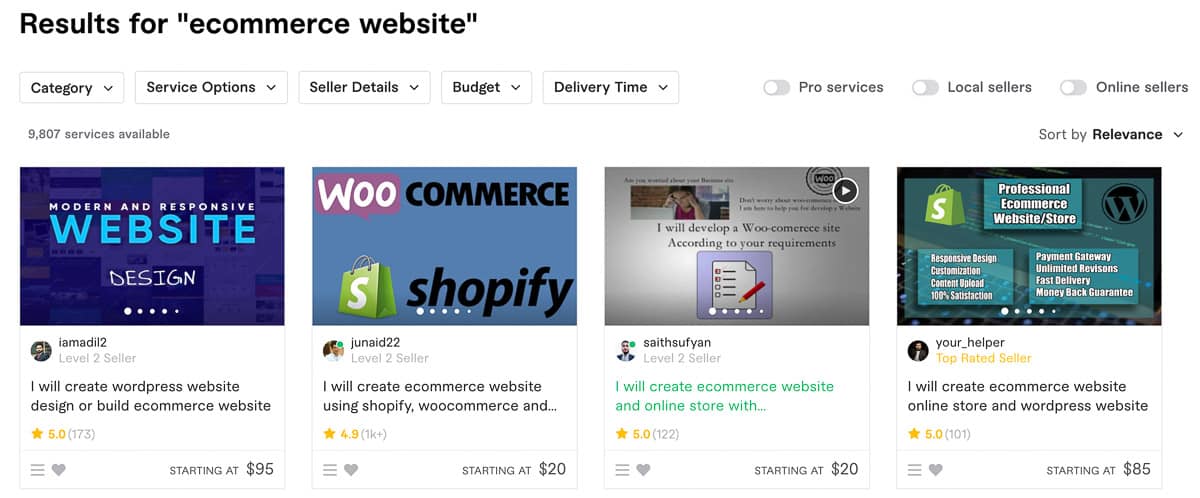 For this example, let's say your client just wants a simple e-commerce store.
You can find in Fiverr people with great reviews which can make it for $200.
According to Big commerce and WP beginner, you can launch a basic e-commerce website for around $1,000. Of course, the requirements will change pricing, and without knowing the exact requirements is hard to compare equally.
But it is safe to assume that you can make at least a profit margin of $200 to $500 per service.
Also, you can check here the 10 Best Ecommerce Niches in 2021.
>Click here to find ecommerce services on Fiverr.
11. WordPress fixer.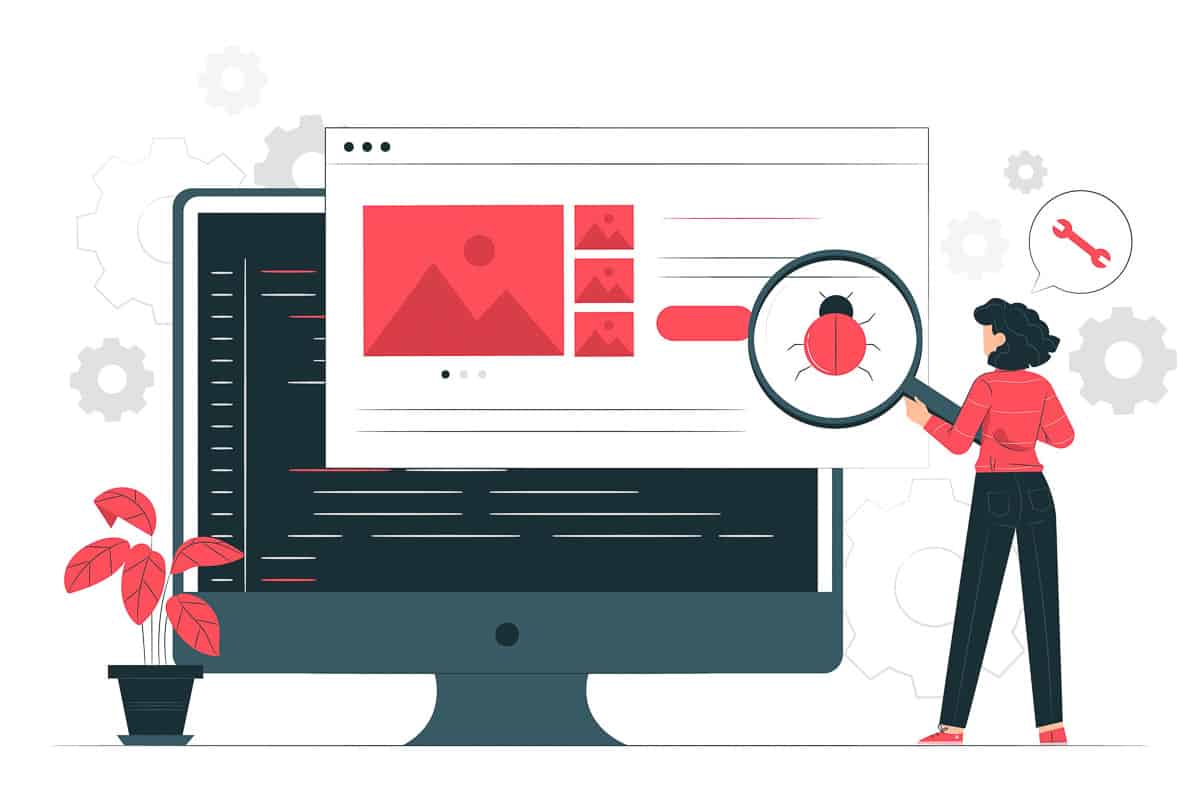 Considering that the number of total active websites is estimated at over 1.3 billion according to a survey published by Netcraft, that means that around 455,000,000 websites are using WordPress right now.
Need any other argument to convince you that the WordPress drop servicing niche can be very lucrative?
However, the biggest downside is that the competition in this niche is fierce. But again, where there is demand there is an opportunity.
This service is really a game of numbers. I cannot even start imagining the number of WordPress bug fixes requests worldwide. But I am guessing is huge!
How much profit can you make in the WordPress drop servicing niche?
There are plenty of freelancers in Fiverr willing to fix your WordPress from $5.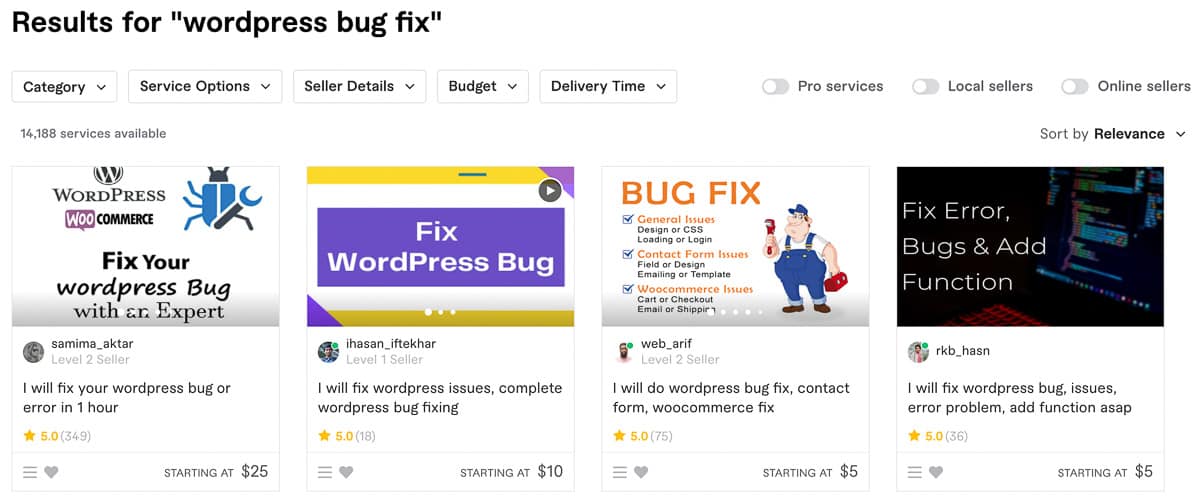 One of the most popular bug fixing services is WP Fix It. They offer a flat rate of $39 per fix.

So your profit margin can be around $29 or $34 per fix.
Considering you can receive a lot of bug fixes requests per day and most are pretty fast to fix for experts, it can be a great turnaround.
>Click here to find WordPress gurus on Fiverr.
Find freelancers for your drop servicing business now!
You might want to read next:
How can I start making money with drop servicing?
As for any other online business, to get started with drop servicing you will need:
The bad news is that any good business can be slow to build. However, slow is relative since you can have a good quality drop servicing website ready and working in under 2 months.
Alternatively, you can hire a freelancer on Fiverr and get this all done for around $800 and have it ready in 2 weeks with the help of a Pro Fiverr freelancer.
So what are you waiting for?
Are you ready to create your drop servicing business?
Now you know which are the best drop servicing businesses out there. The niches listed above are very hot, so now it is a good time to try them. However, bear in mind that some might be very competitive, so ultimately I suggest you check on your competition before making a move.
Other than that, I think drop servicing can be a great value for money since the investment to start and keep it is minimum.
Now I'd like to hear what you have to say:
Which of these niches are you going to choose?
Let me know by leaving a quick comment below.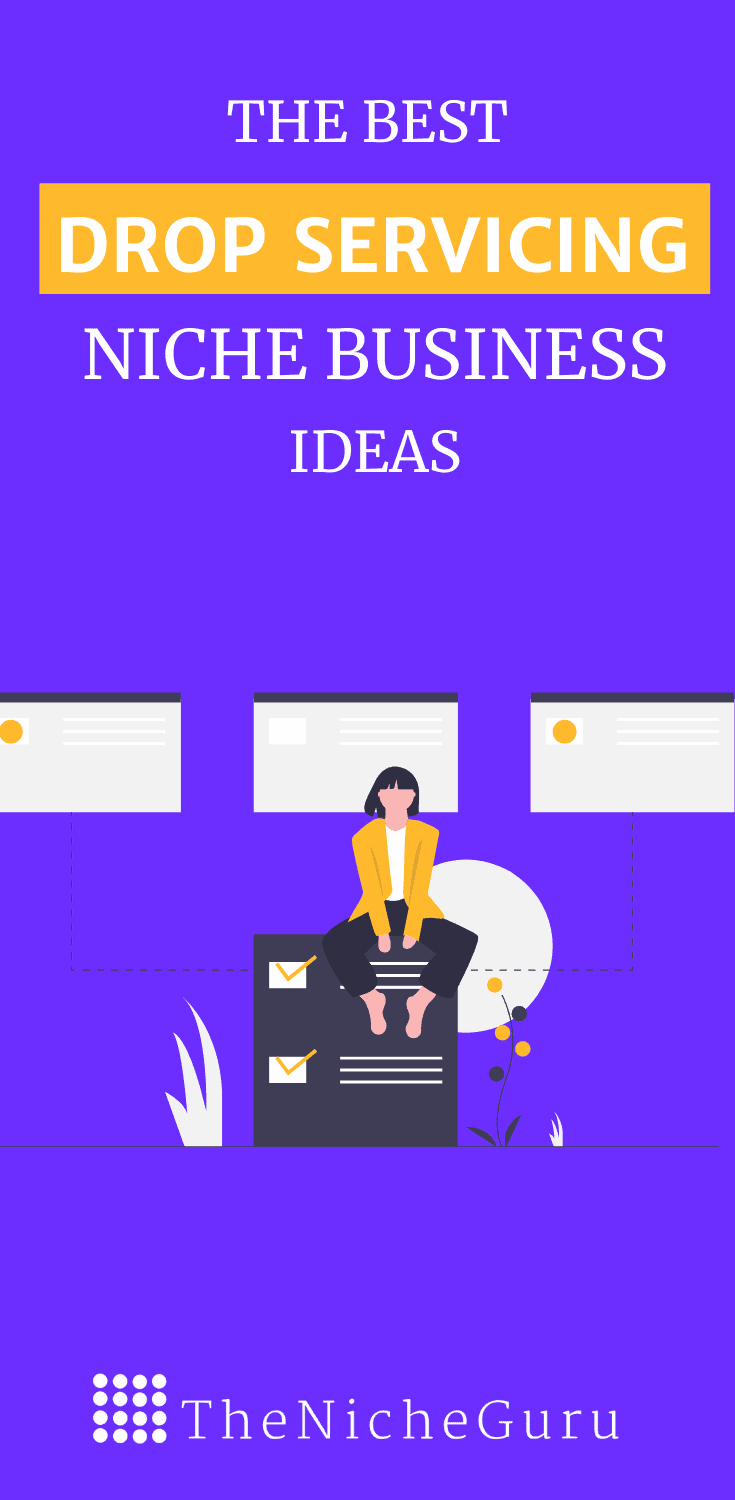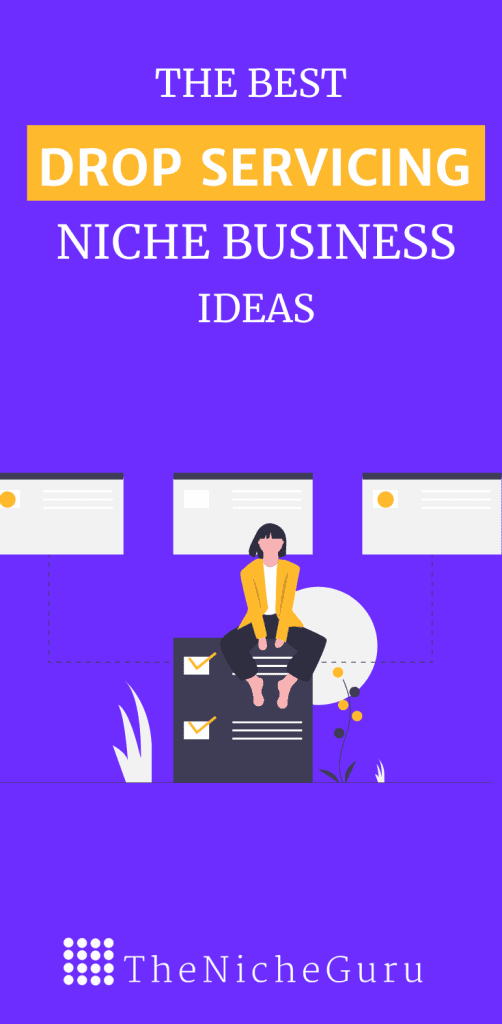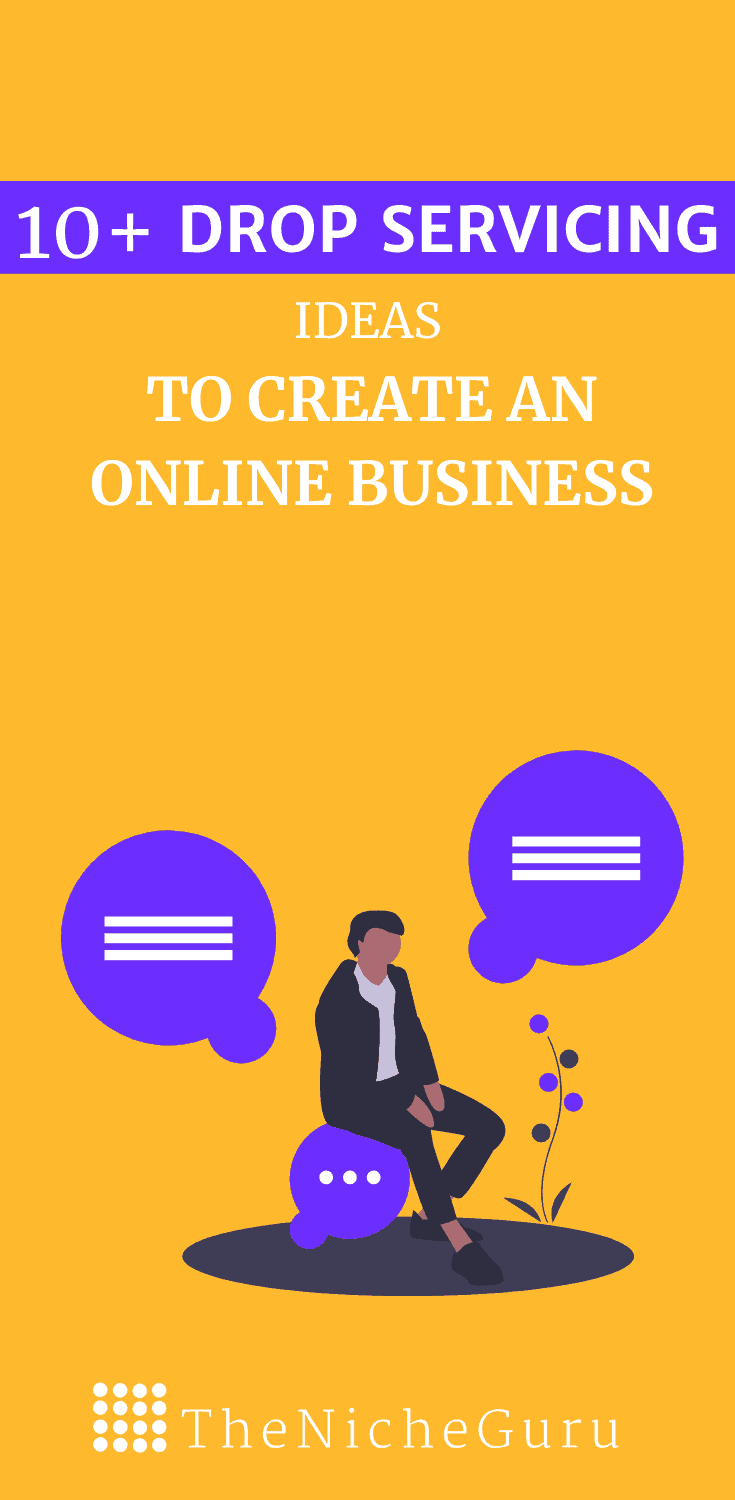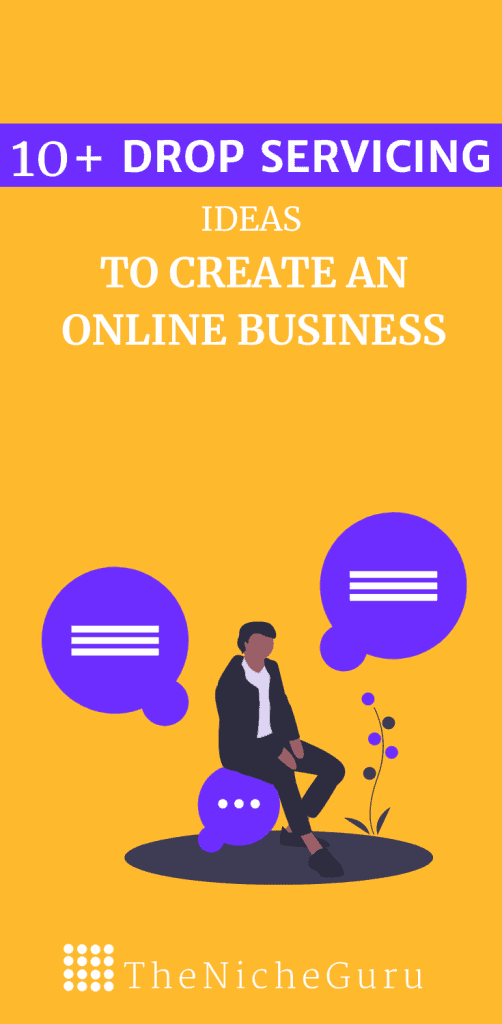 Don't forget to share this article!
RELATED CONTENT