Want to build an effective evergreen funnel to earn a passive income?
A sales funnel can be an effective way to automate your sales machine to make you profit passively.
And the good news is that you only need an email marketing service to create an evergreen sales funnel that can make you money.
But not every funnel works; It takes some tests and tweaks until you get the right product to promote, email sequence, timing, and target audience.
In this post, I will show you exactly what you need to do to build an evergreen funnel that makes money.
Let's dive in!
*Disclosure: I only recommend products I would use myself, and all opinions expressed here are my own. This post may contain affiliate links that at no additional cost to you, I may earn a small commission.
What Is an Evergreen Funnel?
An evergreen sales funnel is a series of automated emails that generate sales of your products or services automatically. Anytime a reader converts into a subscriber, they will receive the evergreen funnel without you having to be actively involved. This allows you to earn a passive income- Once you set it up, it will run automatically.
This is why many people call it "passive" income. Once you set it up, it should be able to run with little day-to-day work by you."Evergreen" just means your funnel works all year round.
---
How to build an evergreen funnel that works.
Not every funnel works. In fact, most of the time, you will need to perform some testing until you find an evergreen funnel that works in your niche and for your audience.
Also, for an evergreen sales funnel to work, you will need to:
Drive traffic.
Convert readers into subscribers.
Create and send your evergreen sales funnel.
Test and tweak.
If you have an online course business, I suggest you check how to create the perfect sales page.
Driving traffic to your website is essential to increase your chances of converting readers into subscribers. The most traffic you send, the higher the chances to send your evergreen funnel.
And there are many different ways you can send traffic to your site.
I want to start with one of the most important free traffic sources and where you should focus all your efforts: SEO (search engine optimization).
Organic search traffic is so important that ranking for keywords with commercial value will have a considerable effect on your website. It will drive you very targeted traffic with interest in buying a product or service. This will lead to an increase in your sales.
You can see the potential here. However, if you want to rank on Google's first page, you'll need to do some work.
Some of the things you should do to optimize your website and article to rank are:
Topic research. Create content on topics people are interested in
Keyword research. Target long-tail keywords with low competition and a decent search volume.
Create amazing content. Unique long-form content (+1,000 words) performs better than short pieces.]
I suggest you check how to perform niche keyword research to leverage your SEO. It can definitely help you to increase your organic traffic.
Also, I recommend you check 10+ free traffic sources to get more visitors. You'll find how to drive traffic with different platforms that work well in 2023.
Lastly, if your website is new and doesn't have much traffic, the easiest way to get started is with paid advertising. You need a small budget to do this, but it is the fastest method to start sending traffic to your website straightforwardly. I suggest you start with Facebook ads and Google Adwords.
When you send traffic to your site, you will need to find a way to convert readers into subscribers.
If you want to convert a reader into a subscriber, you need to create amazing content and provide value. This is key to success in converting them. You will also need to use landing pages or lead magnets to gather your reader's email.
Landing pages are better for products or services like online courses. However, lead magnets are way more efficient for blog posts.
For landing pages, I recommend using Convertkit. It is a great email marketing service, and you can use it for free (up to 1,000 subscribers.) You just need to create a free account in Convertkit!
The steps you need to follow to create a landing page in Convertkit are:
Step #1. Head to Convertkit and sign up for free.
Step #2. Fill in your details and click on "Get Started."
Step #3. Log in and click on "Grow>Landing Pages & Forms" on the top bar.
Step #4. Click on the "Create New" button at the bottom of the page.
Step #5. Select "Landing Page."
Step #6. Browse the different templates and click the "Choose" button to select the one you want to use. You can also filter them and click "Preview" before choosing them.
Step #7. Customize your landing page with the panel on the right (1). You can also control the settings and preview the form with the top menu options (2). Once you are happy with your design, click on "Save and Publish."
Step #8. Next, on the top menu, click "Publish."
Step #9. Lastly, you will get different options to embed the form. Choose your preferred option, copy the code and paste it on your website.
Once your landing page is ready, try to send traffic to the page to maximize conversions.
For faster results, you can use paid advertising.
Lastly, if you want to see some landing page examples, I suggest you check in this post the anatomy of the perfect landing page to create an evergreen course funnel.
A lead magnet is a marketing term for a free item or service that is given away for the purpose of gathering contact details; for example, lead magnets can be ebooks, PDFs, etc.
The best way to convert readers with lead magnets is by creating engaging blog posts. Then, you can create lead magnets to get a reader's email in exchange for a free resource.
For lead magnets, my favorite tool is Convert Pro. It is straightforward to use with a drag-and-drop editor, loads very fast, and makes good work converting your readers into subscribers.
Creating a lead magnet is very easy. For this example, I will create a pop-out form.
Step #1. In your WordPress panel, select Convert Pro. Next, select "Create New> Modal Pop Up > Select."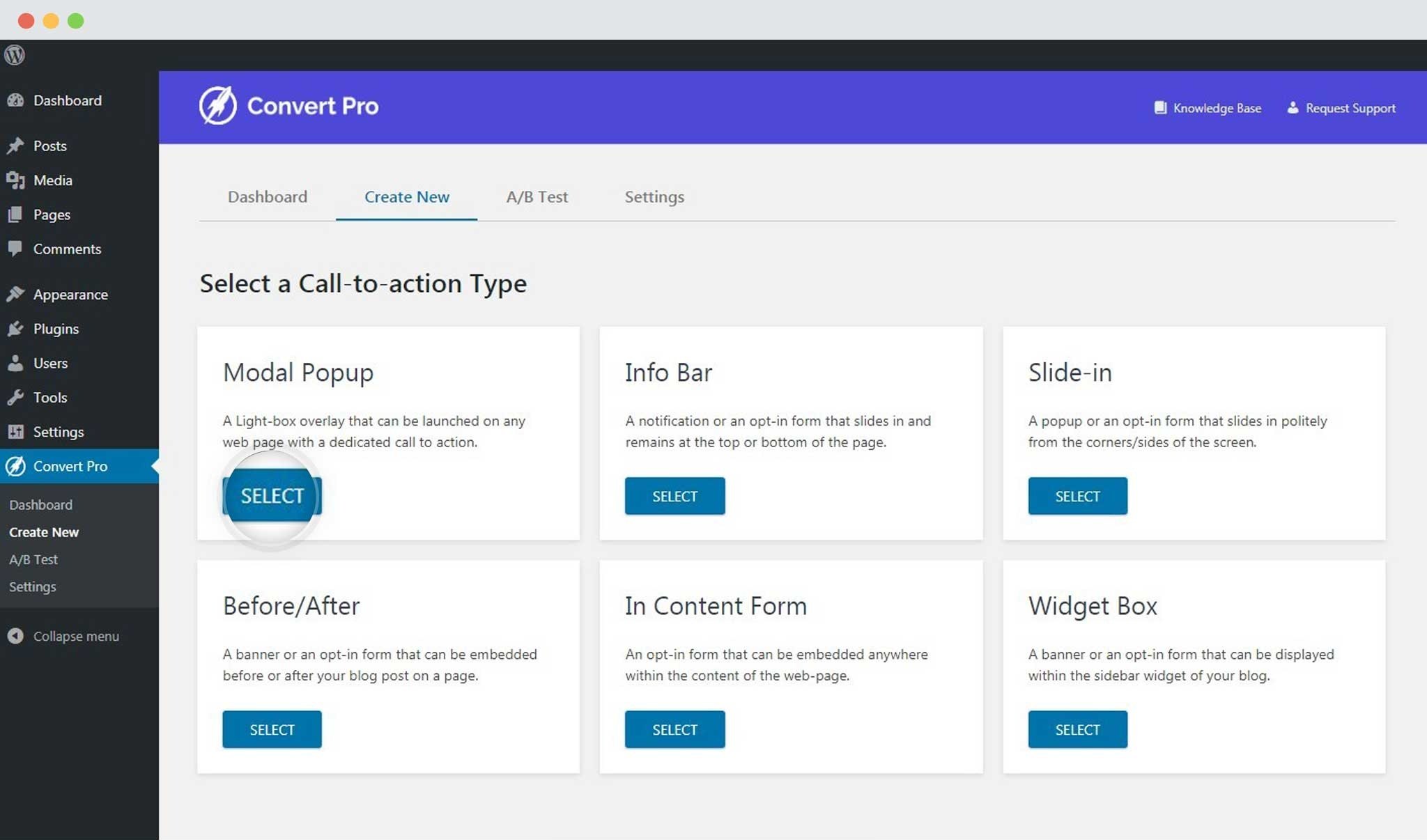 Step #2. Select a template and name your form. Next, you'll be taken to the editor.
Step #3. Design your form and call-to-action.
Step #4. Next, configure the settings. This step allows you to manage the pop-up configuration. You just need to click on "Configure" on the top and adjust each value.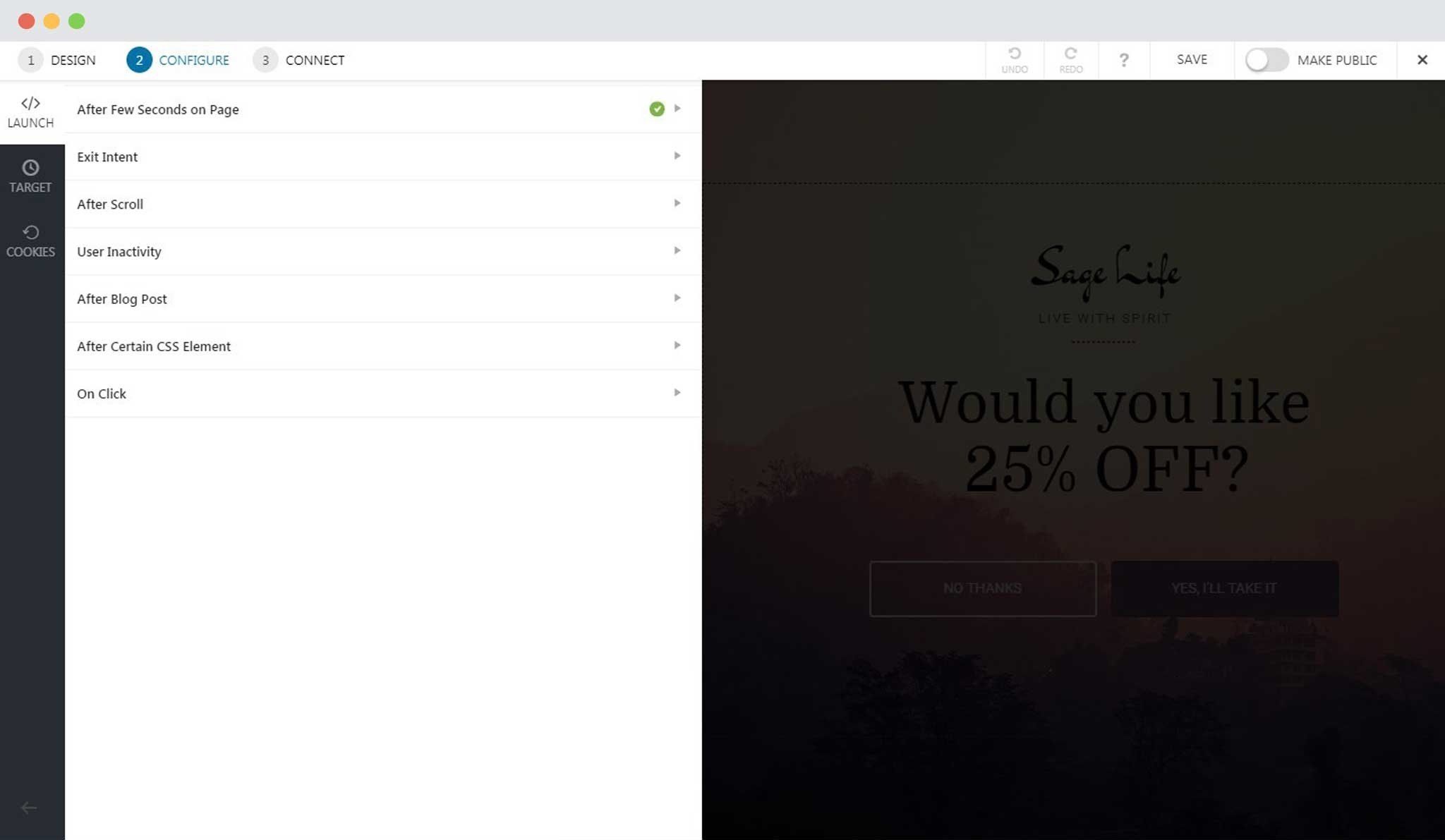 Step #5. Lastly, move to "Connect" on the top menu. Convert Pro integrates with 30+ email marketing service providers and autoresponders to help you store and manage leads. You can also enable email notifications to receive lead data on a specific email ID.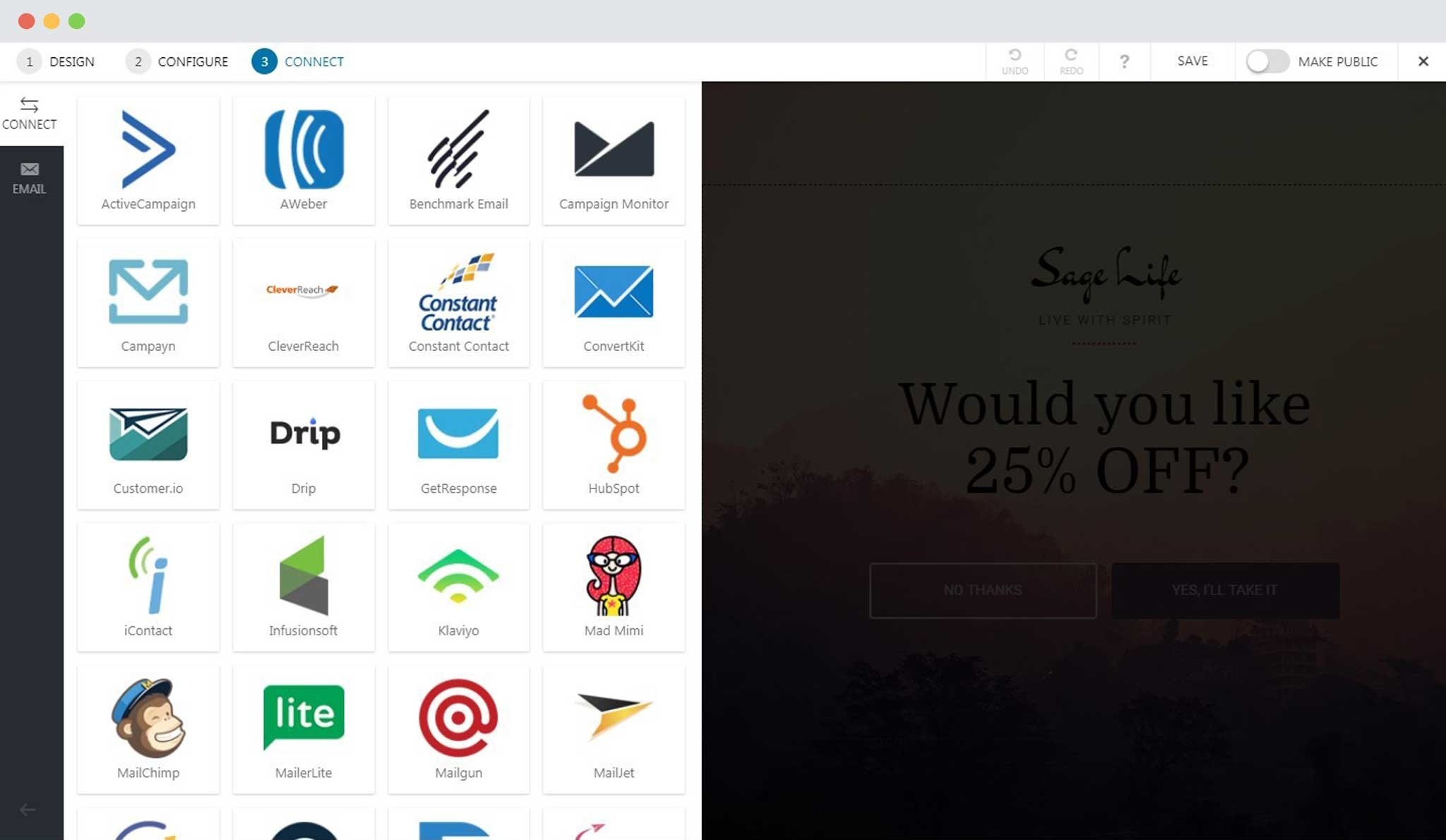 You can refer to the following links to integrate with a third-party email marketing service provider and enable email notifications.
You are all set to publish your popup and convert your website visitors into prospective leads and customers!
Finally, you can check here how to segment your list and build your audience.
Once you manage to convert readers into subscribers is time to put your evergreen funnel to work.
This section will cover how to create an evergreen sales funnel and send it automatically to your new subscribers.
As I mentioned at the beginning of this post, an evergreen sales funnel is just a series of automatically sent emails. So to create an email funnel, you just need:
An email marketing service. My personal recommendation and the one I use is Convertkit.
Create a series of engaging emails where you solve an issue for your target audience.
When you start crafting your emails for your sales funnel, you should do it with a goal in mind for each email. Your evergreen sales funnel should be a mixture of educational and promotional content. And more importantly, each email should deliver value to your readers.
Your evergreen sales funnel should have 3 stages:
First stage: Value. You should present the value in the first email. Your value could be a free download, educational resources, giveaway, or some other resource.
Second stage: Authority. When you deliver value, you are building trust with your audience. In your second email, you need to position yourself as a thought leader. You may want to nurture your leads further with more articles, case studies, whitepapers, etc.
Third stage: Call-to-action. In the third stage, you should push for the sale with a call-to-action email. In your email copy, you should provide a direct offer and list its benefits for the buyer. You could use a structured pitch in which you can connect with the customer's problem. Or you can state the why, what, and how of your offered product/service.
To build an email sales funnel, you just need an email service provider.
For this post's purpose, I am going to show you how to do it with Convertkit.
To create an automation, first, you need to create an email sequence. A sequence would be composed of several emails. This is what you need to do:
Step #1. Login to Convertkit.
Step #2. In the top bar, click on Send > Sequences > New Sequence
Step #3. Next, you will see the email editor. Here you can edit each email of the sequence individually.
By clicking on Add Email, you can add more emails to the same sequence. By clicking on "settings," you can control the parameters of the whole sequence. Like which days you want to send them, at what time, etc.
Step #4. Once your sequence is ready, you can create automations- On the top bar, click on Automate > Visual Automations > New Automation.
Step #5. Next, you can choose to create automation or browse templates. I suggest you start browsing templates to get some ideas.
Step #6. Lastly, you can simply use one of the automation templates or click on "create automation" and build your own automation. You can find an example below:
You can easily control the variables to jump from one step to another. So the possibilities are endless!
You can get more ideas on how to build email funnels here.
Now that you have some basic knowledge of how an evergreen funnel works let's see an email sequence example. These are the kind of emails your sequence should have:
Email 1: Welcome email. This is where you introduce yourself and state how different your blog is and how you can help your reader. This will help them to decide if they want to stick.
Email 2: Audience's main problem + freebie. This email is crucial to building trust. On it, you will address one of your audience's pain points and provide them with a quick win to overcome that issue: ebook, checklist, infographic, etc.
Email 3: Deep dive into your audience's main problem. Here is where you introduce the main problem your audience might have, which you will later help them solve with your affiliate link in another email. This is about them acknowledging having an issue that needs a solution. But you will not provide it until the next email.
Email 4: Create an email with a concrete solution. This is where you need to convince your readers that your affiliate product is the solution to their problems. And a great way to do it is by showing the actual benefits of using/buying your product.
Email 5: Push for the sale and create scarcity/urgency. Now your subscribers are familiarized with your product or service is a good practice to push for the sale creating a sense of urgency or scarcity. People tend to react better when they feel they might miss the opportunity to buy this product or service from you now.
This is just an example that normally works well. But you can always increase the number of emails as long as you keep the value/promotion to 70/30.
The great thing about evergreen funnels is that you can sit back and relax once they work. As your list grows, each new subscriber will become part of your funnel and receive your emails. So you'll be creating passive income automatically.
Every funnel works differently for each niche and audience. So to obtain the best results, you should test and adjust your strategy.
Most email service providers offer analytics. Your job is to track your evergreen funnel values like open rate and click rate and adjust them.
The example below is from a sales funnel in Convertkit. The "subscribers" number shows how many people there are currently in the funnel. The open rate and click rate values are the averages from all the people that have gone through this funnel.
If the open rate is low, it means that your email subject lines are not interesting enough. Try different subject lines until you have a good open rate.
If the click rate is low, it can mean that either your offer is not interesting enough or you are not targeting the right audience. Try changing the copy and creating a compelling call to action for subscribers to click.
Lastly, one of the values you should track is your funnel conversation rate. Your conversion rate is the percentage of leads who convert into customers. Since your goal is to convert as many leads as possible, defining your conversion rate can help you figure out the best way to do that.
Conversion rate is one of the easiest sales funnel metrics to calculate – you just need to divide the total number of conversions by the total number of leads who entered the funnel and then multiply by 100 to get a percentage.
By adjusting each of the steps explained before, you should be able to increase your conversation rates, hence your income.
You might want to read next:
---
Best tools for your evergreen funnel
Every evergreen funnel needs powerful tools to help you maximize your conversions. There are some tools that will really have a positive impact on your funnels. And those are the tools I want to introduce to you in this section:
Convertkit. You can't go very far without an email service provider. Convertkit offers you all the tools you need to create sales funnels and track your sales and conversions. Check my Convertkit review and give it a try.
Convert Pro. Convert Pro is a tool to create irresistible lead magnets to convert readers into customers. It is easy to use with a drag and drop editor, load very fast and makes good work converting your readers into subscribers with powerful forms.
Instapage. Instapage is a service that lets you build landing pages for your online marketing and promotion campaigns with ease. It is great for converting your readers into subscribers and start sending them your sales funnel
Payoneer. Payoneer is the best online bank platform for entrepreneurs. It is easy to use to start accepting money for your sales. This platform is trusted and secure, and it doesn't charge you commissions as most online banks do. And what is best, registration is absolutely free.
You might want to read next:
---
Evergreen Sales Funnel: Conclusion
Evergreen funnels are a powerful method to make money online.
It takes some testing until you find the exact combination of emails, frequency, and offers, but once you master that, you will start making a passive income.
Now is your turn!
Will you create an evergreen sales funnel with the tips in this post?
Leave a comment with your answer below.
FAQs
Don't forget to share this article!
If your brand is on social media, you can be part of an online conversation,…
RELATED CONTENT
Check these 7 free & cheap email marketing software reviewed and compared. The Best free…
Are you thinking about which channel you should focus on for growing your business? Well,…
Email marketing is a strategy that involves sending messages to a list of subscribers via…
It's no secret that email is one of the most effective means of communication online….