Creating a useful digital product could be the first step on your journey to success.
With the right marketing strategy, you could be sitting into a passive income—the dream for many online marketers. However, product launch marketing takes significant planning. Without a proper strategy, your product might fail to deliver on your target buyers' expectations and yours.
In order to succeed, you will need a solid marketing strategy for a new product launch. A firm approach that allows you to put your product in front of potential customers successfully.
In this article, I will show you how to create a marketing strategy for a new product launch in 10 actionable steps.
So let's dive in!
*Disclosure: I only recommend products I would use myself, and all opinions expressed here are my own. This post may contain affiliate links that at no additional cost to you, I may earn a small commission.
Why you need a Product Launch Marketing Plan.
A launch marketing plan can help you get better results overall:
It can help you define your goals and plan how to achieve them.
It allows you to plan how to market your product: Who is your target audience, and which platforms you will use to promote.
You can reduce product failure chances by establishing different milestones and tweaking processes with poor results.
You could increase your brand awareness, bringing new business opportunities in the future.
A successful product launch can drive new business leads and loyal followers.
As you can see, there are many benefits to creating a solid product launch marketing plan.
Next, I will show you some tips and how you can do it efficiently.
Tips for a successful product launch Marketing strategy.
Focus on the benefits (not the product.) Most people will want to know how your product will solve their problem rather than your product's specs. Think about your customer experience.
Create something innovative. Revolutionary products can make a real difference. The word will spread faster, and people will want it. If you create 'just another product,' it will be harder to sell due to the competition.
Provide an early-birds offer. People tend to react faster when you create a limited offer (scarcity.)
Release a product your customers want to show off. There is no better marketing than happy customers.
New Product Launch Marketing Plan Examples.
I can't think of a better example for a new product launch than Apple.
Apple is very good at creating expectations and playing with the surprise element.
Almost every product they release is sold out even before it is available! But how do they do this?
First of all, Apple is already a trusted brand with a great reputation. So customers already know they deliver quality products.
Secondly, they play with emotions and advertise every product like something totally unique that nobody else got. This mix of emotions, quality products, and uniqueness is what made it so desired and the reason why their marketing campaigns are a success.
They also create good quality landing pages with beautiful images, and their social media reach is huge. So they send many leads, which might end up converting by the time the product goes live.
Ahrefs is a well-known SEO tool for keyword research.
Since they are pretty good at SEO, their primary strategy to drive awareness is content creation- First, they create informational and practical content for their readers SEO-optimized. Then, they promote their content on their different social media platforms.
So their content marketing strategy has two peaks:
The first one; when they publish a blog post and share it on social media, where they have a great reach.
The second one; when they rank on Google's page one. Meaning that every time is looking for 'keyword explorer,' they get visits from potential customers.
So if you have SEO knowledge or have a large number of followers on your social media, content marketing can work very well to promote your product or service.
Marketing Strategies to Launch Your New Product.
A landing page is one of the most important elements when it comes to selling a product.
Landing pages lead customers to a specific product, service, or offer and encourage them to take action. This generates an excellent opportunity to create conversions and build your customer base.
It will allow you to create a distraction-free page where you want your potential customers focused just on your offer.
Any new product launch strategy should start by building an interesting landing page. This is the page you will use to drive traffic once you launch the product. So you need to have this ready to go, even though you won't be promoting this landing page from the beginning.
Also, this will simplify your 'pre-launch landing page' (more on this in step #2.)
In order to create a landing page, you will need a dedicated tool for this purpose. Two of the tools I can recommend you to create an effective landing page are Instapage and Convertkit.
In this post, you can find how to create a landing page with Convertkit and also set an evergreen funnel.
Now, I will explain how to create a landing page with Instapage easily:
Step #1. Head to Instapage and sign up for a 14-day trial.
Once you've created your account, click on the "Create New Page" button on the dashboard:

Step #2. You will then see two options: First, 'create a new page.'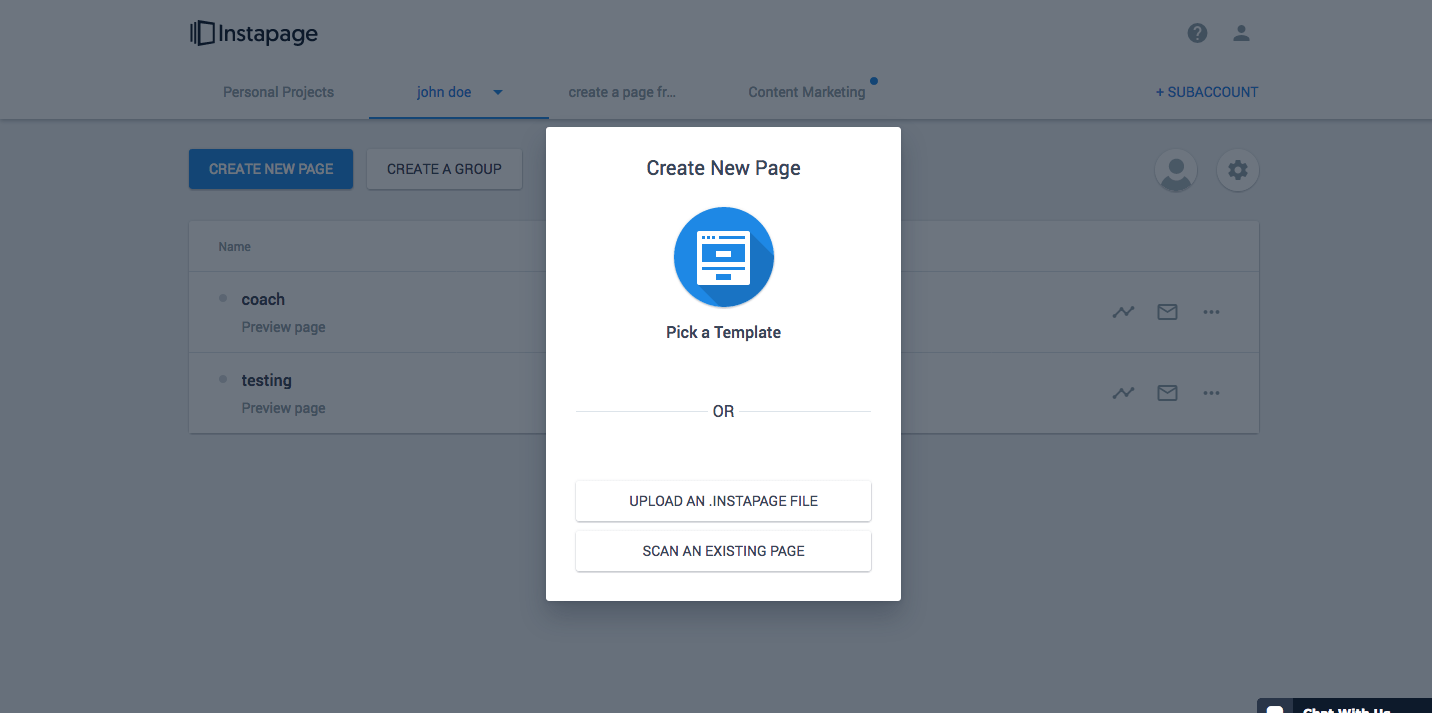 Or If you select the template option, you'll have access to the template gallery, where you can browse from the following types: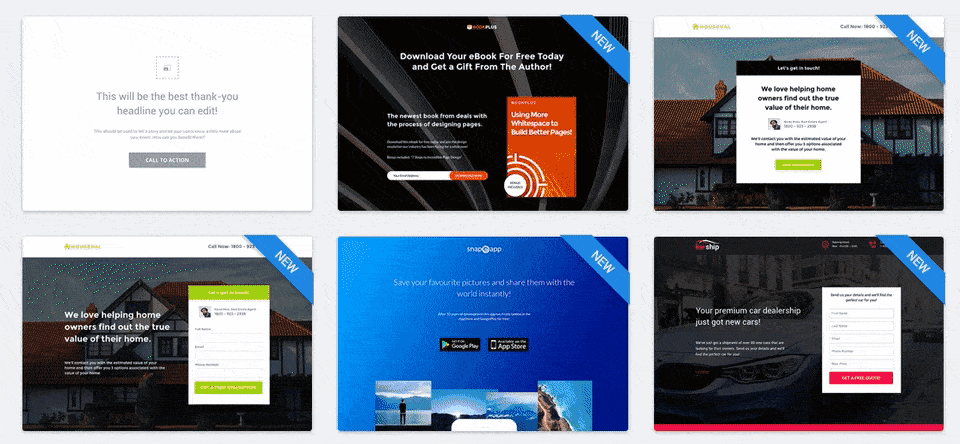 Step #3. After you've chosen a template, you can edit individual post-click landing page elements by selecting the item and then clicking the "Edit" option: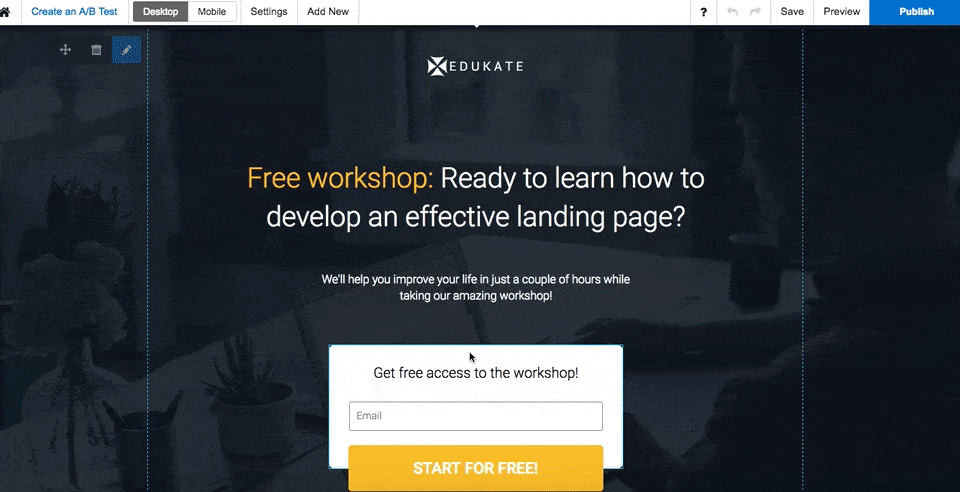 Step #4. When you're done customizing your post-click landing page, click "Preview." Once you're satisfied with your page, click "Publish" in the top-right corner: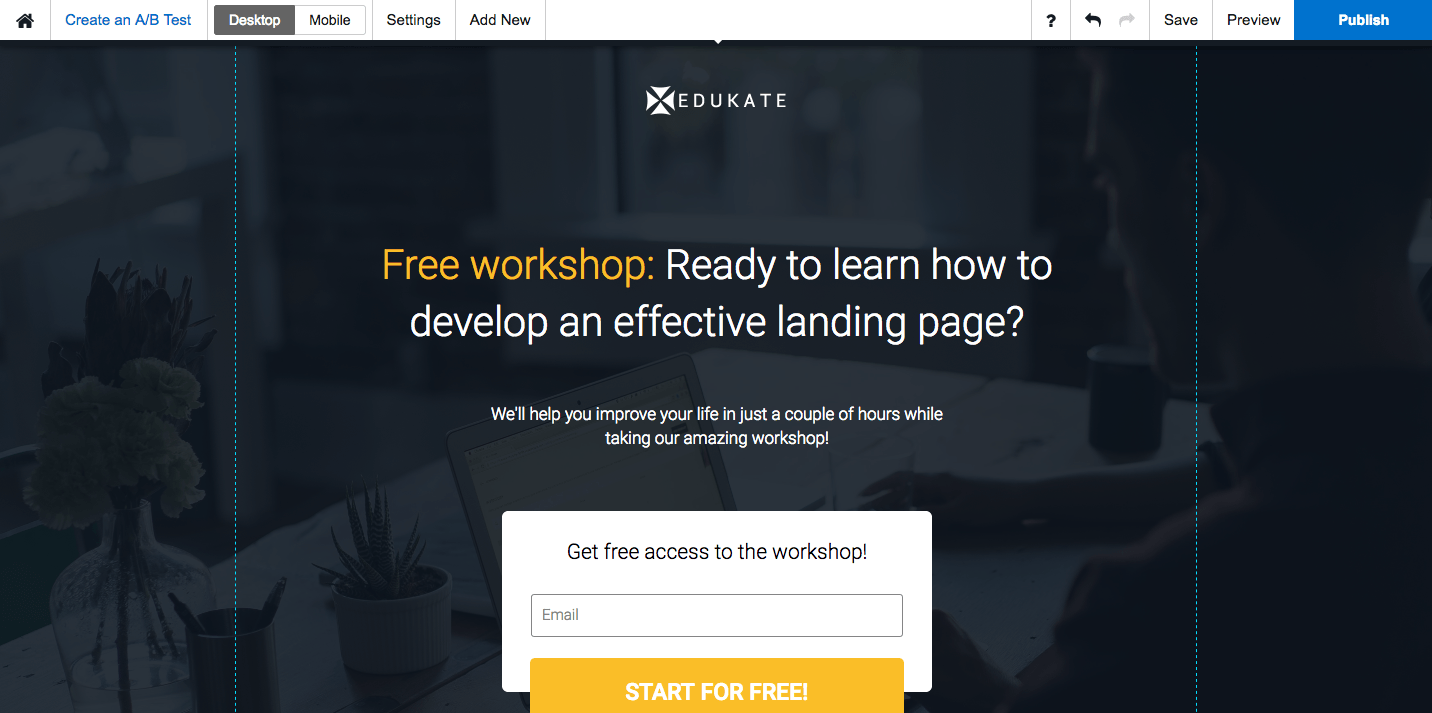 For now, you just want to keep this page ready. But we are not promoting this page yet until the official launch.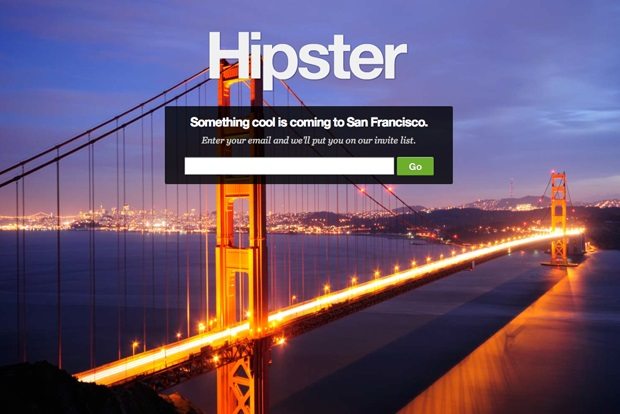 To generate expectation and curiosity is a strategy that has worked pretty well for many companies.
Think about Apple, for instance; every time they are about to launch something, they create an expectation and curiosity. They do this by not providing every detail about the product launch. Instead, they give some rough ideas before revealing its secrets.
This kind of practice attracts visitors who may even share the news with their families and colleagues, which results in growth in your marketing strategy.
One of the most effective ways of doing this is by creating a "Coming soon" landing page.
I already explained to you how to create a landing page in the previous section. So your task here is to create another landing page but holding information.
A good practice is to include a countdown indicating how much time remains. You should also include a field for those interested to register (usually for a newsletter or to be told when it's open to the public).
This strategy will allow you to grow your email list even before the product is launched. You will be able to send emails to these subscribers to keep building expectations until the official launch.
I suggest you use the previous method to build this landing page. Alternatively, you can create it with Convertkit. Convertkit is a powerful tool for email marketing automation, selling products directly from your emails, and creating landing pages. You could also benefit from using Convertkit by setting an evergreen funnel with a sequence for new subscribers.
Lastly, you'll need to drive traffic to this new landing page for the tactic to be effective. To drive traffic, you could:
1- Use paid advertising. Which might be the quickest.
2. Use these free traffic sources.
Online events can reach people from all over the world. So I don't need to explain how powerful they can be.
By increasing your market reach using a virtual product launch, even if the attendee doesn't purchase the product, there's a greater opportunity for word-of-mouth advertising, and it doesn't cost you anything.
Also, a pre-launch event can work very well because you can reach more people and show the benefits of using your product in the most effective ways. After all, you have created the product, and you are the first person to show how to use it properly.
The idea here is to create more expectations for the official launch since people will already know how your product can help them and when it will be officially available.
Create an online event easily and fast in HeySummit.
HeySummit makes it easy to run beautiful, effective, and value-driven virtual summits with a suite of organizational and marketing tools to help you save time and resources organizing your virtual event.
Also, it offers a 14-day free trial, so you don't even need to invest in it if you don't like it.
You can learn how it works here:
Once your event is ready, you can also use the tactics mentioned before to promote the event. You can even add the event to your 'pre-launch landing page.'
With the steps previously mentioned, you should have already built brand awareness, generated expectations, and maybe even some subscribers interested in your product.
When your product is in the pre-launch phase, not many people will be aware of your new venture. A sure-fire way to capture attention and raise awareness is by running an engaging giveaway and offering your product to winners. This will not only help to increase product awareness but can also help your social media audience to grow.
Also, the product is not available for purchase yet and can only be obtained this way, which provides extra value and interest. (Plus is free)
If you want to create an effective giveaway easily, Woorise is the perfect choice for you.
Woorise is a comprehensive app that allows you to run viral giveaways, contests, and competitions, to create beautiful landing pages or engaging forms such as surveys and quizzes.
You can use some templates to create engaging giveaways in no time.
When you choose a template, you get redirected to an online editor, where you can enter the giveaway details, change the size of the form, and add relevant images:
It really does the job of creating a giveaway stress-free and is easy to manage. Plus, you can use the Woorise free plan.
Lastly, you can use your social media channel to promote your giveaway. I also recommend partnering with influencers for a larger reach. If your product is worth it, some of them will be willing to promote the giveaway just for a free sample.
Your new product press release's success getting published in important publications can easily decide your product's success.
This can give you an extra boost of visibility, making it easy for potential customers to find you.
A press release can support your company's news and views in a credible and targeted way that reaches key audiences with messages that matter to them.
Some of the benefits of creating a press release are:
It can help populate search engines with credible and focused messaging on your company and its announcement.
Provides established content to bring visitors to your website to find out more about your company and products.
Serves as a tool to update your clients, prospects, and industry peers on your company.
Create a product release that contains:
An attractive headline that features unique benefits & features of your product.
The standard elements of a press release: Headline, dateline, lead, body, company info, media contact information.
A specific audience that it's targetted to.
Information on why your product is worth talking about and why anyone should be excited about it.
Attractive photos and videos of your product.
At the end of your press release, include your contact details. This will enable journalists to contact you if they need more information regarding your press release. Include your name, title, email address, and phone number in your contact details. That gives journalists insight into your credibility, too.
Finally reach out to the press.
The official launch has arrived. You have been creating expectations and growing your audience with the different methods explained before.
Today, your landing page content counter will go all the way down to zero. And that exact moment is where the magic should happen.
The world should know your product is officially available. Every step before appointed to this moment and you should focus on effectively promoting it.
At this moment, the official landing page where you should drive all the traffic is the product landing page you created at the very beginning.
Your primate task is to promote the product landing page. Use different methods for better results and to increase your reach:
Use forums. Head to popular forums where your target audience might gather and let them know about your new product and how it can help them.
Use social media. Create pins on Pinterest with your product landing page, use Facebook groups with topics related to your product niche, create tweets, Linkedin posts, etc.
Use email. Email is probably the best tool for this. It will allow you to reach your subscribers and let them know the product is already available for purchase. Check how to make the most of email marketing here.
Use paid advertising. Lastly, paid advertising is a quick way to drive traffic and generate potential sales from the very beginning.
Check also this post with 10+ free traffic sources.
Once your product is out, partnering with influencers can present loads of opportunities for your brand. It allows your brand to connect with your target audience indirectly and organically.
Also, an influencer marketing campaign can help you grow your social media following and increase brand awareness and engagement. Ultimately, this will translate into more sales of your product.
Although you can do your own research and reach influencers by yourself, it is a time-consuming task that can easily be done these days with plenty of software solutions, some of them free.
Some of my recommended tools you can use to find the right influencer to promote your product are:
All you need to do is sign up, create a profile, and set the right influencer's requirements: reach, target audience, compensation, etc.
Affiliate marketing happens when a group of people (known as 'affiliates') promote your products online in return for a commission. These affiliates have special links with tracking codes to track sales and performance.
It is one of the favorite methods to monetize for many online entrepreneurs. These affiliates can be bloggers and influencers with their own online community; they're potential affiliates for your online store.
Some of the reasons why creating an affiliate program can benefit you are:
They are easy to set up. They mostly require your product information and link.
You only paid your affiliate for sold products.
It helps you build backlinks to your site, helping your SEO score.
Consumers already trust most of these bloggers and influencers.
You can control every aspect of your affiliate program.
Although you can create your own affiliate program, it is easier to start with well-known brands that will also help you get affiliates from day one.
Some of the best affiliate programs you can join to submit your product are:
When you create content covering all aspects of a certain topic, you increase your authority. This will ultimately help you rank higher on Google.
Also, people might not land on your sales page, but if you create related content and include a link to your product, you are increasing your chances of success.
Your goal is to create content related to the product you have created.
Brainstorms a list of related topics to your product and create content around those topics. Then, include a link to your product page where relevant.
Once you have done every step on the list, you will likely keep growing and selling your product.
But if your sales are not what you expected, you can always hire a more than affordable freelance that can help you boost your sales. After all, we all have our expertise, and maybe a promotion is not yours, but that does not mean you will fail. In fact, regardless of your results, you could try hiring a specialist and see how it works.
You can simply try it once until you see the results.
Hire a digital marketer specialist in Fiverr to help you boost your sales.
you might want to read next:
Marketing strategy for new product launch – Conclusion.
The first step towards a successful marketing campaign is how you create your product.
Next, the marketing strategy for new product launches included in this post will definitively help you obtain better results.
Now is your turn!
Do you have a different strategy for launching a new product?
Leave a comment with your answer below.
Don't forget to share this article!
If your brand is on social media, you can be part of an online conversation,…
RELATED CONTENT
If your brand is on social media, you can be part of an online conversation,…
Are you curious about the secrets behind successful online marketing strategies? You're in the right…
You know that feeling when you're checking your website stats and thinking, 'Where is everyone?'…
While digital marketing channels can bring in impressive results, outbound calling still remains a powerful…