Do you want to create a new website but you are struggling to find a niche?
When you do niche research, it is not enough with looking for profitable niches or niches with low competition.
You need to understand what lies behind a niche. You might think you found a profitable niche with low competition when the truth is there is no competition because there is no money on it.
And there is nothing worst than start working on something condemned to fail because you did not do proper research.
In this post, I am going to show you how to do proper niche research. In fact, you are going to learn how to find evergreen niches with high demand where people are already spending their money.
Let's dive in!
*Disclosure: I only recommend products I would use myself and all opinions expressed here are my own. This post may contain affiliate links that at no additional cost to you, I may earn a small commission.
Niche research: How to find a profitable niche market
Researching profitable niches markets take some time, but it is a must for any online business.
You should focus on a market with high demand, evergreen, and where people are already spending the money. But that's not all.
Also, you will need to follow a process to make sure the niche you choose is profitable for you. And to do that, I am going to show you a niche research technique that can be used for any kind of online business.
How to find a niche market?
Analyze niche markets and trends
Study the competition
Research niche market keywords
1. Analyze niche markets and trends
In this section, you will learn how to find popular trends and profitable markets.
We are going to use some tools and affiliate marketplaces to untap some ideas
I will show you how to evaluate each idea for profitability later on.
Amazon.com
Amazon is a great place where to look for popular blog niche ideas.
The reason why is so cool is that we can focus on products that are already selling. This translates into a great opportunity for an affiliate marketing site.
This is how you can use Amazon for your niche research:
Step #1. Head to Amazon and click on the 'All' tab at the left of the main search bar it will show a list of categories or 'niches'.

Step #2. Click on a category which might be of your interest
Step #3. Then leave the search box blank and hit the search button. For instance:

Step #4. A new page will display with all the different sub-categories or 'sub-niches'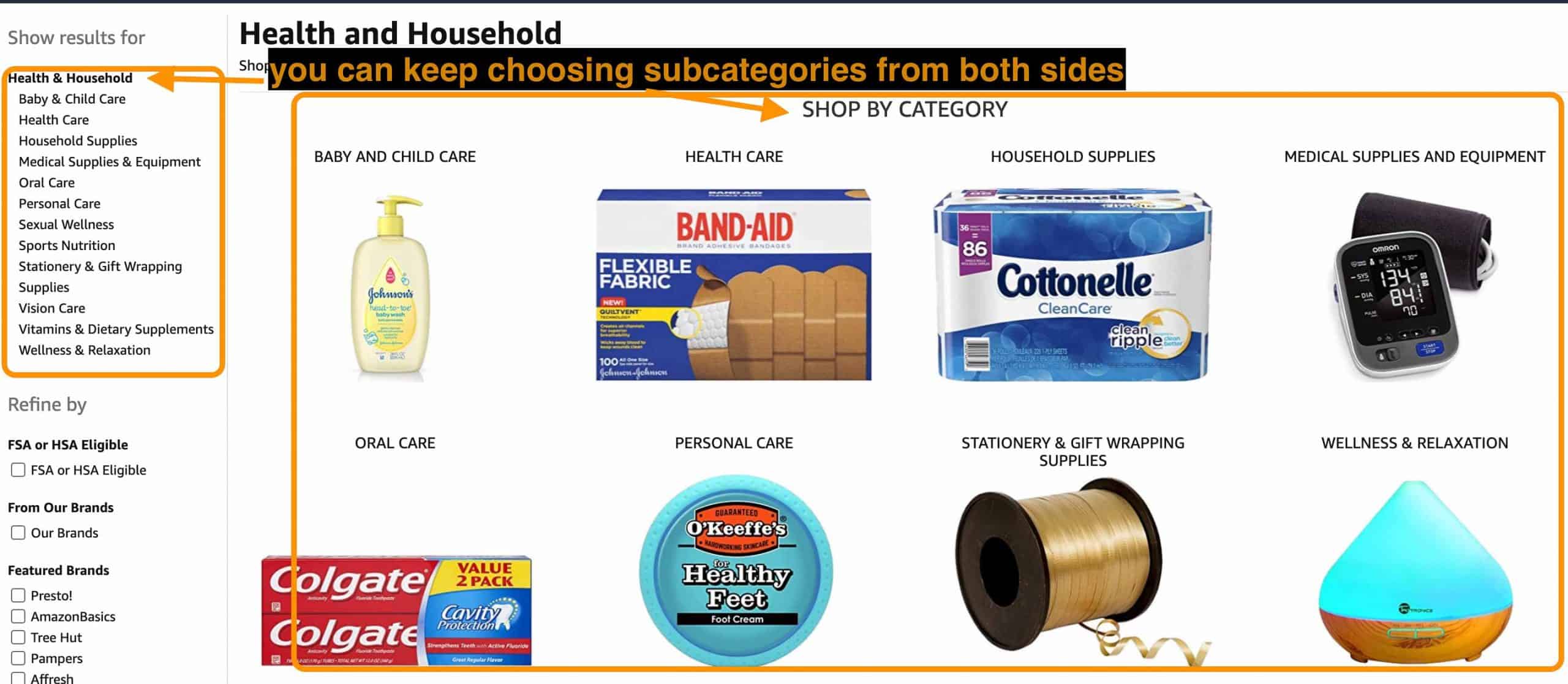 Step #5. Click a sub-category ,and on the left panel, you will see even more sub-categories.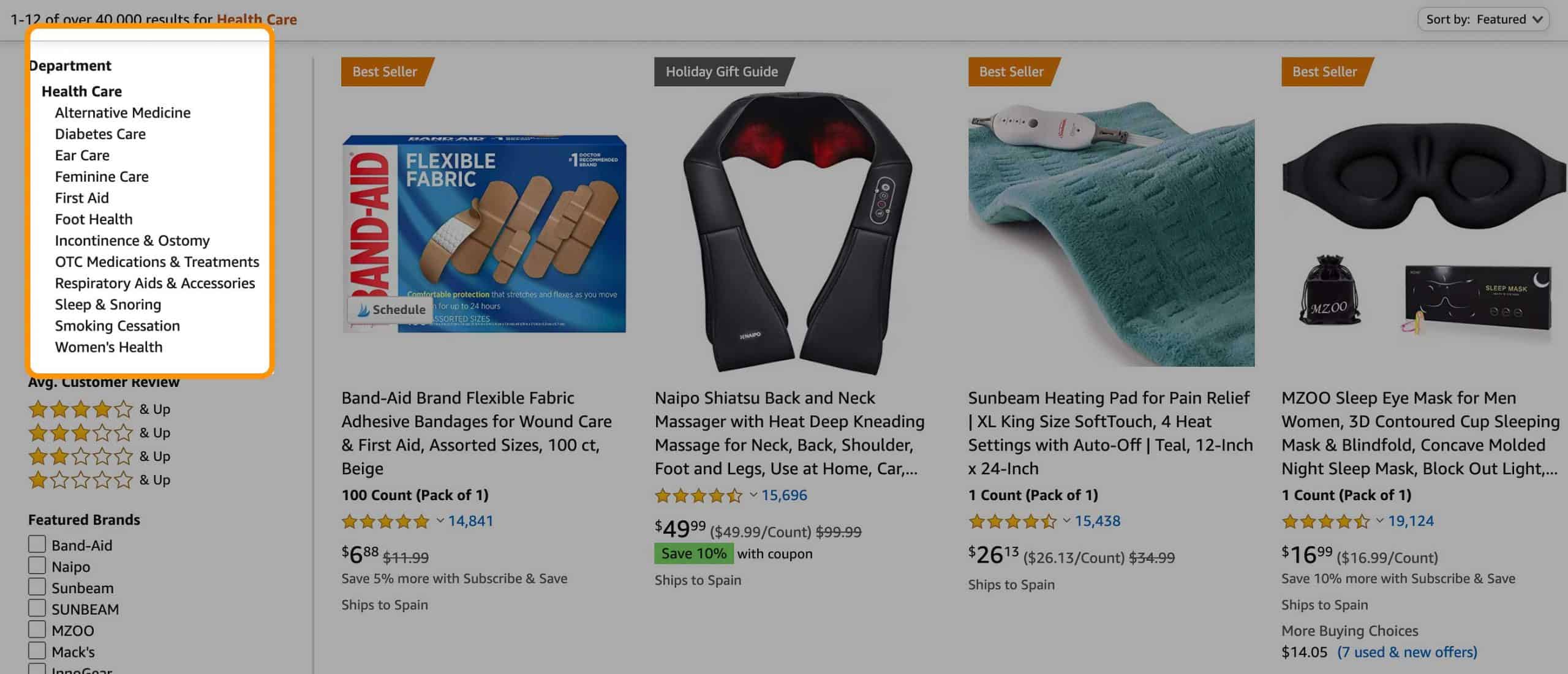 Step #6. By doing this, you are niching down and untapping more specific niches.
This is a great way to find out niche ideas.
Udemy
Udemy is an online learning and teaching marketplace with over 150000 courses and 24 million students.
It is not hard to see why we can take advantage of those numbers for our niche research.
Step #1. Head to Udemy
Step #2. On the top left, hover over category and some more sub-categories will show up. There will also be a column with the most popular categories . This can be very helpful to find niche ideas in topics people have interest in.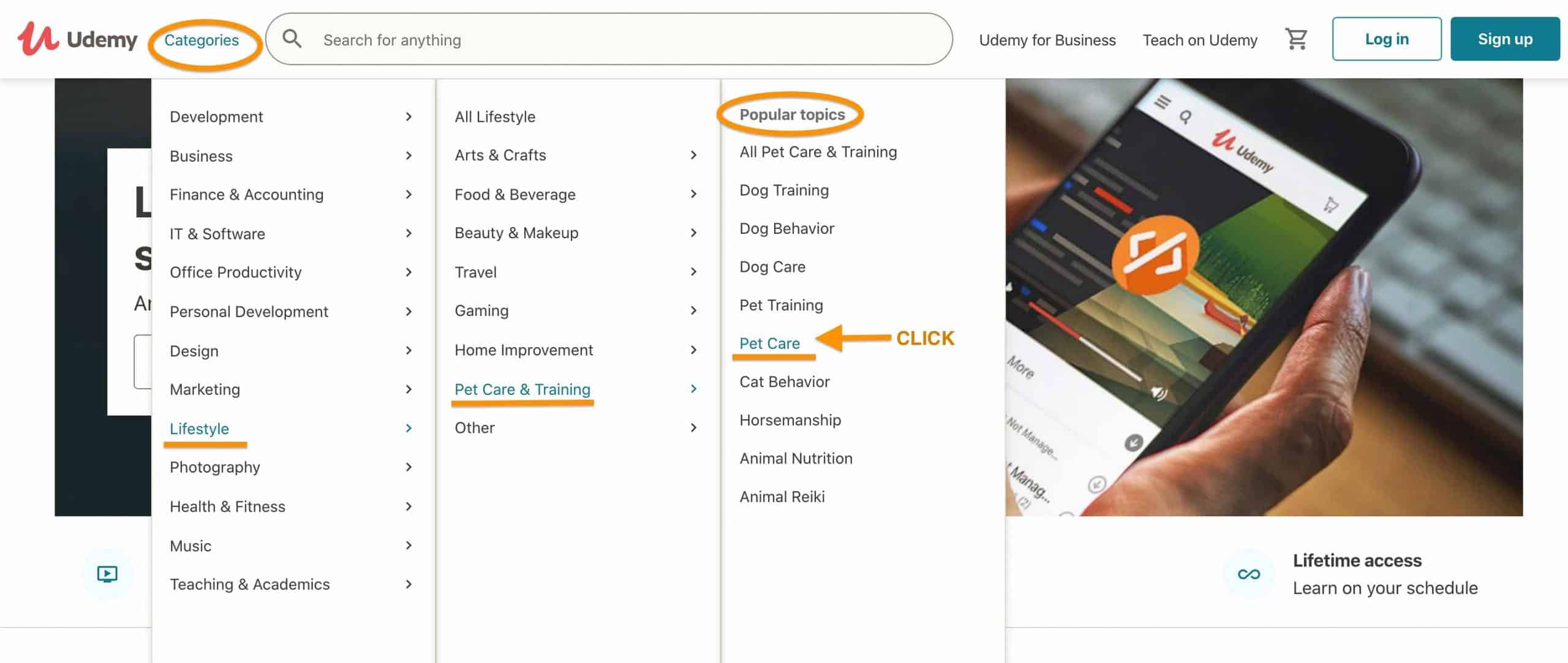 Step #3. Pick a sub-category you have interest in and click on it.
Step #4. A new window will open with all the available courses on the selected category. Now filter by most popular and search for "best seller" courses. These are great to keep finding topic ideas.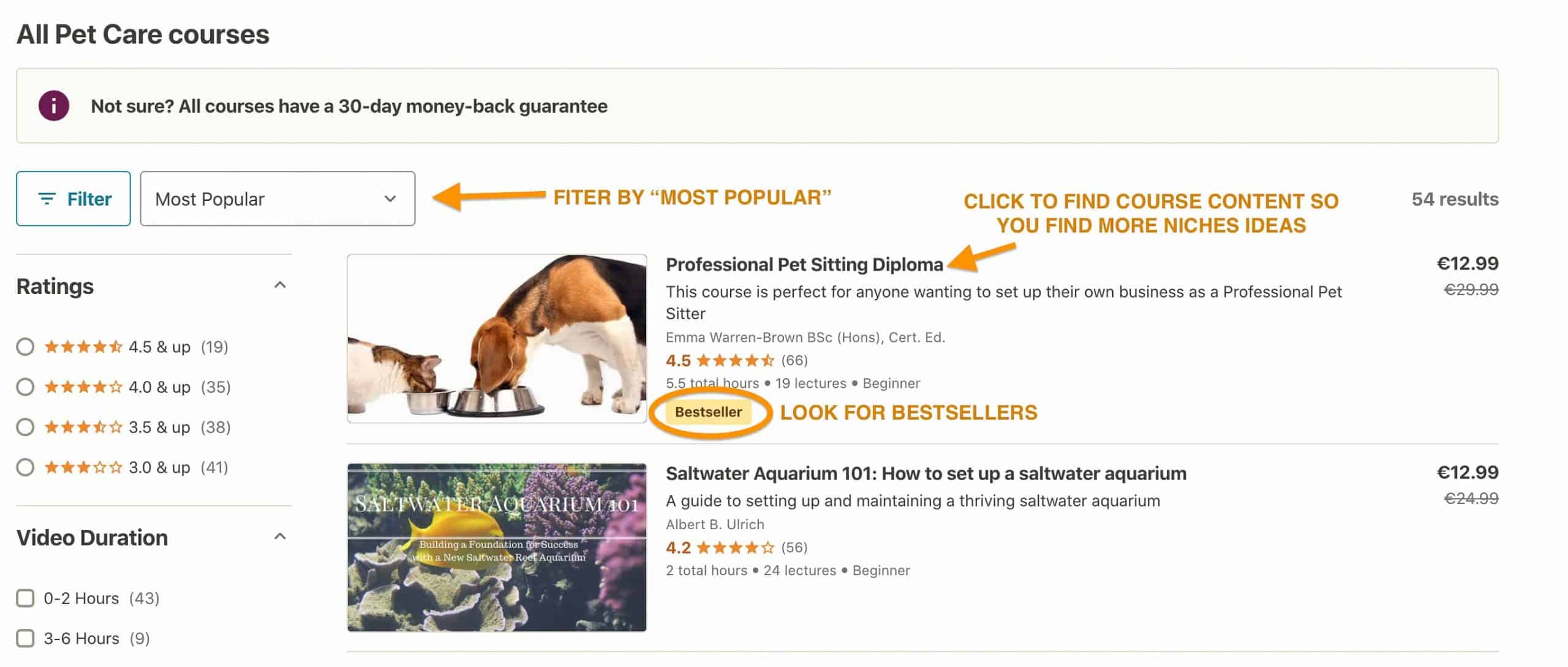 Step #5. If you want to know more topics about this niche or keep niching down, click on the course and take a look at the content to find some more ideas.

As you can see there is a lot of valuable information you can obtain from Udemy.
They cover a lot of focus categories and sub-categories. If you follow the steps above, you cand find very interesting niches ideas. And the best of all is that you already know people are interested in these.
ClickBank.com
Clickbank is the digital market bible online.
The way we can use this website for niche research is pretty much like Amazon. Narrow down from the different categories to sub-categories.
Step #1. Go to Clickbank and click "shop"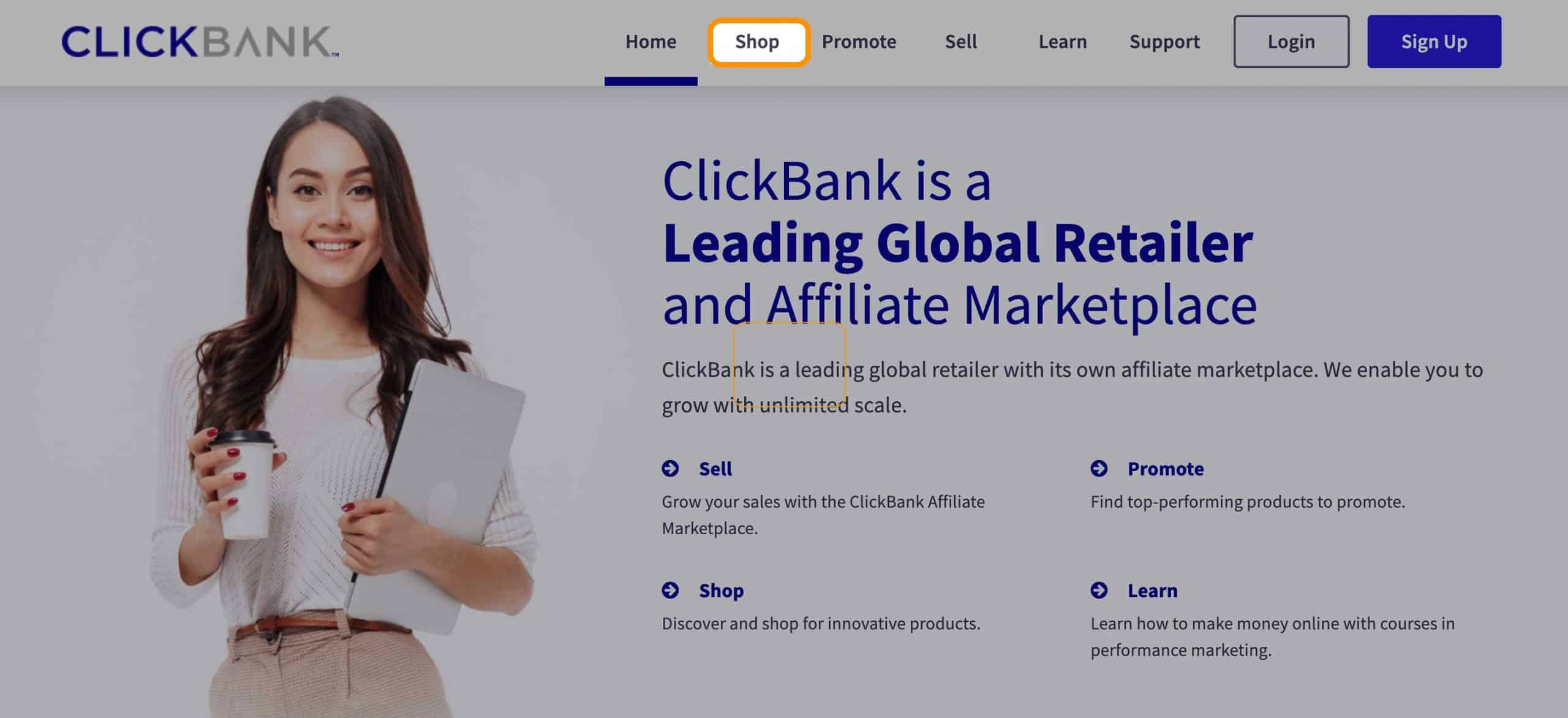 Step #2. Scroll down and you'll see the categories section. Click on one you have an interest in.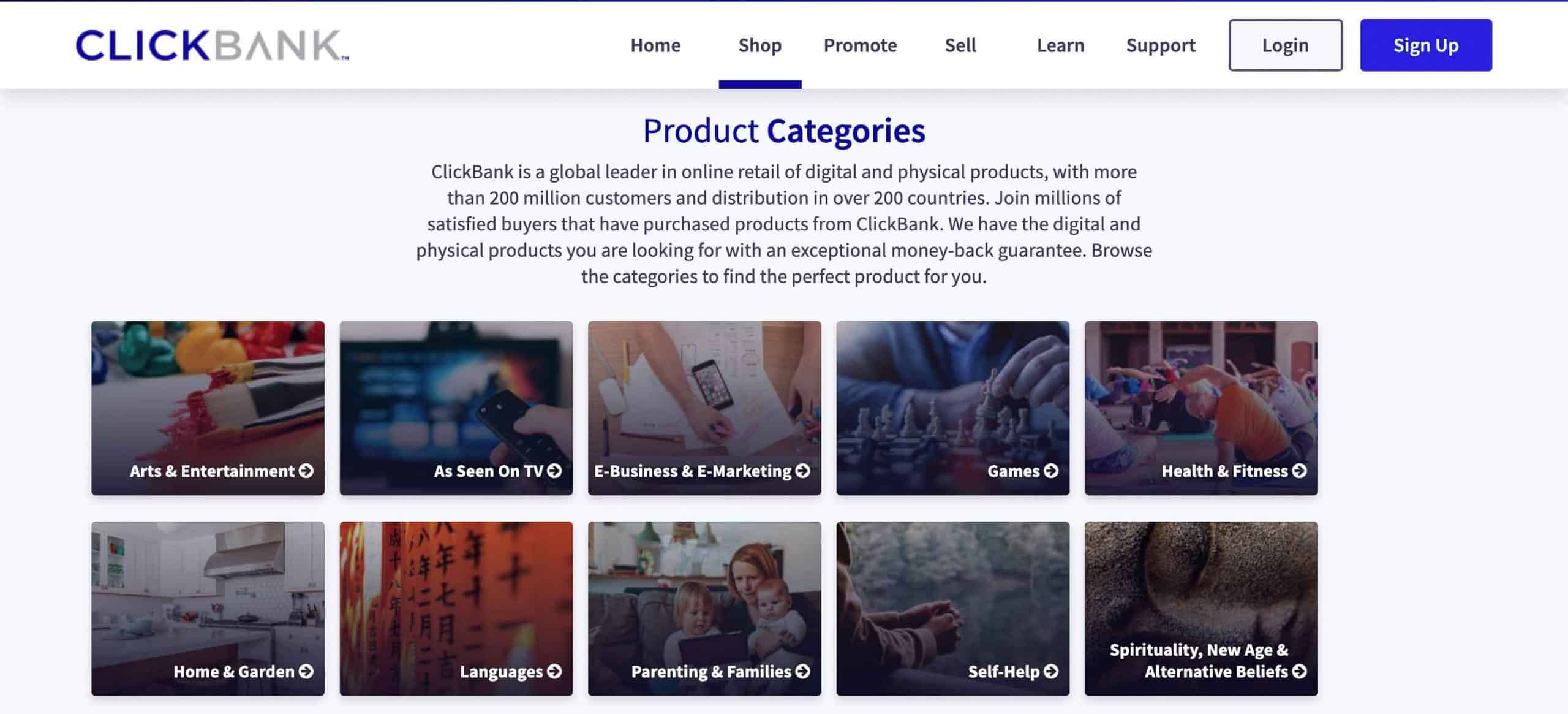 Step #3. Scroll down again, and you will see some more "sub-categories". These can be fantastic niche ideas.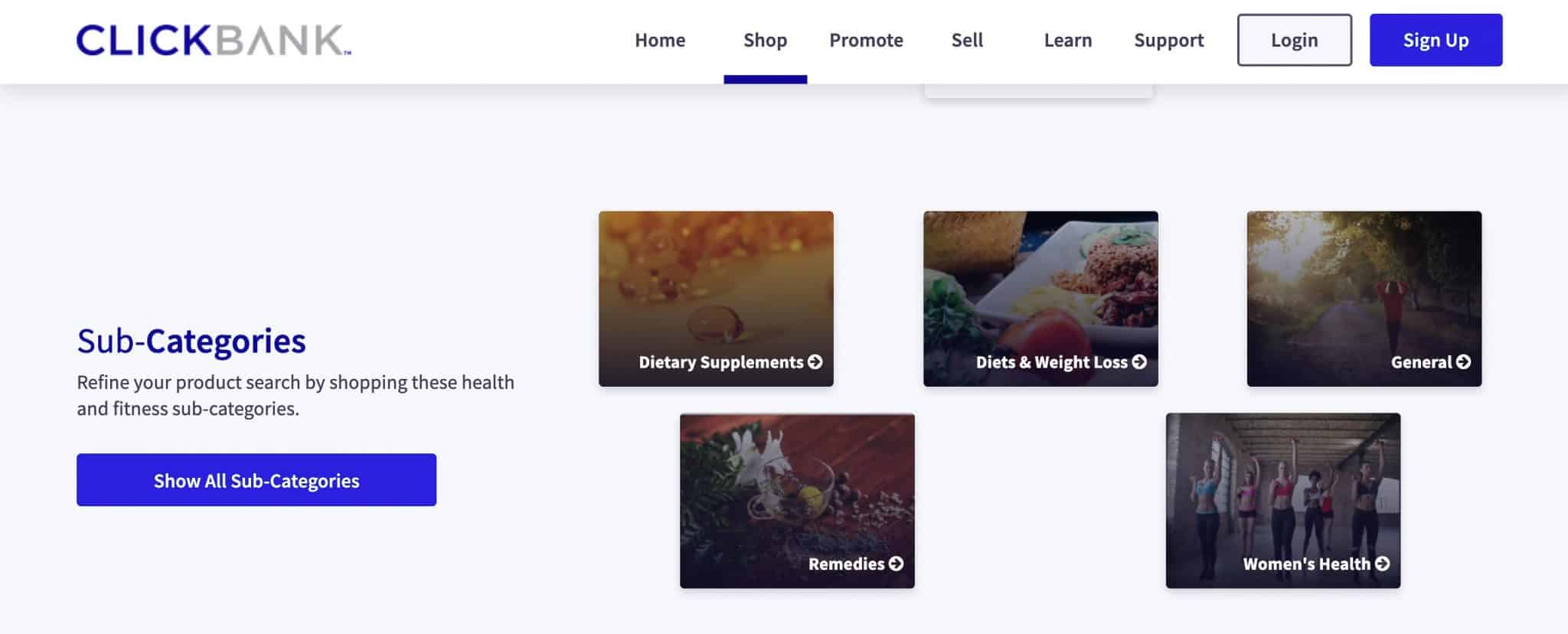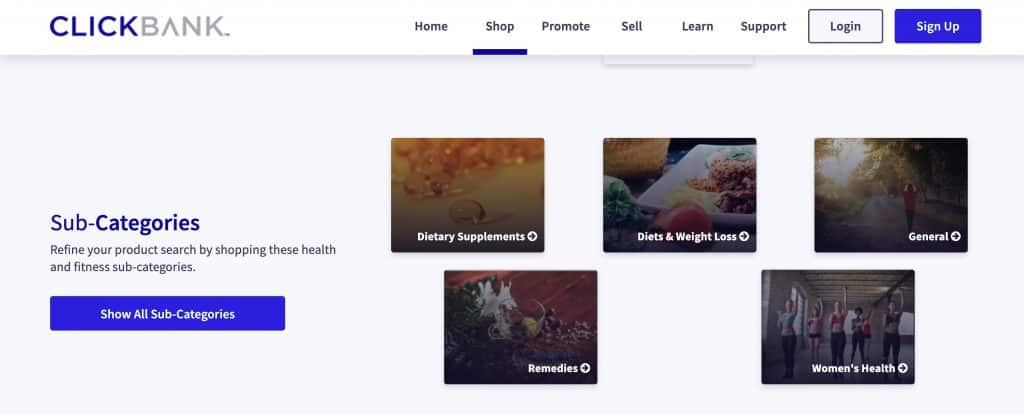 In Clickbank, if there are many products available on certain topics, it's a sign that this is a profitable niche. This method will work best for digital product markets than physical ones. It is one of the most used tools for affiliate marketing.
Google Trends
Google Trends shows what is being searched along time and can help you to identify popular topics and niches.
I personally like to use this more as a tool to confirm the niche I picked is still working. But in any case, it is still a must for niche research.
Step #1. Go to Google Trends
Step #2. Type your niche or topic on the bar and hit "enter"

Step #3. Then a graphic with interest over time will show. Here you can filter by time and categories.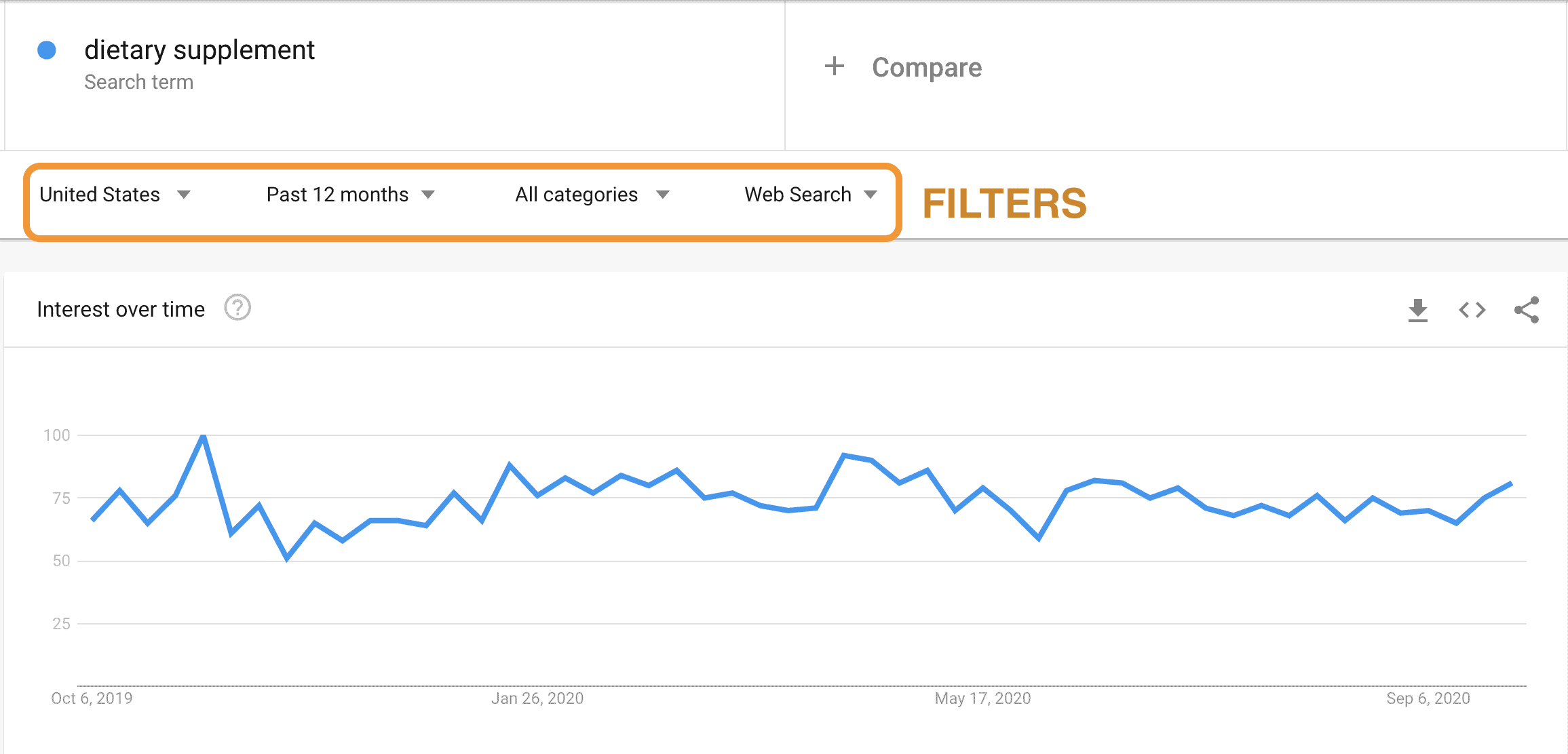 In this example, you can see the search term "dietary supplement" would be a solid idea for a niche. This is because the trend has been very stable over time.
Your task here is to find a niche in which interest is either steady or growing. And ideally with the search number over the 25 line.
Forums
Lastly, forums are a wonderful place where to do some niche research.
People are constantly discussing issues or asking questions about certain topics on different platforms.
You just need to pay attention to popular threads and check why is popular. Maybe there is a brand new product people don't know how to use. Or maybe there is an issue that people are not sure how to solve and you can fill the gap.
Try to look for a "popular issue" within the community and your product could be the solution to that problem.
Some of the best places where you can start looking for ideas are:
Facebook Groups: Type in Facebook's search bar a topic and press enter. Then in the filter column on the left-hand side, look for groups and click on it. These groups would be a gold mine of ideas for that topic.
Reddit: Type in the search bar a topic and press enter. Sort the results by "top" and you'll find the topics where people are more interested in
Quora: Type in the search bar a topic and press enter. Now scout through the different results and check the ones with more answers. These would be the ones people are debating the most and worth checking for ideas.
2. Study the competition
Before you decide on a niche, you need to look closely at your potential competitors.
If your competitors are big companies very established in that niche, you might want to choose another option. Ideally, you want to focus on a niche where you can get some shares in the market and make it to Google page 1.
This is how you can study your competition:
Find your competition.
Step #1. Google the term you want to rank for, for instance, "vegan recipes".
Step #2. In the results, look for the top-ranking pages. These would be your top competitors.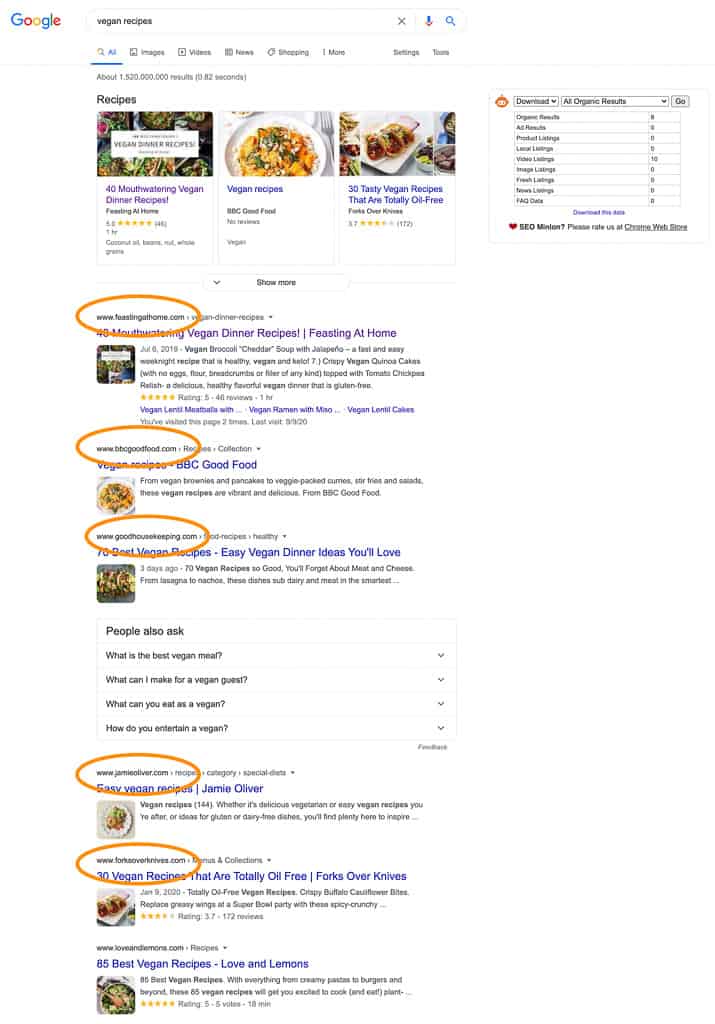 Evaluate your competition content.
What you want to check here is the kind of content they write. Are they mainly list articles? maybe how-to articles?
Try to find a pattern on what kind of articles they write. Your task is to be able to create something better.
Pay attention to the brand.
You need to know who you be competing with.
In some cases, you will know your competitors. i.e Amazon, Booking.com, Neil Patel, etc.
If most of the brands showing on top results are known and well-stablished brands, I suggest you look for something different.
If not, learn how they use their brand to get to their readers: design, colors, the voice they use, etc.
Learn how they drive traffic to their site
There are a good number of tools that can help you into your competitor's keywords, referrals, and more.
I suggest you use Keysearch free trial for this. You just need to type your competitor URL and you will get a list with the keywords bringing traffic to their sites. You can even find out how popular their articles are on social media.
You can check my full guide to keyword research with Keysearch.
Become their subscriber
There is no better way to learn from your competition that being an actual subscriber to their website.
By doing that, you will learn what kind of tactics they use to convert readers to customers, what kind of articles they write, what do they send in the newsletters, etc.
Moreover, it is likely they are on the top because they already have some experience. So they would have investigated already what works and what does not.
3. Research niche market keywords
By now, you should have a good idea about what niche you want to pursue.
So the next step is to do some keyword research.
I am going to explain to you exactly how I do it step by step. But first, you'll need access to a keyword research service or tool.
As I mentioned before, I suggest you use Keysearch free trial for this. It is an easy to use web-based keyword research tool with in-depth competition analysis, keyword difficulty checker, keyword suggestions, and more.
Take into account you are going to need a keyword research tool for almost everything, and Keysearch is the best in terms of quality-price from far. So it is a more than necessary investment.
This is how to use it:
Step #1. Go to Keysearch
Step #2. In the search bar, type the term you want and hit enter. For this example I am going to use "vegan recipes"

Step #3. Analyze the data to understand if the selected keyword is worth pursuing. In this example, although it has a great search volume of 246000, it is fairly difficult to rank (53). So let's try to narrow down the result to something easier.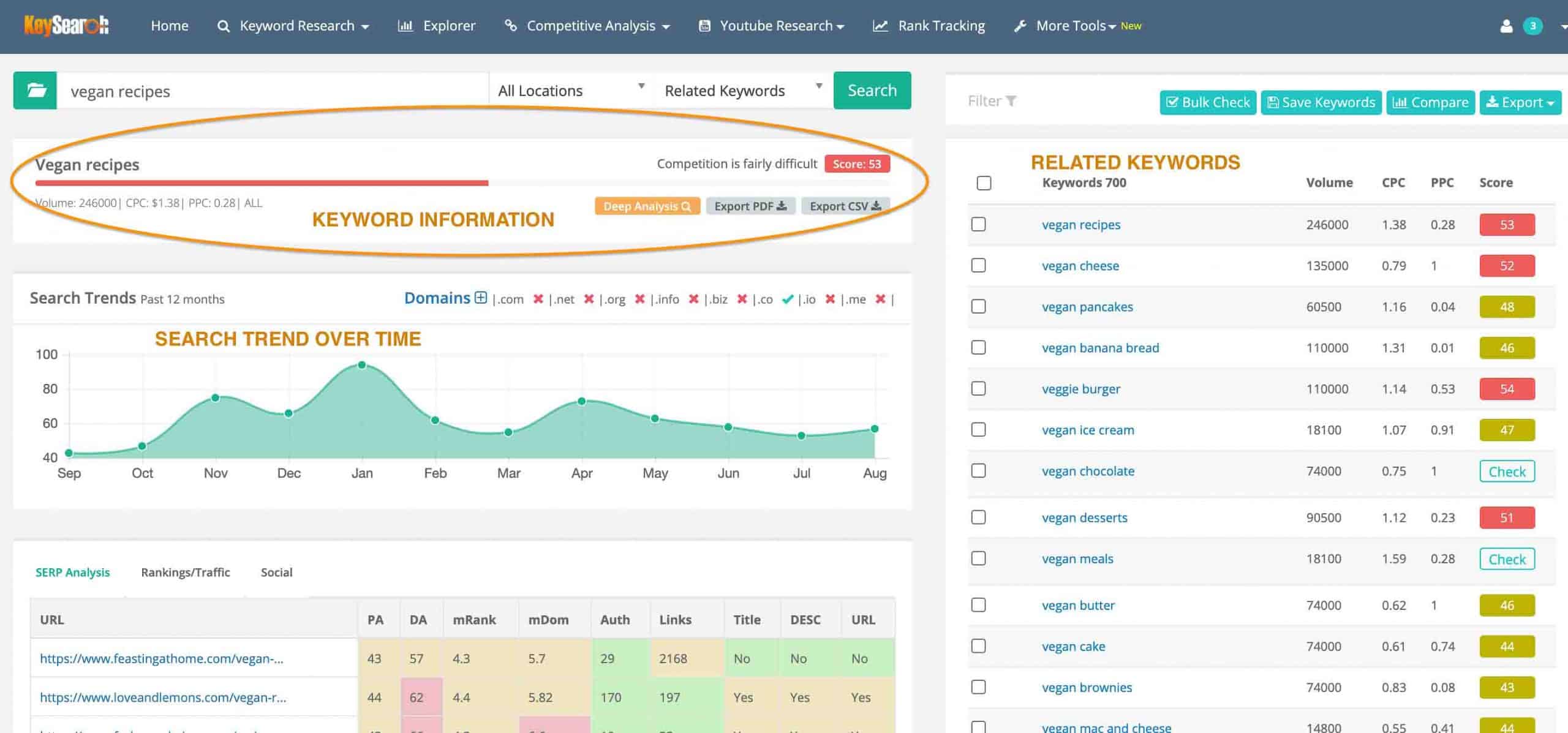 Step #4. Click where it says "filter" on the top aright hand-side

Step #5. A new filter box will expand. Now fill it with the numbers below and click filter. You can check my guide to keysearch if you need further info. What we want to do with these numbers, is to find low competition keywords with a good search volume

Step #6. Now we have narrowed down our options to low competition terms. If you click on the column "score" 2 times, it will order it in ascending order.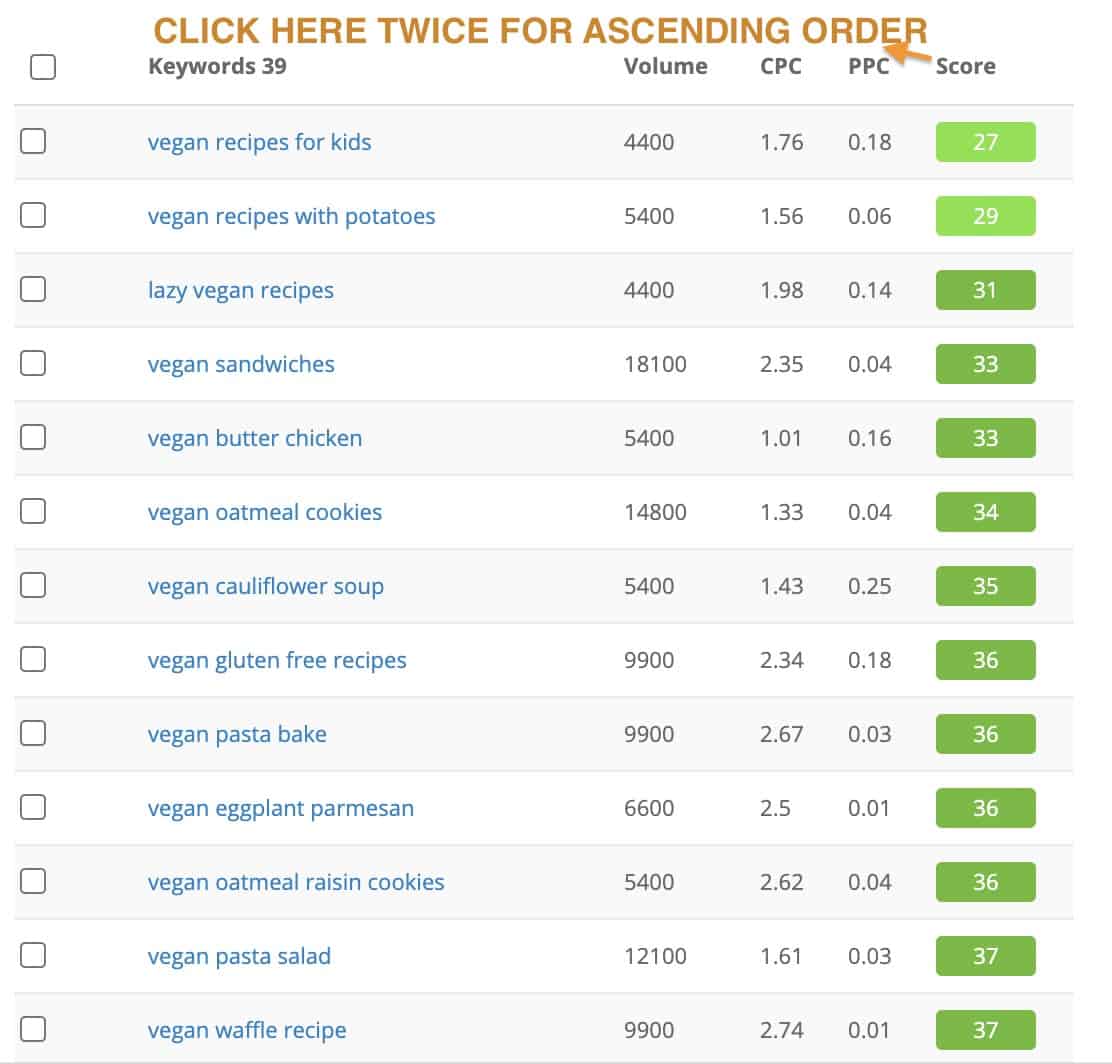 So this is how you obtain an amazing list of vegan recipes keywords you can write about with little competition. Ta-da!
You might want to read next:
---
Content Marketing: Where to start?
Ok, so now you have a niche and you are ready to start your online business.
I am going to skip the part of how to create a niche website since we are focusing on niche research on this post and jump straight to content marketing strategy.
One of the most common questions is: What should be my content marketing strategy?
My recommendation is to start by solving a problem.
Think about the main pain points people in your selected niche may have, and create content that helps solve those issues.
For instance, if you were to write about vegan recipes, celiacs would need gluten-free recipes. So create a post about "Vegan gluten-free recipes" and you will be solving a problem for a targeted group of people.
Look for issues people are struggling with in your niche and create content to solve these issues. The forums mentioned at the beginning of the post are a great starting point.
I suggest you take a look to this post to guide you with your niche marketing strategies.
Use the Unique selling proposition
The unique selling proposition, or USP, is the intersection between passion, strength, and market needs.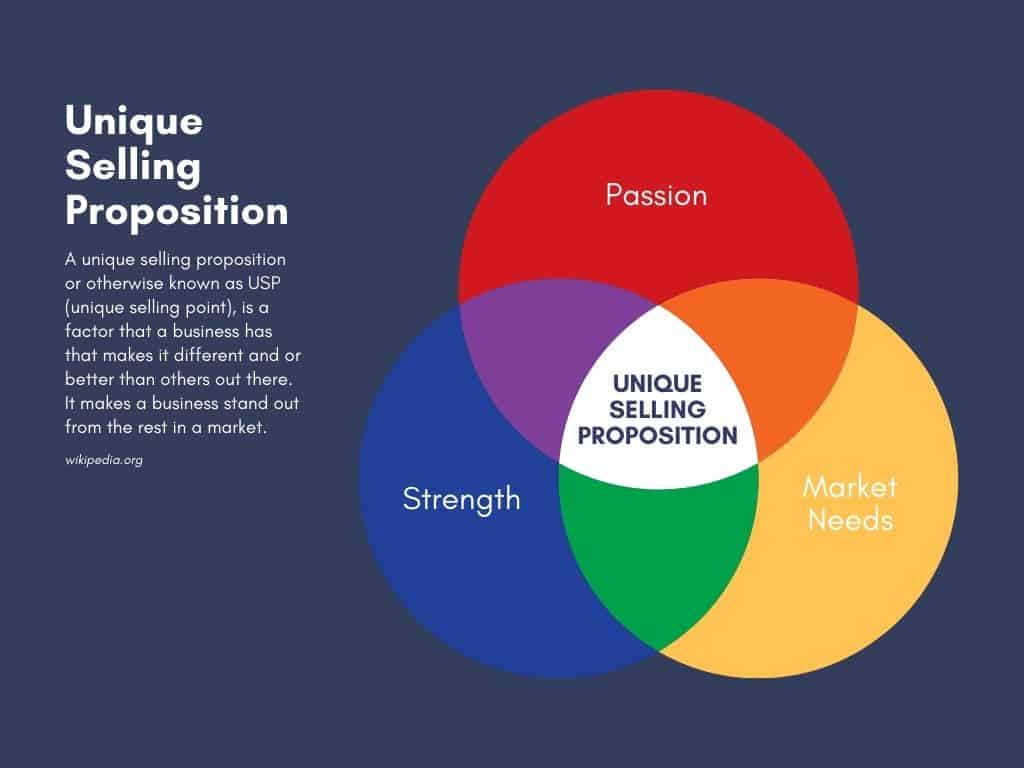 You need a passion for the product you're selling as well as for the market you'll serve. You also need a strength that sets you apart from your competitors.
What do you do better than everyone else? How does your product or service outperform the competition?
And finally, you need to meet market needs.
There has to be a demand for your specific product
Let's go back to the example of the vegan recipes:
You're passionate about cooking, your strength lies in your experience, and the market needs access to new recipes
That's a great USP.
You could add that the product itself is organic, which helps further set apart your product.
Ideally, your USP should put you in a very small pool of e-commerce sellers. Remember is better to target a detailed and specific group of people with interest in a topic that a large group of people with no interest in your product.
Lastly, the USP will help you greatly with your email marketing strategy. Which will be ultimately one of the best ways to monetize your website.
---
Are you ready to start your niche research?
Niche research is the most important step towards your new business.
In addition, it will make the difference between building a profitable business or join a saturated one. Or even worst, one where people are not interested.
You can also check how to create a niche website step by step so you can start your business today.
Now I'd like to hear what you have to say:
Did you learn how to do niche research and found your niche already?
Let me know by leaving a quick comment below.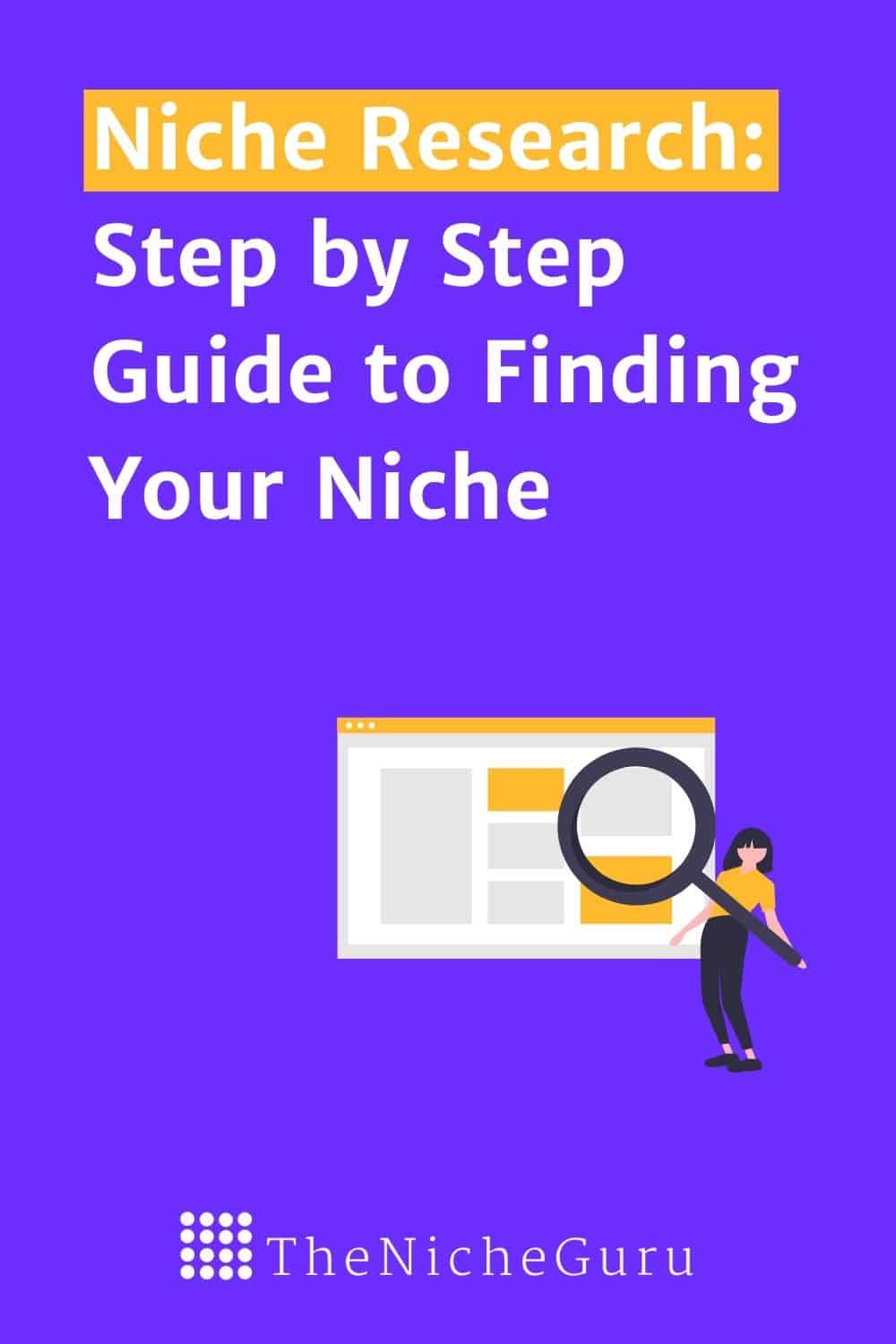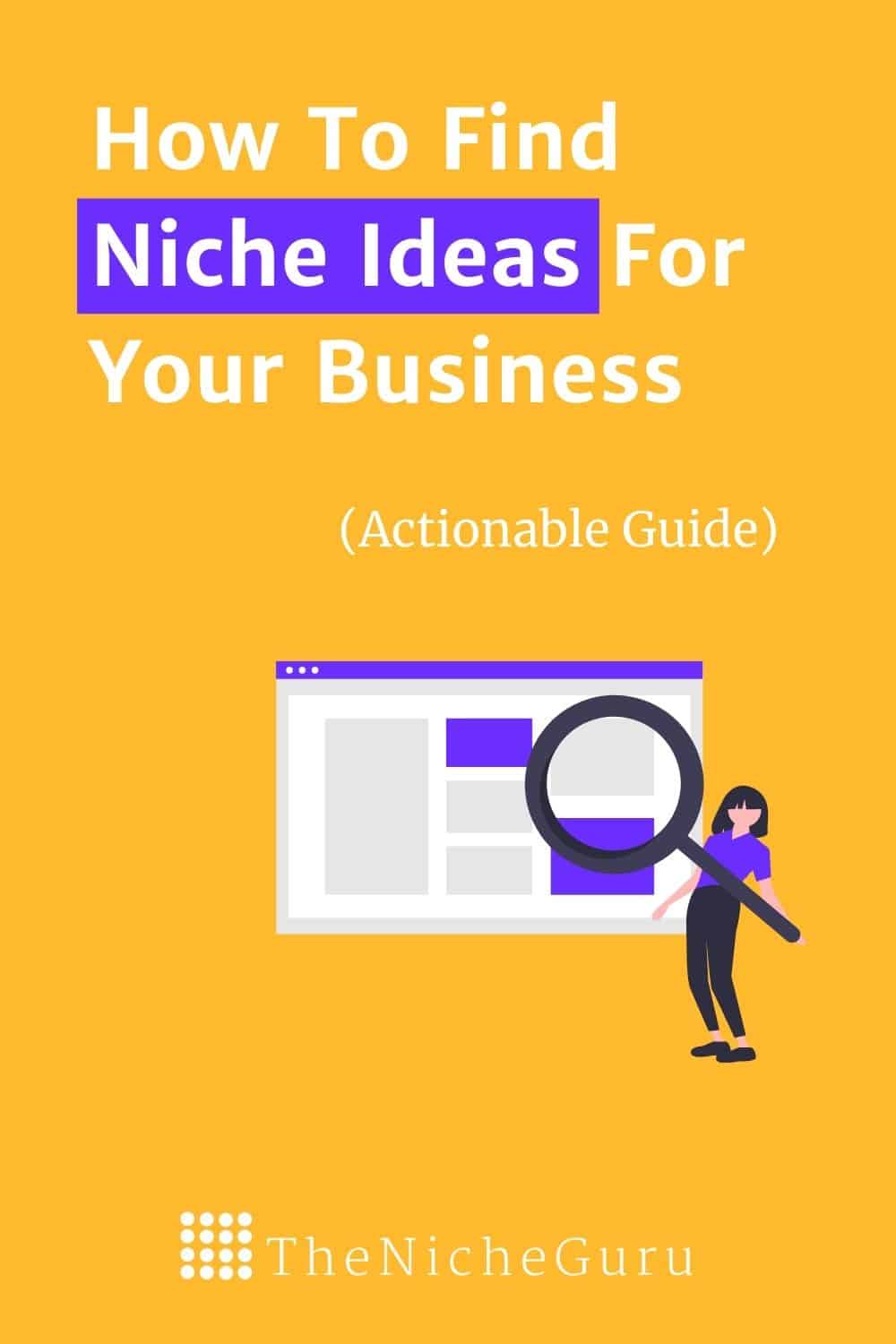 Don't forget to share this article!