What is the difference between eCommerce and digital marketing?
This is a prevalent question that keeps showing as the online world evolves.
There is a lot of misinformation about these topics that certainly can confuse people. In fact, there is nothing such as e-commerce vs digital marketing. It should be more like e-commerce and digital marketing. These terms do not compete; they collaborate.
In this post, I will explain to you their differences and the benefits of each of them, and how you can leverage them. So keep reading to learn more!
*Disclosure: I only recommend products I would use myself, and all opinions expressed here are my own. This post may contain affiliate links that at no additional cost to you, I may earn a small commission.
What is e-commerce?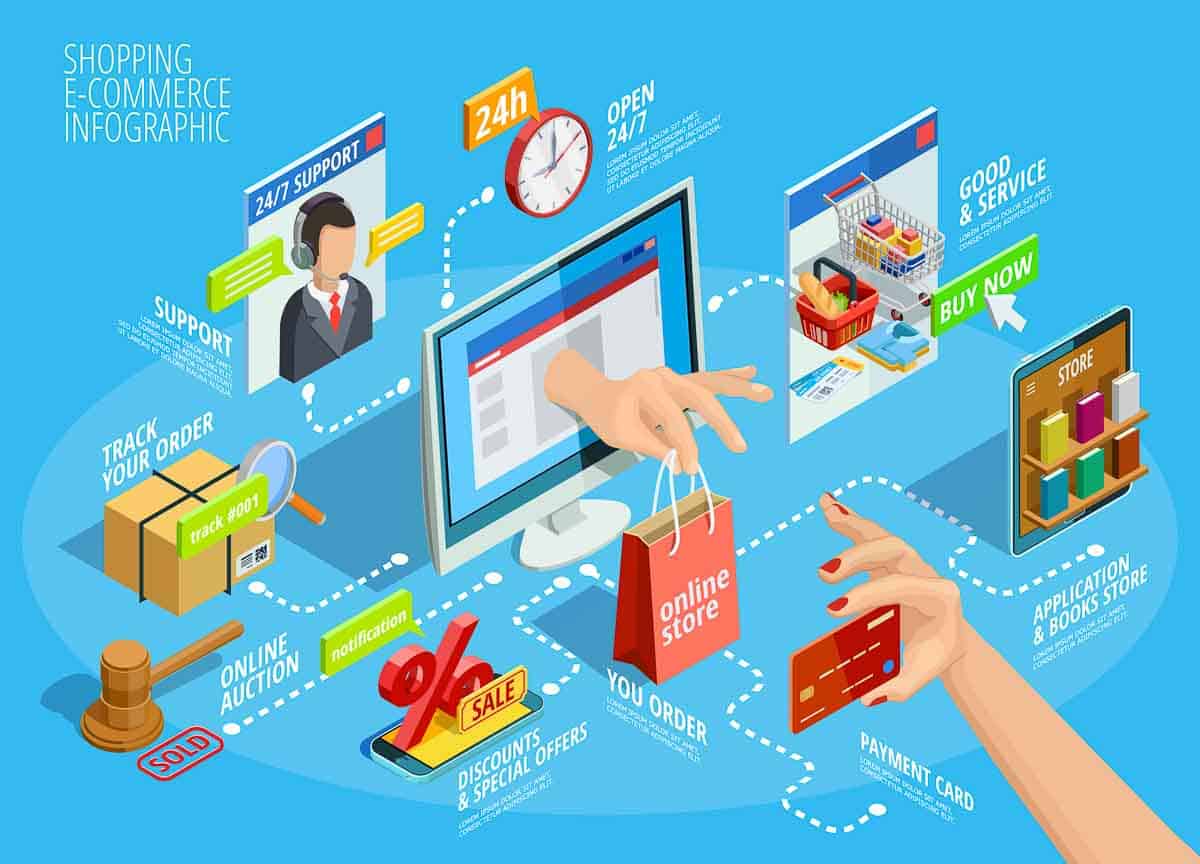 Ecommerce refers to buying and selling goods or services using the internet and the transfer of money and data to execute these transactions. It is also known as electronic commerce or internet commerce.
Ecommerce is often used to refer to the sale of products or services online, but it can also describe any commercial transaction facilitated through the internet.
Do not mistake with ebusiness. Whereas e-business refers to all aspects of operating an online business, eCommerce refers specifically to the transaction of goods and services.
Benefits of e-commerce.
Many people have realized that the online marketplace is a great platform for creating or expanding your business. That is why many entrepreneurs invest their time, money, and efforts into building profitable niche websites that allow them to sell goods or services online.
Now, let's see some of the benefits of e-commerce:
Faster buying process. Customers can spend less time shopping and find what they need more efficiently.
Smaller investment. You don't need a physical location or even having stock of the products or services, which reduces the initial cost drastically.
Cost-effective promotions. With social media platforms, you can reach a target audience at no cost. Also, advertising will be much cheaper.
Flexibility for customers. Product and services are ready 24×7.
No local limitations. With eCommerce, you can sell worldwide.
Faster response to the market. You can easily stay on top of trends and easily change your products and services as trends also change.
Several payment modes. Most eCommerce platforms provide several payment modes, making it very easy for clients with different banks from all around the world.
Types of e-commerce.
Retail: The sale of products directly to a consumer without an intermediary. This has been a trendy e-commerce business in the 21 century. Check my post about retail arbitrage on Amazon to learn more.
Dropshipping: The sale of products that are manufactured and shipped to consumers via a third party. This is with no doubt increasing in popularity. I suggest you check the best dropshipping niches in 2022.
Digital products: Downloadable items like templates, courses, e-books, software, or media that can be bought online. Whether it's the purchase of software, tools, cloud-based products, or digital assets, these represent a large percentage of e-commerce transactions. You can check how to create a digital product here.
Wholesale: Products sold in bulk. Wholesale products are usually sold to a retailer, who then sells the products to consumers. This is e-commerce business model is now less frequent than it used to be.
Services: These are skills like coaching, writing, influencer marketing, etc., that are purchased and paid for online. Drop servicing would be an example of an eCommerce Service.
Examples of eCommerce sites.
Amazon.com. Amazon is probably one of the best examples of a thriving eCommerce business. It is currently the largest e-commerce retailer in the United States.
Alibaba: The Chinese company Alibaba is by far the world's most successful e-commerce company and retailer, hosting the largest B2B (Alibaba.com), C2C (Taobao.com), and B2C (Tmall) marketplaces across the globe.
Walmart: Once the top retailer in the US, Walmart has focused mightily upon their online business, with great results, offering traditional retail sales, as well as grocery delivery and subscription services.
eBay: One of the first e-commerce sites, eBay still dominates the digital market space, allowing businesses and individuals to sell their products online and buy by bidding on second-hand items.
You might Want to read next:
What is digital marketing?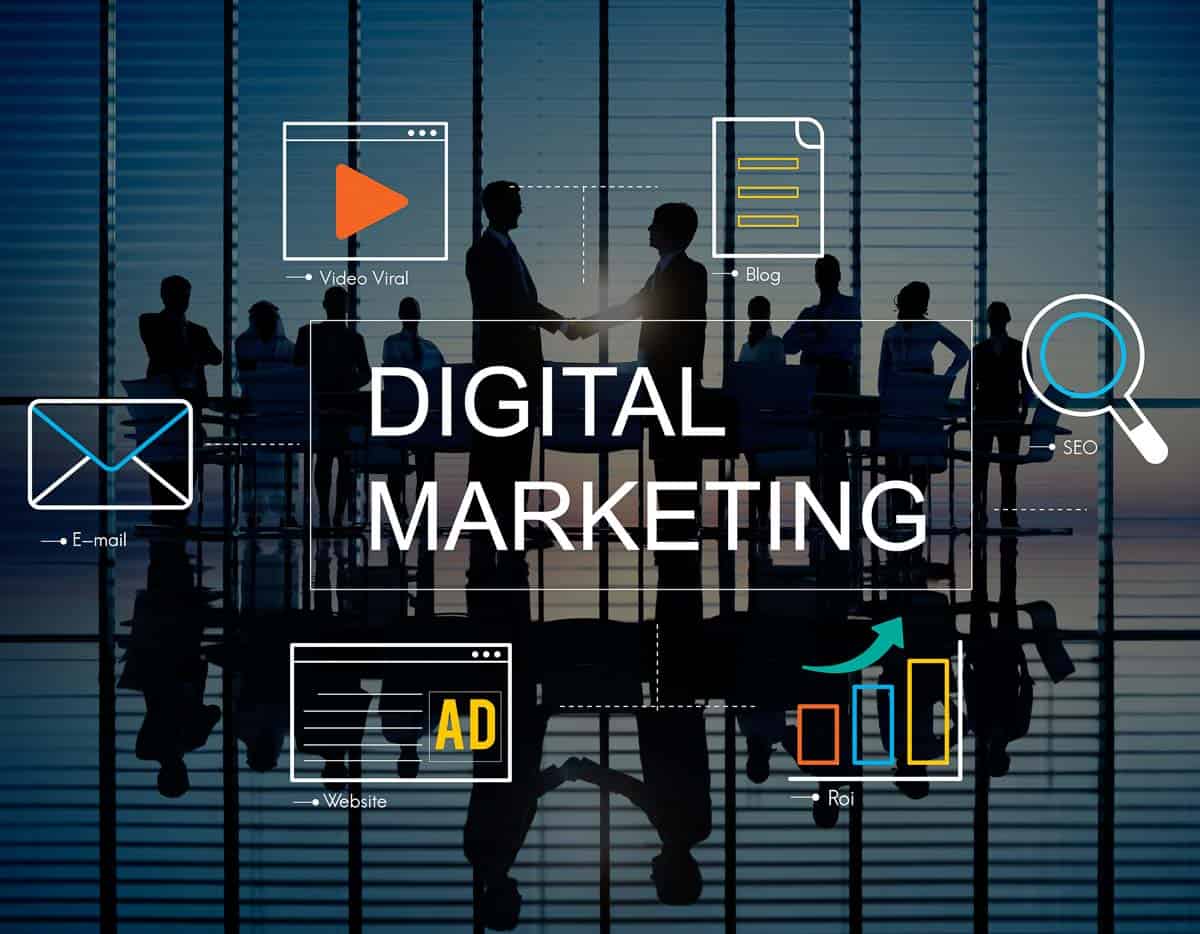 Digital marketing refers to the marketing component that uses the internet and online-based digital technologies to promote products and services.
It is basically the use of different digital channels to promote products or services. You can do this by using social media, email marketing, Google search, Google Ads, blogs, or websites to attract potential customers.
Benefits of digital marketing.
Increase customer loyalty. Digital marketing allows you to stay on top of trends and news by sharing them via social media or email with your readers.
Target the right audience. It is easier to segment your audience and always provide relevant information, increasing your chances of sales.
Can generate sales on auto. Using a tool like Social Pilot, you can schedule and automatize your marketing efforts. You can also create evergreen funnels to earn a passive income as you sleep.
Easier to optimize conversion rates. It is easier to measure your post's engagements and conversions. Making it easier to tweak to achieve better results quickly.
Build brand loyalty. By posting relevant content to your audience with more frequency, your brand will be able to grow faster.
Easier to scale and grow. The initial for digital marketing can be very low. With SEO, you don't even need ads to attract your audience.
Types of digital marketing.
Social media marketing. Social platforms allow you to connect with your audience, improve your brand, increase leads, and get sales.
Email marketing. It is based on the massive sending of emails to a contact list, giving you the possibility of having a more direct connection with your potential clients and generating a high conversion rate. I think email marketing is the key to any business's success.
Search engine optimization (SEO). It allows you to position your website on the first page of Google results and, in this way, get more organic visits. You can check my guide to niche keyword research to learn how to do it yourself.
Search Engine Marketing (SEM). It consists of placing paid ads within search engines, and unlike SEO, the results are immediate.
Affiliate marketing. Promoting other company's products and services on your platform. The pay you receive is proportional to the traffic you send the receiver's way. It works if your website is performing well. You can learn how to make money with affiliate marketing without a website here.
You might want to read next:
Is digital marketing and online marketing the same?
Digital marketing is the use of digital technologies to market a product or service. Digital technologies include mobile phones, social media, online marketing, and display advertising.
Online marketing refers to marketing that takes place online.
So although they might seem similar, they are not.
What's the difference between Digital marketing and e-commerce?
Although they are different, they work hand in hand. They are complementary processes.
Digital marketing brings attention to your brand. E-commerce allows you to actually sell.
Let me explain this with an example: Let's say you have an e-commerce website. On this website, your goal is to sell goods, so there is a system for people to browse products and buy them from your site. Ecommerce refers to this sale process. Anytime a client buys from your store, the process of ordering and delivery is eCommerce. Now, the way you attract customers to your site is through digital marketing.
As you can see, these are totally complementary- you need to attract customers with digital marketing strategies to make a sale with your e-commerce website.
Why the confusion between e-commerce vs digital marketing.
The confusion of people comparing e-commerce vs digital marketing comes from the fact that they share similar tools. However, these tools are used with different ends.
For instance, let's say you use email as a tool. You could send emails to your subscribers to get them to visit a new post where they can buy products from your e-commerce website. In this case, you are using email as a digital marketing tool to attract your customers.
Now, let's say you send out an email, and your clients can directly purchase through your email. That would be an example of eCommerce.
Must have tools for e-commerce and digital marketing.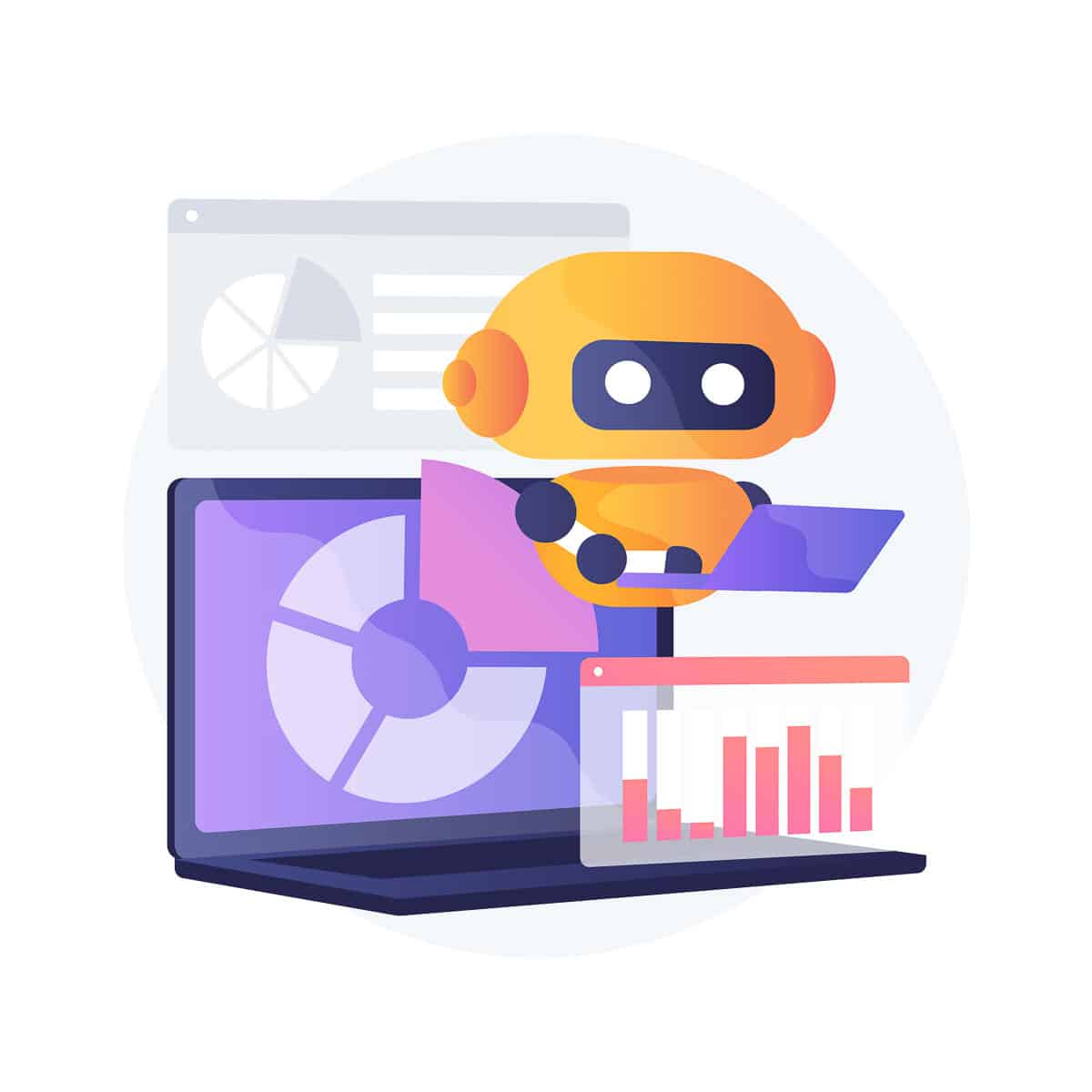 The good news is that you don't need many tools to run a successful e-commerce site and conduct effective digital marketing campaigns.
These are my personal favorite tools that will make a difference without breaking the bank:
SE Ranking. This is the most affordable SEO service you will ever find. It works great and will help you find keywords with low competition to drive traffic, which is the first step towards building a successful website.
Social Pilot. There is no more effective tool for your social media management. With this tool, you will be able to automatize your digital marketing strategy effortlessly. It will allow you to plan all your social media campaigns and post it automatically for you at the best time.
Shopify. The most known e-commerce platform. Great to help you sell and integrate payment options straightforward. It is probably the easiest and fastest method to create a one click eCommerce store.
Active Campaign. If there is a service ecognise as the top AI marketing for eCommerce, that is Active Campaign. It offers you all the tools you need to create sales funnels, sell products directly from your emails and track your sales and conversions easily. They have a free trial so I suggest you give it a try.
Payoneer. Payoneer is the best online bank platform for entrepreneurs. It is easy to use to start accepting money for your sales from day one. This platform is trusted, secure, and works especially good if you need to handle different currencies. And what is best, registration is absolutely free.
you might want to read next:
Pro-Tip To grow Your sales on both
Regardless you create an eCommerce or a digital marketing website, you'll need to sell a product or service to make money.
In this guide, you can learn how to create a digital product step by step. But the truth is that even when you create a product or service, no matter how good it is, you still need website traffic to convert a percentage of your readers to customers.
If you pay a visit to popular forums in Quora or Reddit, you'll see that one of the most common questions people struggle with is driving traffic to their sites. After all, the more people you drive to your product or service page, the higher the chances to make a sell, right?
Today, I want to bring you a simple solution that can help you greatly overcome this issue, and it is called Referral Candy. Referral Candy is a tool that will help you grow your sales through word-of-mouth marketing. The way it works is pretty simple: you just reward your customers for referrals and you choose the percentage they get, so you can just sit and watch the sales roll in!
Too good to be true? Well, I invite you to see it yourself since you can try it for free for 30 days. Then you can tell me if it worked.
Ecommerce vs Digital marketing- Conclusion.
E-commerce and digital marketing are related processes. Usually, E-commerce starts where digital marketing ends.
I hope this post has cleared your mind, and now you understand these terminologies much better.
If you want to start an e-commerce website, I suggest you go micro-niche. Only this way you will remove competence and increase your chances of succeeding. You can find my detailed guide on how to start a micro niche website here.
Now is your turn!
Did you understand the differences between e-commerce and digital marketing?
Leave a comment below with your answer.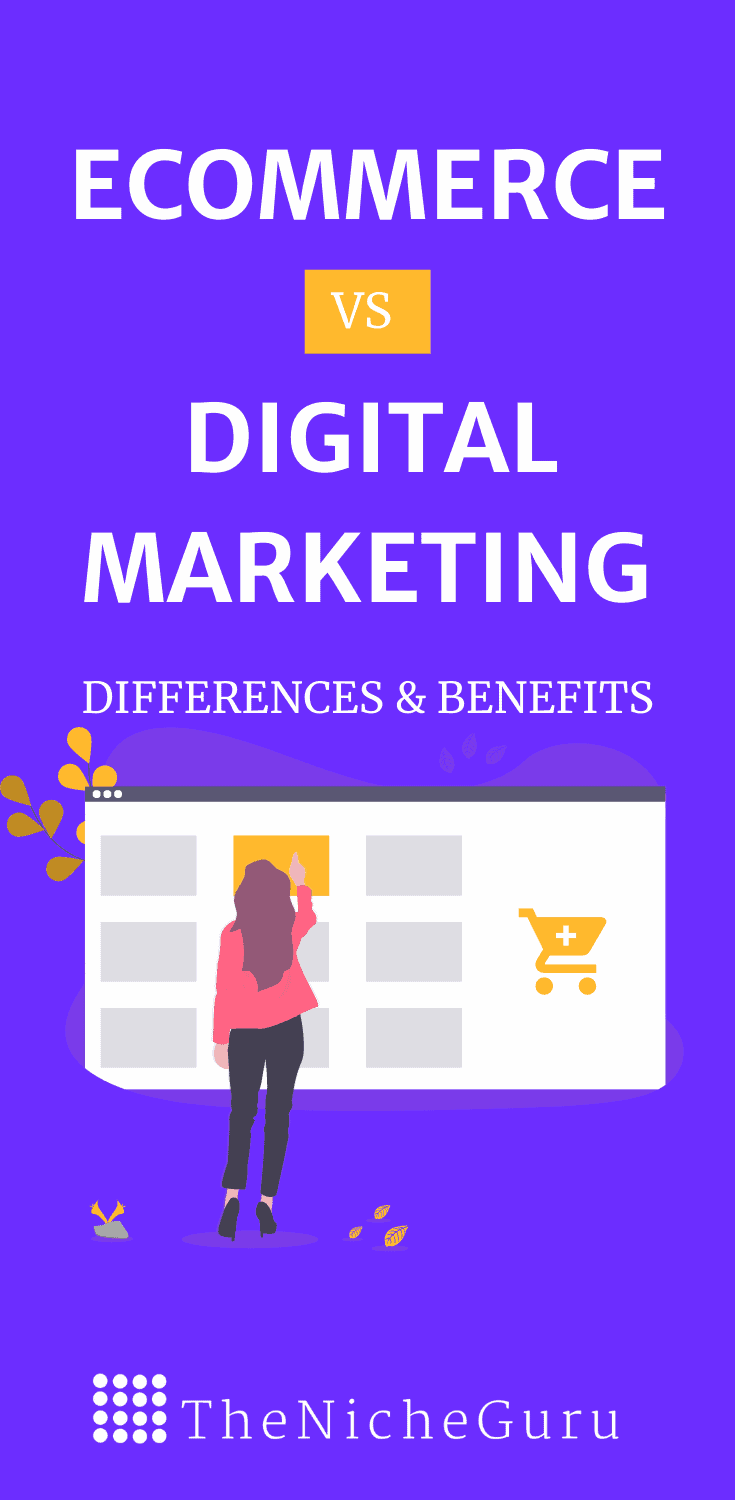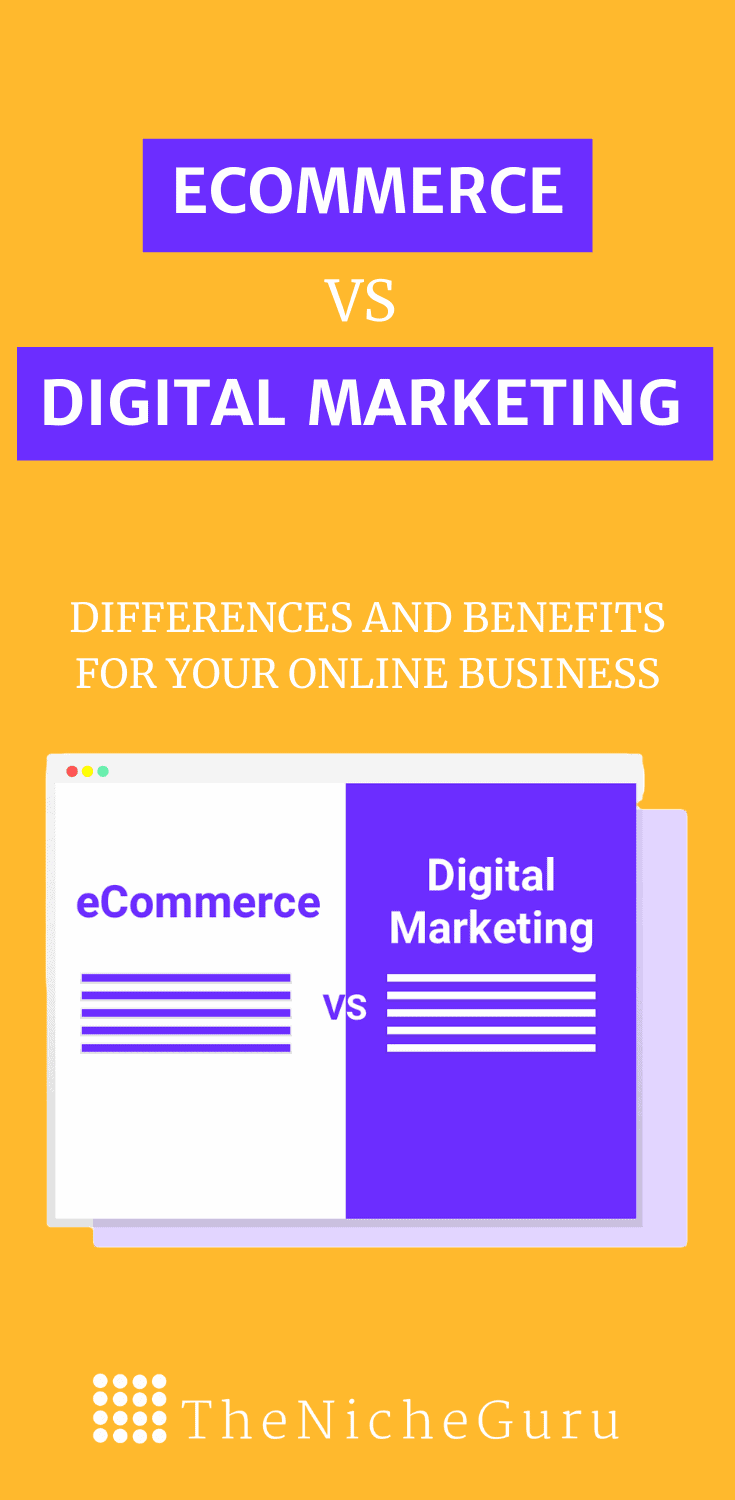 Don't forget to share this article!