Digital marketing vs affiliate marketing– What are they and what are the differences?
In such a digitized era, for any entrepreneur who wants to gain greater visibility, attract customers, increase their sales and guarantee the profitability of their business, it is essential not only to take their business to the Internet but also to know different terms such as digital marketing and marketing of affiliates that undoubtedly contribute significantly to the growth of your business.
If you want to be able to make the most of your business, first you need to understand these concepts. Then you will be able to know how to apply them.
In this post, you will learn:
What is digital marketing and affiliate marketing,
Their differences and
How to start an affiliate marketing business.
Let's dive in!
What Is Digital Marketing?
Digital marketing refers to the marketing component that uses the internet and online-based digital technologies to promote products and services.
Many companies take advantage of the different digital channels to promote their products or services. They use social media, email marketing, Google search, Google Ads, blogs, or websites to attract potential customers.
In this sense, digital marketing represents an excellent solution for many businesses. But to make it work, you should have a strategy. You'll need to understand how to use the different digital channels to attract and generate sales.
A digital marketing strategy consists of implementing a series of steps that contribute to the achievement of your defined digital marketing objectives. There is a wide range of strategies, the main ones being:
Digital product creation and dissemination in social networks. They also allow you to connect with your audience, improve your brand, increase leads, and get sales.
Email marketing. It is based on the massive sending of emails to a contact list, giving you the possibility of having a more direct connection with your potential clients and generating a high conversion rate.
Search engine optimization (SEO). It allows you to position your website on the first page of Google results and, in this way, get more organic visits.
Search Engine Marketing (SEM). It consists of placing paid ads within search engines, and unlike SEO, the results are immediate.
Affiliate marketing. We'll talk in detail about this later.
Now the concept of digital marketing has been defined, let's jump into affiliate marketing and establish the differences between digital marketing vs affiliate marketing.
---
What is Affiliate Marketing?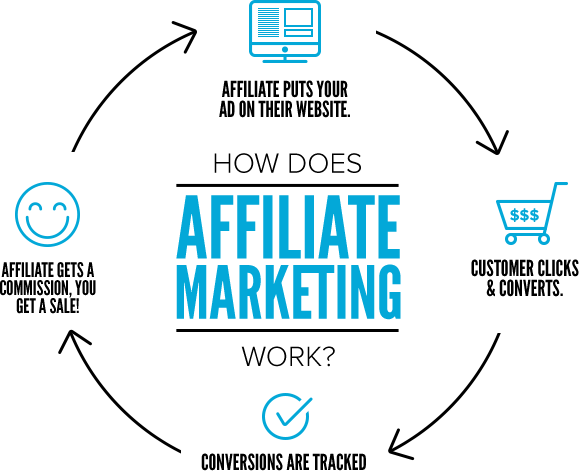 Affiliate marketing is an advertising method that works as a channel through which companies pay a commission in an agreed manner to an individual or business, that helps promote their products and services that may lead to purchases.
Basically, affiliate marketing involves four parts:
Seller. This refers to the company creating the product or service to promote. They usually offer commissions to affiliate partners who align with their brand policies.
Sellers can be small entrepreneurs as well as large companies that are willing to pay a percentage of their sales to affiliates partners for referring their products or services.
Affiliates Partner. They are the promoters of the product or service. They are generally bloggers or content creators active in the industry of the product or service they are promoting.
These characters play a key role. By creating content and introducing affiliate links into it, they manage to refer purchases. Then, they get their well-deserved commission: a percentage that will depend on the terms of the program they have as affiliates.
Affiliate network. It is an intermediary between sellers and their affiliates. This is not a fundamental part of the affiliate marketing parties. But they offer greater confidence to the companies since they are responsible for managing the relationship, making the payments, and reducing the risk of fraud.
Additionally, the affiliate network provides advertisers with resources. This will help them track, report, and manage payments.
Consumers. They are the customers who buy a product or service via the affiliate link provided by an affiliate partner.
In simple terms, affiliate marketing is a win-win-win strategy. The advertiser gets more referred traffic and sales, and the affiliate partner can monetize his website without creating products or services.
---
Digital Marketing vs Affiliate Marketing: What's The Difference?
Before talking about digital marketing vs affiliate marketing, it is necessary to mention that there is a marked difference between them.
Affiliate marketing focuses on promoting other products or services to earn a commission. Digital marketing is about advertising these products or services through digital means like social media.
Affiliate marketing is composed of the seller, the affiliate partner, and the customer. Whereas digital marketing you own the product or service and you are ultimately responsible for its advertisement.
Affiliate marketing is just a part of digital marketing. So it is not really fair to compare digital marketing vs affiliate marketing.
Finally, the choice of any of these trends will depend on your website niche.
If you understand social networks or you have search engine marketing skills, then digital marketing would suit you better. But, if you have the skills to persuade people, solve problems, and are a good storyteller, you should try affiliate marketing.
you might want to read next:
---
How To Start Affiliate Marketing?
Starting with affiliate marketing is not complicated. Understanding how it works and make money, it is a bit more complex.
When you join an affiliate program you will get access to tools and resources to promote their products or services. In essence, you just need to copy the link from the product/service you want to promote, and use it on your site.
But there is much more to that.
Next, you learn what you need to do to start with affiliate marketing:
The first thing you will need is a platform where you will promote your affiliate links.
A great thing about affiliate marketing is that you don't even need a website to start. You can use your social media channels instead. However, it is proven that channels such as a blog or a YouTube channel allow you to quickly reach more potential customers and increase sales.
I suggest you create a niche website. This might take more time in the beginning but will also create a more sustainable income in the long term.
In such a competitive market, it is of great importance that you specifically define the business topic to which you are going to dedicate yourself. And the more you niche down, the better results you will see.
For example, if you are going to promote kitchen products, your content should be about food, or something related.
Once you are certain about your niche, you can proceed to select your affiliate's product.
Also, when you define your niche, you are narrowing your target audience. Which ultimately works much better converting readers into buyers.
I suggest you check this post with the 20 best affiliate marketing niches.
There are many affiliate networks out there. But you should only apply to affiliate programs related to your niche.
Some of the factors that differentiate good affiliate programs are:
Choose programs with high commissions that are recurring.
Chooses affiliates with a long cookie lifespan.
Go for evergreen products with great brand recognition.
Use attractive and professional-looking materials.
Look for programs that offer affiliate partner training.
Once you have created useful and relevant content, it is essential that you implement different traffic strategies. This will help to reach a larger audience that might click on your affiliate link.
The best way to drive targeted traffic to your posts is with organic traffic. And to get organic traffic you should optimize for SEO (search engine optimization). In this post, you can learn how to perform keyword research, which you will need.
Moreover, you can also send traffic to your site with social media or forums like Quora and Reddit.
Lastly, if you have a website without much traffic, you can reach more people with targeted ads. For this, I suggest you start with Facebook ads. But if you have the budget, Google Ads is also great.
Also, this post with 10 niche marketing strategies to boost your business can help you achieve this.
Creating good content is not enough. If you want people to click on your affiliate links, you must place them strategically.
Some tips to make this happen are:
Place affiliate links at the top or in an easy place to see. You can even use bold or colored boxes.
Include contextual links throughout your content. Just do not drop a link. If you want people to click on a link you need to provide some context.
Add affiliate links into call to action buttons. This is a very eye-catching technique that works well.
Create review posts, tutorials, and listicles. These articles normally work very well for affiliates.
This post will give you a good idea on how to earn a passive income with affiliate email marketing.
If you want to convert link clicks into sales, you need to be analytics and test.
In affiliate marketing, you can generally generate income both by getting potential customers to click on your product page (leads) and by making a sale. Most of the affiliate programs, provide you analytics to track how your links perform. Which will allow you to see which links are working and which are not.
So your job is to find out why the ones working, are working, and implement the same strategy into the ones that are not working.
Maybe your conversions come mainly from reviews post? or how-to posts? Whatever it is working, do the same for the rest.
When you figure out a winning strategy, you will convert your clicks into sales easier.
Conclusion
In conclusion, when talking about digital marketing vs affiliate marketing you can't establish which is better. They are just different.
Implementing digital marketing strategies correctly and following the steps above will definitively help you with both.
You will get to increase your web traffic, brand recognition, increase your sales, and ultimately generate higher income.
Now is your turn!
Did I help you clarify the difference between digital marketing vs affiliate marketing?
Leave a comment below with your answer.
Don't forget to share this article!
If your brand is on social media, you can be part of an online conversation,…
RELATED CONTENT
If your brand is on social media, you can be part of an online conversation,…
So you probably want to start a blog and want to know the differences and…
Are you struggling to generate quality leads for your business? Well, you're not alone. Many…
Are you a YouTuber looking to make money from your channel? If so, then this…