Are you debating between creating an affiliate marketing vs dropshipping business?
Dropshipping and affiliate marketing are two great ways to make money online. These business models exclude the stress of manufacturing and shipping products, allowing you to sell the products of others to generate an income.
However, depending on your knowledge and your strategy, one might work better than the other.
In this post, I will scrutinize both models to help you discover which one might suit you best.
Let's dive in!
Affiliate Marketing vs Dropshipping: How Are They Similar?
Most people better understand affiliate marketing because it is frequently in the public eye. Dropshipping is a similar business model that many people are not aware of. Despite their differences, these two business models do have some similarities.
Whether you are dedicated to living the life of a digital nomad or are just looking for a profitable online business, these are the main similarities between an affiliate marketing business and dropshipping:
With both business models, you can start without an inventory or the shipping of goods.
They carry a relatively low-risk business model.
The earning potential is high for both.
You can start working immediately with either of these online businesses.
Similar skill sets are required for both; these include some knowledge to create ads, drive traffic to a landing page, and some other marketing skills.
Startup costs are low for both business models.
Affiliate Marketing vs Dropshipping: How Do They Differ?
So, both these business models allow you to make money by selling products produced by others. If you have a laptop and good internet, you can make money from anywhere. These are the main differences between affiliate programs and dropshipping:
When a store sells a product, it purchases the item from a third party and has it shipped directly to the customer- This is called dropshipping.
Being an affiliate marketer means the customer is taken to another eCommerce website from an affiliate link of yours.
With dropshipping, you handle customer support.
As an affiliate marketer, all your customer service issues are handled by the website selling the product.
Your profit margins can be higher with dropshipping because you set the selling price of the products.
With affiliate marketing, the price and the commission rate are set, so you have no control.
The way you receive money also differs because, with dropshipping, you receive your payment on completion of the transaction.
As an affiliate marketer, you receive a commission that can take anything between one and three months to be paid to you.
What is affiliate marketing?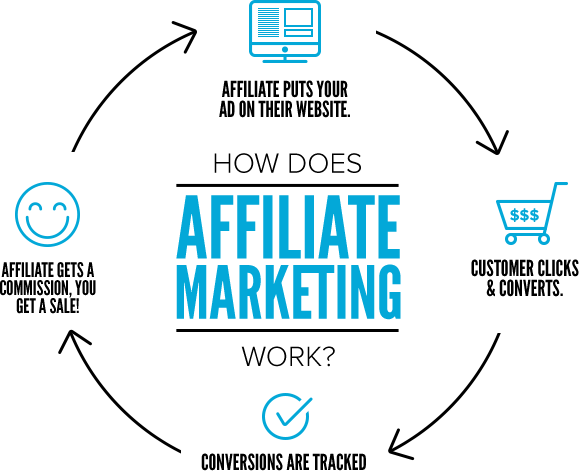 Let me explain more about affiliate marketing to make it easier for you to decide if you want to join this type of marketing business.
Recommending products and services of another merchant is what the affiliate marketing model is based on. It is considered one of the best ways to make money online if you have audiences you influence.
Online reviews play a huge role in purchasing decisions. According to the latest statistics, 93% of customers read them before making a purchase, and your recommendations pack a powerful punch.
Whether you are an influencer in your field or have a website with good traffic, you could review and recommend the product of others to your audience, earning a share of the profit from the sale.
You will place an affiliate link on your page, and the process of earning a commission from the sale is straightforward. As soon as a person on your page clicks on the link and purchases the product, you receive your pre-determined affiliate commission.
It is surprisingly easy to become an affiliate marketer if you are looking to start an online business.
The first step is to choose a niche where you can be successful. Next, set up your website and find a business with an affiliate program to sign up with.
Businesses with affiliate programs usually have a link in the footer of their website where you can sign. After signing up, you create affiliate links that the business tracks, allowing them to know which affiliate each purchase is made.
You can still earn money with extended cookie periods offered by some affiliate programs. With some, you may still make a commission with a click that doesn't become a straight purchase. The cookie periods vary but are usually between seven and 30 days. Sometimes, you may still qualify to earn a commission for a click that returns later for purchase.
You can expect your affiliate commission within 30 days of the purchase, but some affiliate programs may take longer, depending on their returns policy and processing.
The most direct and most straightforward way to find an affiliate program in your niche is to do an online Google search. You can also look for a particular vendor with affiliate programs, e.g., eBay or Amazon.
Affiliate directories or networks are great places to find information about various affiliate programs. You just need to sign up and have access to thousands of affiliate programs. Managers of affiliate programs post information, and the websites are easy to navigate. You can conveniently carry out your search by looking at niches, categories, commission types, etc.
You could also check other websites in your niche and do some research to determine which affiliates they are actively promoting.
Also, when looking for affiliate programs, it is a good idea to join several programs even if they are competitors. The reason behind this is that it will give you the flexibility to create lists posts, comparative posts, and different kinds of articles where you could use all your affiliate links.
Lastly, upon signing up, pay attention to the affiliate program rules. You don't want to be terminated even before starting because you are not following their requirements.
Some of the best affiliate networks you can join are:
Lastly, I suggest you check this post with the 20 Best Affiliate Marketing Niches (+How to Monetize Them.)
Some affiliate programs have restrictions on where you can promote them, so you need to keep and eye to each program requirements. Generally, you can promote your affiliate partners on your website and your social media.
As mentioned earlier, a blog is one of the best places to promote your affiliate links and quickly start making sales for your online business. However, you can also make money from affiliate marketing without a website.
If you opt to create a niche website to promote your links, the niche you choose is vital. It can make a difference from being found on search results or not showing up at all if it is too competitive. So niche research is a good practice.
To answer best to the question how and where to promote your links, I have created very thorough articles that will guide you step by step on how to do it efficiently:
What is the Dropshipping Model?
Dropshipping allows you to sell products from different merchants on your website. This business model allows you to influence the final cost of the products by setting your price. Therefore, you determine your final commission or profit from every transaction in your online store.
This is an example of how dropshipping works:
You set a price for a product on your website. Let's say a product worth $20, which you then re-sell for $30.
Your consumer places an order on it and pays your asking price of $30.
You forward the order to the retailer and pay them the wholesale price of $20.
The wholesaler ships the product to your customer, and your sales commission of $10 is yours to keep.
You run your dropshipping store and sell the product on your eCommerce store.
The transaction with your customer is completed at the retail price.
You order the product at the wholesale price from the merchant once the customer has paid you for it.
The wholesale vendor ships directly to your customer, under the impression it has come from you.
You keep the profit.
Dropshipping might be the best business model for you if you don't have money to invest in the inventory and storage space required by a regular eCommerce business. It allows you to go into business with a minimal budget.
Another advantage of dropshipping is it allows you to test the demand of a product before investing money in storage and inventory.
It is a great solution for entrepreneurs willing to build an ecommerce store.
You will be busy creating your brand from the moment you decide to become a dropshipping business. Therefore, it is imperative to find reliable merchants with good quality products for the best marketing business.
A good supplier allows you to grow your sales instead of wasting time dealing with customer service issues. The more reliable your supplier and the better the product, the fewer problems you will have.
Low Ticket Dropshipping.
When you upload products from a website, like AliExpress, you may often have shipping delays and customer issues. Expect lower sales because of the type of products you are selling. Here you need to push for volume if you want profits, so expect to implement aggressive and costly business marketing.
High Ticket Dropshipping.
This is the best way to build a sustainable business because you use established brands and distributors. As opposed to campaigns where you actively target people, you target customers actively searching for your products, so you don't have to create traffic. You have a more considerable profit margin and a very reliable supply chain.
Lastly, I suggest you check the 10 best dropshipping niches you should target.
You can either build your dropshipping website using WordPress and WooCommerce or take the easier option of using an eCommerce platform like Shopify.
Shopify is easy to use for a flat monthly fee and integrates with automation and email marketing tools, making it easier to reach customers. It is the most popular option used by drop shippers.
With WordPress, you may pay less but need to have a better understanding of how it works. Therefore, there is a more significant learning curve, and you will need to put in a bit more effort to create your eCommerce store. However, you have much more control and can implement different marketing strategies.
There are more pros than cons to owning a dropshipping website, but minimize any risks by researching products well before selling them.
My personal advice is to use a dedicated tool for finding the best dropshipping products to sell. Check my review about Spocket vs Oberlo, which are currently the top dropshipping options.
Affiliate marketing Vs Dropshipping: Which is Better?
Whether affiliate marketing is better than dropshipping is not an easy question to tackle. The reason for this is each person requires something different from their online business.
Affiliate marketing may suit you better if you are good with SEO and content creation. It also requires less involvement in the business. If you already have a vast social media audience or your website receives good traffic, this is a great option to help increase your income.
Then again, if you like to work a bit harder, especially in customer service, the dropshipping model may be ideal for you.
To summarise, it really depends on your preferences. There is no better or worst; they are just different, and they can be both very lucrative.
If you are looking for a more profitable business model, then a high-ticket dropshipping online store might be the best one. It allows you to decide on your profit margins by marking up the products as you want. Targeting the right keywords can bring you a good income within just a few months of starting your dropshipping business.
Affiliate marketing generally has lower percentages on sales. These are usually from 3 to 10%. If you are marketing digital products like Software as a Service (SaaS) or online courses, you can expect to get anything between 10 and 50%, but these are competitive fields.
In any case, affiliate marketers are making more money than dropshippers. At the end of the day, it depends on so many factors. But probably, with the same amount of targeted traffic, it would be easier to make more with dropshipping because affiliate marketing programs with high commissions require excellent marketing skills to sell them.
If you are looking for a business that requires less work, then affiliate marketing is the best business model for you. From the moment you have it up and running, you can be pretty sure it will run smoothly. However, making people click on your links and buy still requires some work.
Your initial work is to build your website, target the right keywords in your content, and optimize your SEO. Then, add your affiliate links, and organic traffic can help you with the rest. The more amazing content SEO optimized you create, the higher your chances to make money.
If you want your business to be genuinely hands-off, then you can hire a writer on Fiverr to add content to your blog.
Dropshipping can also be made into an easy-to-run business with the use of the right tools and integrations. These allow you to automate just about every step of the business process for your online store.
Initially, you need to find suppliers and then build your online store. After that, customer support is all you need to worry about; unless you outsource the service. And plugins like Spocket and Oberlo can make a real difference here.
Final Take on Affiliate Marketing vs Dropshipping.
If you have very little money to invest upfront for a business, these are both terrific business models that can make you money.
Initially, both models require some work, but once you set up everything for your online business, you can sit back and enjoy the income.
Now that you know more about affiliate marketing and drop shipping, you can decide which you prefer. Whichever business model you choose, you will enjoy the freedom to work from anywhere as the money starts coming in!
Now it is your turn!
Will you be creating a dropshipping or an affiliate marketing business?
Leave a comment with your answer below.
Don't forget to share this article!
If your brand is on social media, you can be part of an online conversation,…
RELATED CONTENT
The global workforce training industry is slated to reach $380.7 billion by the end of…
Have you ever wondered why YouTube recommendations know what you want to watch? Well, this…
Are you looking for a powerful dropshipping solution and down now to Appscenic vs Spocket?…
As online accessibility becomes increasingly important, it's easy to get overwhelmed trying to navigate the…