Are you looking for the best dropshipping website builder to easily set up your website and start making money?
Dropshipping is one of the most lucrative online businesses. And what is even best it is not complicated to run a successful dropshipping business if you use the right tools.
In fact, in this post, I will show which are the best dropshipping website builders so you can create your online business today.
Are you ready? Then let's dive in!
*Disclosure: I only recommend products I would use myself, and all opinions expressed here are my own. This post may contain affiliate links that at no additional cost to you, I may earn a small commission.
What is Dropshipping?
Dropshipping is a retail fulfillment method where a store doesn't keep the products it sells in stock.
Instead, when a store sells a product using the dropshipping model, it purchases it from a third party and ships it directly to the customer. As a result, the seller doesn't have to handle the product directly.
How to find the top dropshipping niches.
When looking for a profitable dropshipping business, you should:
Look for niches where people are already spending their money. You want to bet on something which is already working.
Focus on evergreen and popular products. By doing this, your business won't be depending on trends and will make money all year round.
Look for a niche with competition, but not a lot. If there is competition, there is money. The trick is to find a niche without much competition.
Make sure it is profitable. You need to find a niche where you get a decent margin and profits at the end of the day. The tools disclosed below will help you make sure of this last step.
For more information on this topic, check out the best dropshipping niches.
What is the best website builder for dropshipping?
The best builder for your dropshipping business will ultimately depend on your needs. In the table below, I have summarised what is the best according to the features they offer.
| Builder | Best For | |
| --- | --- | --- |
| 1. Appscenic | Best Overall | > Try Now |
| 2. Sellvia | Best for US dropshipping | > Try Now |
| 3. Spocket | Best for dropshipping automation | > Try Now |
| 4. Dropified | Best for Aliexpress dropshipping | > Try Now |
| 5. Salehoo | Best Oberlo replacement | > Try Now |
| 6. Alidropship | Best for WordPress | > Try Now |
| 7. GetResponse | Best for email marketing | > Try Now |
| 8. Shopify | Best all-in-one platform | > Try Now |
| 9. Zyro | Best for inexperienced users | > Try Now |
| 10. Zendrop | Best for Woocommerce/ Shopify | > Try Now |
| 11. Selz | Best for digital products | > Try Now |
| 12. Oberlo | Discontinued | – |
| 13. UDroppy | Best free plan | > Try Now |
| 14. Weebly | Best user-friendly | > Try Now |
| 15. Importify | Best for Shopify product import | > Try Now |
Best dropshipping website builders table
15 Best Dropshipping Website Builders
In this section, I'll show you what are currently the best dropshipping websites in 2023, including an overview, top features, and pricing.
Note that the builders in this list are specifically designed for dropshipping.
Appscenic helps you find verified dropshipping suppliers from the US, EU, AUS, UK, and Canada and allows you to push products to your store seamlessly.
They offer only suppliers with fast shipping, close to zero return rate, and an amazing customer service experience, making them one of the most powerful dropshipping tools, especially for those looking for an automated process with no hassle.
Moreover, Appscenic offers integration with Shopify, Woocoomerce, and Wix. When checking their reviews in Trustpilot, you can easily see why I personally think Appscenic is one of the best dropshipping website builder solutions;
Related articles:
One-click integration
Inventory and orders management
Hundreds of shipping integrations
Integrated payment methods
White label
2-5 Days shipping
Buyer Protection with refunds and returns
Auto-ordering
Buying automation
100+ product categories
Sellvia is probably one of the most complete dropshipping solutions on this list. It includes all the eCommerce, customer service, and marketing features you need to start, run and grow your business, even if you have no experience.
They are dropshipping suppliers based in the US and are run by dropshipping experts. They offer something most dropshipping suppliers cannot offer: orders shipped across the US within just 1-3 business days. On top of this, they also offer quality products, an extensive product catalog, and fast deliveries in the US. However, they do not offer international shipping. So if you are looking for international shipping, you might need to choose a different option.
Lastly, one of the most unique things Sellvia offers is that they build your online store with best-selling products for you! This is probably one of the features that might make people choose Sellvia over other competitors, especially for new dropshippers or customers with less experience or time.
You can read my full Sellvia review here.
Fast US Shipping
Extensive and quality product catalog
One-click import
Ready-to-go Marketing Campaigns
White label
Integration with all major e-commerce platforms
Includes refunds and returns
Great product margins
Sprocket is a dropshipping app that allows you to choose the best products to sell from thousands of dropshipping suppliers all over the world.
Spocket will help you start a dropshipping business by clicking a few buttons, provided you have done thorough research on your desired niche.
It has an easy-to-use interface. It lets you find some of the best products and dropship them to your customers with zero hassle and upfront cost. For these reasons and many others, I think Spocket is the best website builder for dropshipping.
Spocket is often compared with Oberlo, which is also on this list. You can read my detailed review here: Spocket vs Oberlo Review
Product Catalog and Search
Retail Price Recommendation
Profit Per Item calculation
E-commerce integration
24/7 Support
Invoicing
Branded Package Delivery
Branded Invoicing
Automated Order Processing
Dropified automates dozens of the daily tasks required to run a successful dropshipping business, allowing you to focus on marketing and growing your e-commerce store.
Their software will help you find, import, and sell profitable products from Alibaba, AliExpress, eBay, and 75+ other websites. Then, all you need to do is set up Dropified to automate your entiredropshipping processfrom order fulfillmentto delivery.
Source amazing products
One-click product import
Automatic orders
Sell on Facebook Marketplace
Track, manage, and customize orders
Automated rules & BOGO
Advanced product research
Import product reviews
Automatically track and sync shipping information
ZERO transaction fees
Salehoo is another great dropshipping website builder offering an extensive dropshipping supplier directory. It also makes an effort to ensure the legitimacy of the suppliers.
With this tool, you can get access to thousands of hand-picked, trending products and easily add them to your Shopify store.
Used together with Shopify, it is probably one of the best dropshipping builders combo available for your dropshipping business.
Also, Salehoo offers a smooth transition for Oberlo users to migrate everything to this platform. It has a 1-click import from vetted AliExpress items, so users only dropship high-quality products – meaning lower refund rates, fewer customer complaints, and, therefore, higher return purchases.
Auto-populates your customer's order details so you can order from AliExpress in one click.
Sync your Shopify orders to SaleHoo in seconds
Place unlimited orders to your supplier and track shipping status in one place
Find fresh new and trending suppliers straight from the Directory
All suppliers are vetted for quality service and unbeatable price
Dropship on Shopify course
Find winning dropshipping products that you can list to your store within minutes
Spot new products with an increasing growth rate before it gets over saturated
Boost your small business and increase sales by selling seasonal products that are updated daily
Fancy a dropshipping business with a few clicks integrated with Aliexpress so you can start selling immediately?
That is what Alidropship offers- AliExpress solutions suitable for every type of entrepreneur. Whether you want to build your own store ground up or have our expert team create one fully for you. Besides, they offer a very practical plugin so you can build your store in WordPress effortlessly and start selling immediately.
On the other hand, if you don't have any experience or simply want them to build it for you, they also offer the service at very affordable prices. So there is no way you can fail with Alidropship may choose it as your dropshipping website builder.
Search & Import
Auto-Updating
Pricing Automation
Fulfill Orders Automatically
ePacket Shipping Filter
Auto Order Tracking
Built-in Themes
Product Customization
Unlimited Number of Products
Product Variations
WooCommerce Support
Built-In Image Editor
Discount Coupons
Product Reviews
SEO Product Tags
Abandoned Cart
Email Lists
Live Statistics
Payment Gateways Integration
Inventory Management
Free Updates & Support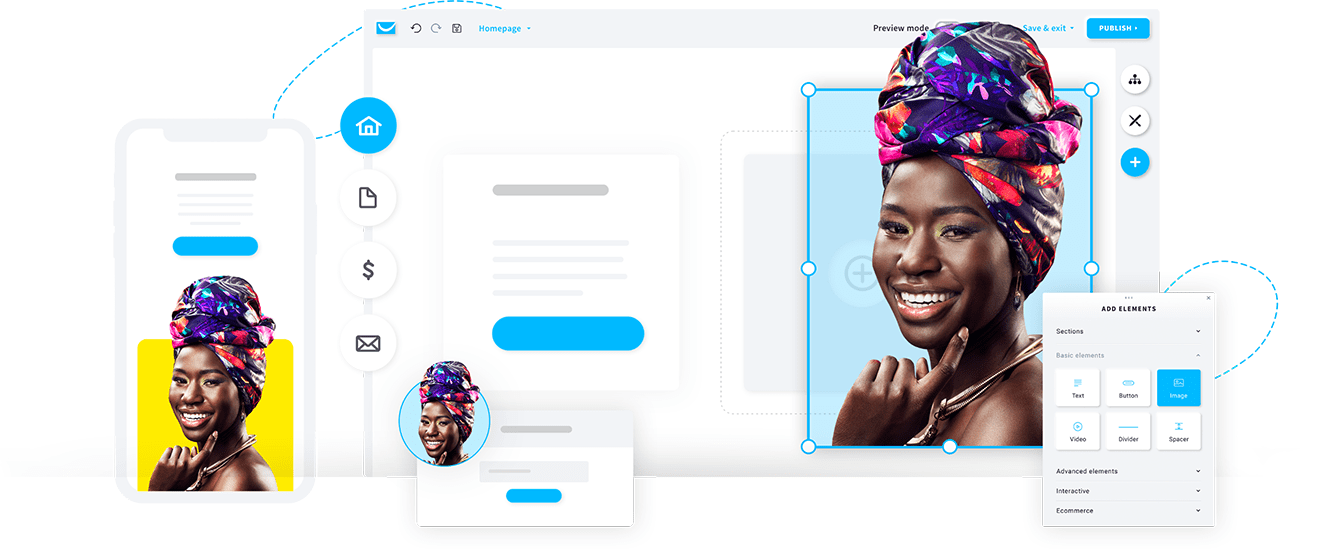 You might know GetResponse as one of the most popular email marketing tools. But you probably did not know that now it also features a powerful AI website builder perfect for dropshipping.
This is your tool if you are looking for a dropshipping website builder that can integrate with a powerful email marketing solution. With the help of AI, you can build your page in minutes and start promoting your business. In addition, it features predesigned customizable templates based on your business needs.
And what is best, once it is ready, you can start promoting directly with GetResponse email. This might not be as focused on dropshipping as the others, but it is one of the best solutions for people with experience who want to increase profit with dropshipping and email marketing.
No-code solution for building websites
Website templates for your industry
Absolute design freedom
Complete online marketing suite
Drag-and-drop editor
SEO-optimization tools
Analytics
Shopify is probably the most popular solution among the dropshipping website builders that offer a complete package to start your online store. What is great about Shopify is that it offers integration with drop shippers, hundreds of themes, unlimited products, and bandwidth.
If what you want is to create an eCommerce website backed by powerful tools that help you find customers, drive sales, and manage your day-to-day, you can't go wrong with Shopify. It is one of the best website builders for dropshipping and one of the most used.
Lastly, you might want to check this Shopify dropshipping guide.
70+ professional themes
Brand and customize your online store
Mobile commerce ready
Edit HTML and CSS
Web-based website builder
Free SSL certificate
Automatic carrier shipping rates
Accept credit cards
Abandoned checkout recovery
100 payment gateways
Flexible shipping rates
Offer free shipping
Automatic taxes
Multiple languages
Dropshipping
Refunds
Email templates
Order fulfillment
Search engine optimized
Product reviews
Sell on Facebook
Discounts
Gift cards
Inventory management
Digital products
Product organization
Unlimited products
Subscriptions
Unlimited bandwidth
Analytics
Mobile App
24/7 support
Zyro is a great website builder that makes the setting up of any online business much more pleasant. Free designer-made website templates, drag & drop functionality to make some refreshing images, and grid-tool make your images picture perfect.
With AI-driven writing tools to create and make your website look great, plenty of online store templates and many other useful features are among the simplest website builders available.
Drag-and-drop editor
eCommerce functionality
Universal payment solution
Free domains and hosting
SSL Security
24/7 support
Search engine optimized
Powerful integrations
Mobile ready
AI business tools
What makes Zendrop different from others is this tool was created with the dropshipper in mind. This means they provide a very focused solution for dropshippers that you might not find in other tools which makes it an excellent dropshipping store builder.
Zendrop offers so many free resources to help you scale your business and grow your eCommerce skills.
It provides a visual and powerful interface that can help you create a profitable dropshipping business in no time.
Fast Shipping
24/7 support
Real-Time Analytics
Custom Branding
Automated Fulfillment
Private Labeling
Zendrop Academy
Bundles and Subscription Boxes
Selz is a great tool for effectively building e-commerce online stores for people with no design experience.
Also, the Selz online store builder comes with a fully-featured blogging platform that is powerful and streamlined, meaning that your content and your product listings can sit comfortably side-by-side. As a result, you can engage customers, build SEO juice, and grow your brand into a powerhouse without paying extra hosting fees or maintaining multiple sites.
If you are looking for a complete solution that enables you to manage orders, receive payments, and build relationships with existing customers, Selz is a great choice.
Drag-and-drop store builder
Web hosting and free SSL
Add products to an existing website, blog, or social profile by embedding customizable "buy now" buttons, widgets, or your entire Selz store
Sell on your social media platforms
Selz Pay (powered by Stripe) accepts all major credit cards.
100 different currencies
Automatic tax calculation
Built-in online shopping cart
"Pay what you want" feature
Abandoned cart recovery emails.
Shipping tools
Process refunds
Sell physical products, digital products or services.
SEO optimization tools
Unlimited hosting and bandwidth.
Real-time sales analytics
24/7 support
And more!
*Update: Oberlo is no longer offering dropshipping services.
Oberlo is another popular dropshipping app for Shopify. It searches through suppliers via AliExpress and offers a vast number of products from many different categories.
More than 100 million products have been sold using Oberlo. Think of it as the keys to a virtual warehouse packed with products from thousands of suppliers. Electronics, fashion, beauty, toys. You name it, you can find it.
Oberlo lets you grab your goods, customize the details, then pull them into your online store, ready to sell in just a few clicks.
They also provide an easy-to-use app. Although the product catalog is much more extensive than Spocket, the delivery times are also higher.
Product Catalog and Search
Retail Price Recommendation
Profit Per Item calculation
International Suppliers
E-commerce integration
24/7 Support
Invoicing
Branded Invoicing
Automated Order Processing
*Discountinued
uDroppy is one of the top dropshipping website builders for entrepreneurs.
They offer a clever system where you can leverage the platform to import dropshippable products. Generate sales first, pay products, and fulfill later.
This is another tool built exclusively for dropshippers. So you can expect plenty of useful features that will help your start and grow your dropshipping business.
Also, it is one of the few offering a free dropshipping website builder from this list.
Order Synchronization
Multistore fulfillment platform
Orders tracking
Get connected to dropshipping-able suppliers
Access to private label
Simple unified invoicing
Suppliers from different countries
Fast worldwide shipping with tracking numbers
And more!
Weebly is one of the top-growing dropshipping website builders.
You can access customizable web page designs and useful tools to build your website and grow your ideal business. What is best, you can easily build a free website to help you get discovered and grow your customer base.
It comes full of useful features for big and small businesses.
Drag and drop website builder.
eCommerce Store.
Responsive templates.
App integration.
Easy publishing.
Domain registration.
Free Sub-domain.
Full-width page editor.
With Importify, you can easily import best-selling products and automate your entire dropshipping process, all with a single click. It is compatible with the biggest wholesalers and fully integrated with Shopify, Wix, Woocommerce & Jumpseller.
With their research tool, you will find proven selling products and can quickly add products to your online store from AliExpress, Alibaba, Amazon, Etsy, and hundreds of other suppliers. It will definitely save you time and let you focus on making more sales and managing your dropshipping business.
Product research
One-click import products
Pricing rules
Automate your orders
Easy supplier change
Auto assign collections
Split variants
Connect existing products
Shopify to Shopify importer
Dropshipping vs. Print on Demand: Understanding the Best Model for Your Online Business
In the world of e-commerce, dropshipping and print on demand (POD) are two popular business models that have transformed how entrepreneurs approach online retail. While both models offer the allure of low upfront costs and ease of setup, they cater to different needs and come with their unique sets of challenges. In this section, we'll dive deep into the differences between dropshipping and POD, helping you decide which model aligns best with your business vision.
Dropshipping: A Broad Product Range with Low Overhead
This model significantly reduces the overhead since there's no need to purchase inventory upfront or manage a storage space.
Advantages:
Wide Selection of Products: Dropshipping allows you to offer a broad range of products from various suppliers.
Lower Risk: With no need to buy inventory upfront, the financial risk is considerably lower.
Ease of Start-up: Setting up a dropshipping business can be relatively quick and easy, often requiring only an online store and supplier agreements.
Disadvantages:
Lower Profit Margins: Due to intense competition, profit margins in dropshipping are often slim.
Less Control Over Inventory: You depend on suppliers for product availability and quality, which can sometimes lead to issues with stock and fulfillment.
Shipping Complexities: Working with multiple suppliers can lead to challenges in shipping and logistics, particularly when a single order contains products from different suppliers.
Print on demand is a process where you work with a supplier to customize white-label products (like t-shirts, books, or mugs) with your designs to sell them on a per-order basis under your brand. This model is particularly popular with artists, designers, and niche marketers.
Advantages:
Customization: POD allows for the creation of unique, customized products that can help your brand stand out.
No Inventory Needed: Like dropshipping, POD doesn't require you to hold any inventory or make large upfront investments.
Brand Building: This model offers greater opportunities for brand development and customer loyalty through unique products.
Disadvantages:
Limited Product Range: Your product offerings are typically limited to what your POD service can produce.
Higher Costs per Item: Customized products often come with a higher production cost, affecting profit margins.
Reliant on Print Quality: Your brand reputation can be heavily influenced by the quality of the print and products from your chosen POD supplier.
Which Model Suits You Best?
Choosing between dropshipping and print on demand ultimately depends on your business goals, niche, and how you want to position your brand. If you aim for a wider product variety with potentially lower start-up costs, dropshipping could be the way to go. However, if you're focused on brand identity and customization, print on demand might be more your speed.
Remember, both models require dedication, market research, and a solid marketing strategy to succeed. Whether you choose dropshipping or POD, make sure it aligns with your long-term business vision and target audience.
Is dropshipping profitable in 2023?
Dropshipping is probably one of the most profitable businesses of the last few years.
All you need to succeed is to choose the right dropshipping niche and use one of the dropshipping website builders from this post.
What is also great about this business model is that you can start making money very soon compared to other business models like affiliate marketing.
Lastly, I suggest you include a blog in your dropshipping store. Why?- you might ask. Well, the more content you create around your dropshipping, the more your site authority will grow. And not only that: you can also embed or promote your dropshipping products also on your blog pages. Meaning you'll have more chances to profit. You can easily do this with Dropinblog, a tool that allows you to easily embed blog pages into your website, regardless of the builder you use. This is, without a doubt, one of the best ways to grow a dropshipping site.
You might want to read next:
How to Start a Dropshipping Business.
Generally, to start a dropshipping business, you'll need:
Get a domain and hosting.
Select an e-commerce platform.
Build your dropshipping niche store.
Select the products you want to sell.
Launch your niche store.
With the dropshipping website builders discussed in this post, steps #4 and #5 will be fast and painless. I suggest you check how to create a dropshipping niche store step by step to learn how to do this in detail.
Dropshipping Website Builder- Conclusion
In conclusion, starting a drop shipping business is a great idea. But it is even better and way easier to build your dropshipping website with one of the platforms discussed in this post.
Not only will you be able to start your business much faster, but also to start making money sooner since all of them have been optimized to help you achieve results faster.
If you still have doubts and you are not sure about which one to use, I suggest you try Spocket. As of today, it is probably the best value for money and offers all the features you need. Plus, you can try it for free.
Now it is your turn!
Which is your favorite dropshipping website builder of all?
Leave a comment with your answer below.
Don't forget to share this article!
If your brand is on social media, you can be part of an online conversation,…
RELATED CONTENT
Do you know that roughly 27% of all eCommerce businesses now use drop shipping? By…
Artificial intelligence has become the talk of the town nowadays. What is AI? What are…
Are you wondering if Prepostseo is worth your investment? Look no further, as I have…
Hubspot vs MailChimp: Find out which is better for email marketing, to reach potential customers…