Artificial intelligence (AI) is becoming a significant part of every online business. If you think about it, Google's Chromecast, Apple's Siri, and Amazon's Alexa are some of these examples in real life.
One of these AI's benefits is that they can perform some works in a fraction of a time and more efficiently. This is the case of AI SEO software- They can improve your search engine rankings with quick analysis and optimizations in no time.
And it does not matter if you have previous experience with SEO or you don't. They are developed to help all kind of users efficiently.

If you want to learn more about how AI SEO software can help your business rank and the best tools, keep reading.
*Disclosure: I only recommend products I would use myself, and all opinions expressed here are my own. This post may contain affiliate links that at no additional cost to you, I may earn a small commission.
What is AI SEO?
AI SEO is the use of artificial intelligence to help you improve your search engine rankings. It can help you from discovering trending topics to keyword opportunities and competitor's gaps. This means you can do your SEO tasks faster and more efficiently with AI SEO software.
Search engines are becoming more and more intelligent in the way they crawl websites. Thanks to AI, they basically know what users want. This means that if you understand AI and how it impacts search engines, you can boost your SEO using AI.
AI SEO software can be excellent allies for data analysis, search engine optimizations and to help you design an effective SEO strategy.
Lastly, I suggest you check how to manually perform keyword research.
How can AI SEO Software help you?
AI SEO software can help your business in many different aspects. It can advise on optimization recommendations based on user intent, backlinks from toxic sites, and keyword suggestions.
Some of the benefits of using AI SEO software are:
AI SEO Software solutions can predict what Google wants. Google is constantly making changes to its algorithms. And staying on top of all the required optimizations can be tedious. Instead, AI SEO software learns and adapts to changes.
AI SEO software can help you avoid automated penalties or drops in your ranking. They can keep you posted on all the required changes. Also, if there are any issues or changes with your rankings, they can flag them so you can take corrective action.
AI SEO software keeps you updated. From ranking drops to SEO strategies that are not working anymore. They can help you enhance your content so you can keep ranking on search engines.
The 9 Best AI SEO software.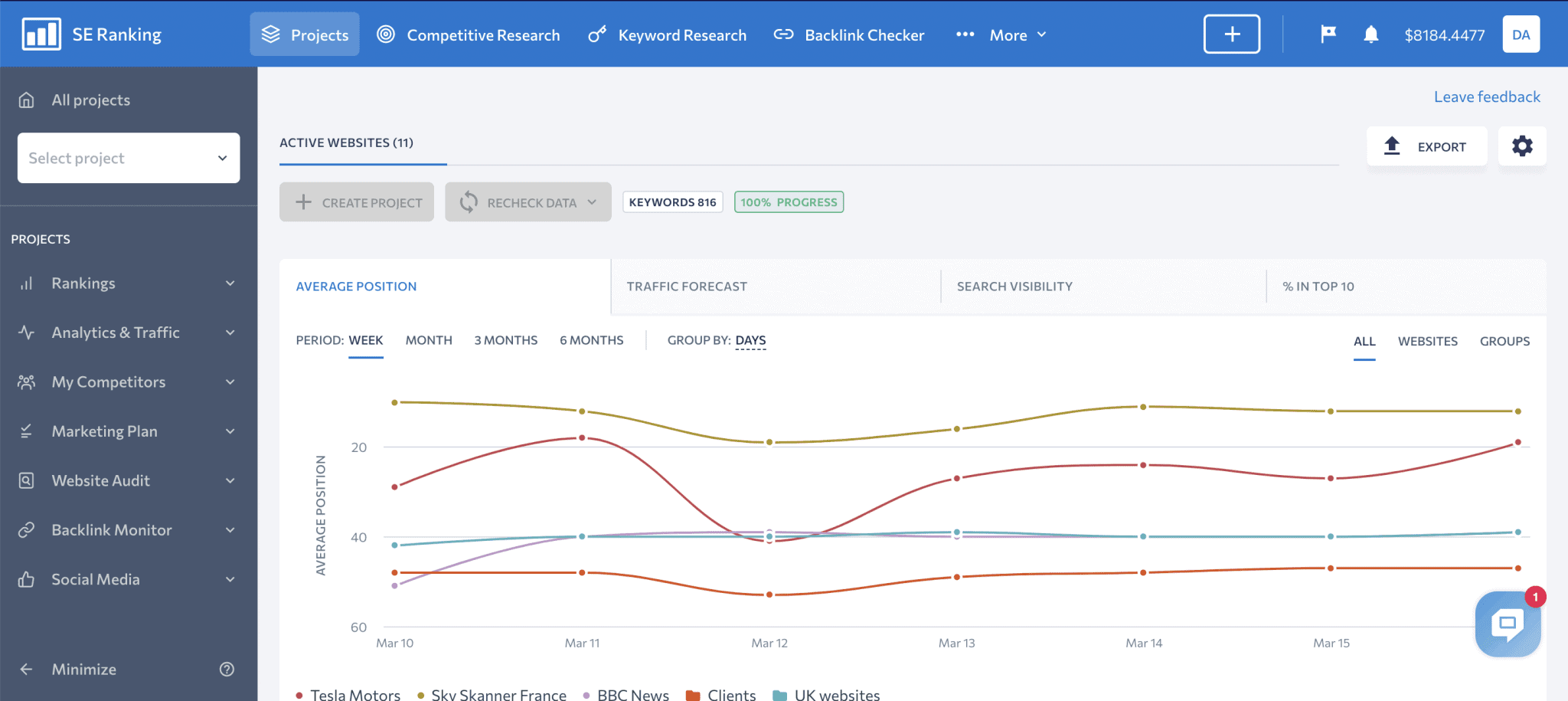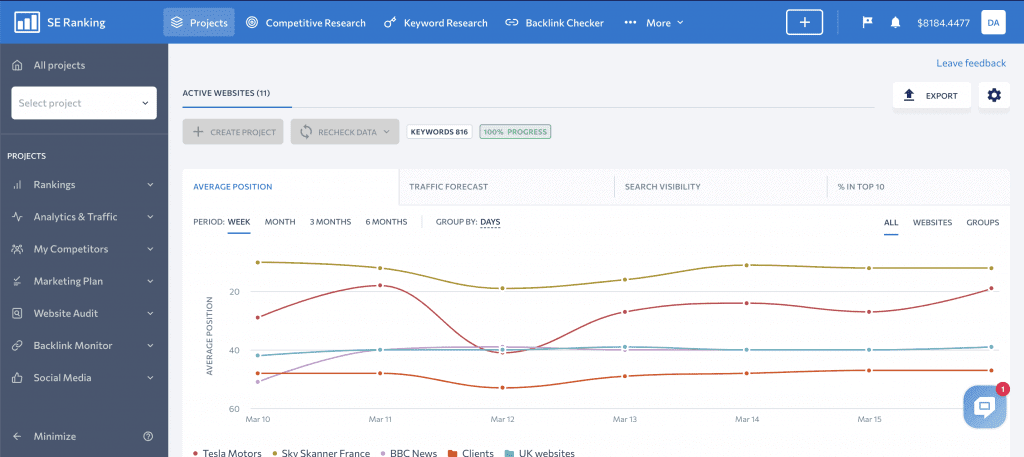 SE Ranking is a cloud-based platform for SEO and online marketing professionals that provides a complete set of tools for a comprehensive site audit, competitor analysis, website ranking, keyword suggestion and grouping, backlink monitoring, automated professional reporting, and much more.
This tool is very complete for any digital marketer for your SEO strategy. Some of the best features included are:
In-depth website audit
Backlink checking & monitoring.
Page Changes Monitoring.
On-Page SEO Checker.
Keyword Research.
Marketing Plan.
As you can see, it provides you with every single tool you need to improve your SEO content.
From all the AI SEO Software in this list, personally, I think SE Ranking is one of the most complete. You can read a complete SE Ranking review here.
WordLift is the first semantic SEO tool that uses natural language processing and linked data publishing for automating structured data markup. It analyzes articles and transforms text into machine-friendly content to improve audience engagement and increase the website's organic traffic.
Basically, it helps you speak Google's language;
WordLift suggests facts and information to provide your readers with meaningful context and adds a semantic markup to your text to help machines fully understand your website.
WordLift helps you enrich your content with images and powerful data visualizations, such as maps and timelines, to engage your readers with an immersive user experience.
Adding relevant recommendations, WordLift allows your readers to dig deeper into your content, and you can use your data to find new ways to distribute and monetize your content.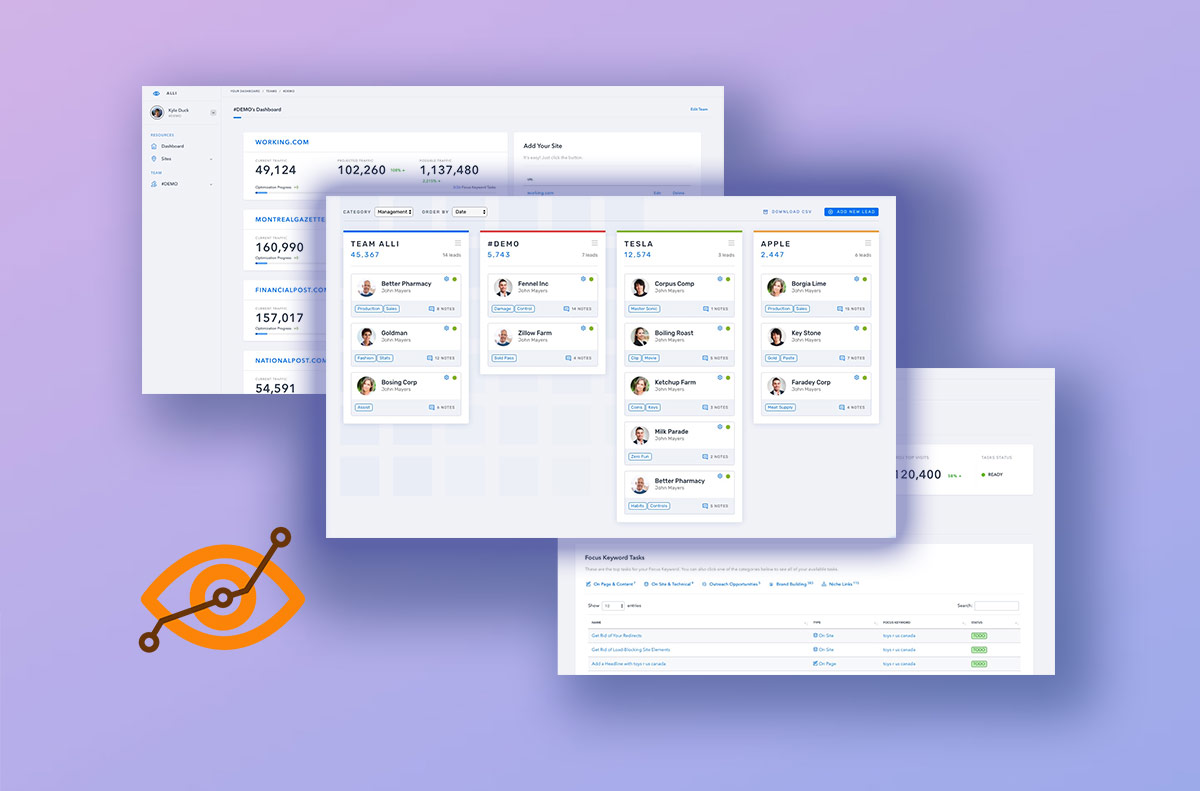 Alli AI is Artificial Intelligence for SEO. With Alli, you can optimize your site, do keyword research, track your rankings, audit your site and build backlinks all under one roof. Some of the features that make ALLI a great AI SEO software solution are:
Works with any CMS.
Easy to install and to use.
Immediate SEO optimizations.
Real-time SEO suggestions
Change recommendations.
Self-adjust to SEO algorithm changes.
With these features, ALLI is aimed at both experienced and inexperienced users.

Pave AI is an Artificial Intelligence-based tool that turns Google Analytics data into helpful insights to improve your everyday marketing strategy. Its algorithm integrates marketing data from different platforms and analyzes them, making it easy to understand what works and what can be improved.
Pave AI considers your goals, whether it's to increase revenue on an e-commerce site or engagement on a blog, and personalizes your report for you.
Their software helps you identify the most important insights across all marketing channels and get data-driven recommendations on how to increase your ROI.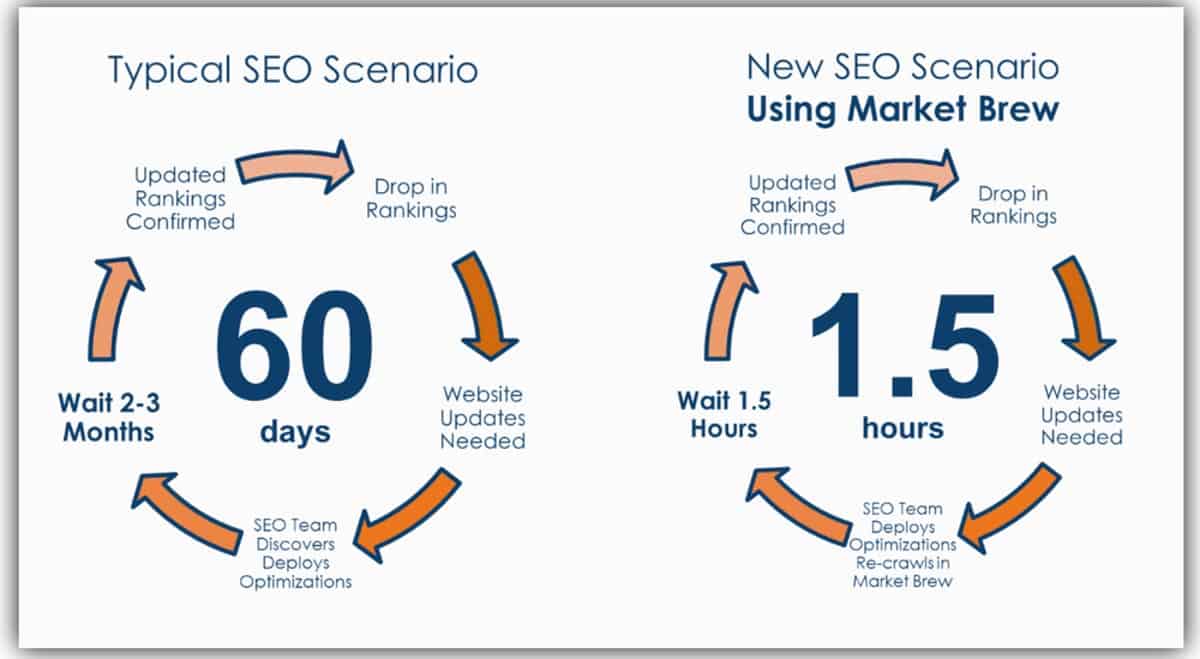 Marketbrew is an AI-powered web-based platform used to test and predict ranking success.
This tool provides the user with a precise description of what distinguishes the first result from the second one- From metadata to site structure. This can dramatically decrease the time a user needs to analyze their SEO results.
You can observe competitor's SEO stats and see how various changes impact their SEO KPIs. It can help you identify the specific reasons why you're not ranking higher.
MarketBrew also conveniently provides the user with exact ways to resolve issues with your ranking.
I personally like this software solution because it provides a great visual explanation to improve your site.
BrightEdge content is an AI-powered content marketing solution for driving marketing performance.
It provides one of the most powerful SEO research solutions to prioritize and formulate successful search and content strategies. BrightEdgeInsights gives you the confidence that you are focusing on the things that will drive the biggest impact. It prioritizes all of the actions in one simple feed, placing the most critical actions at the top.
Instead of spending time on data extraction, manipulation, and syntheses, you will get back hours each week by taking recommended actions that provide quick wins in SEO.
This software will help you accelerate the time to get results and ROI- The AI-powered software will quickly provide you with a list of prioritized optimizations.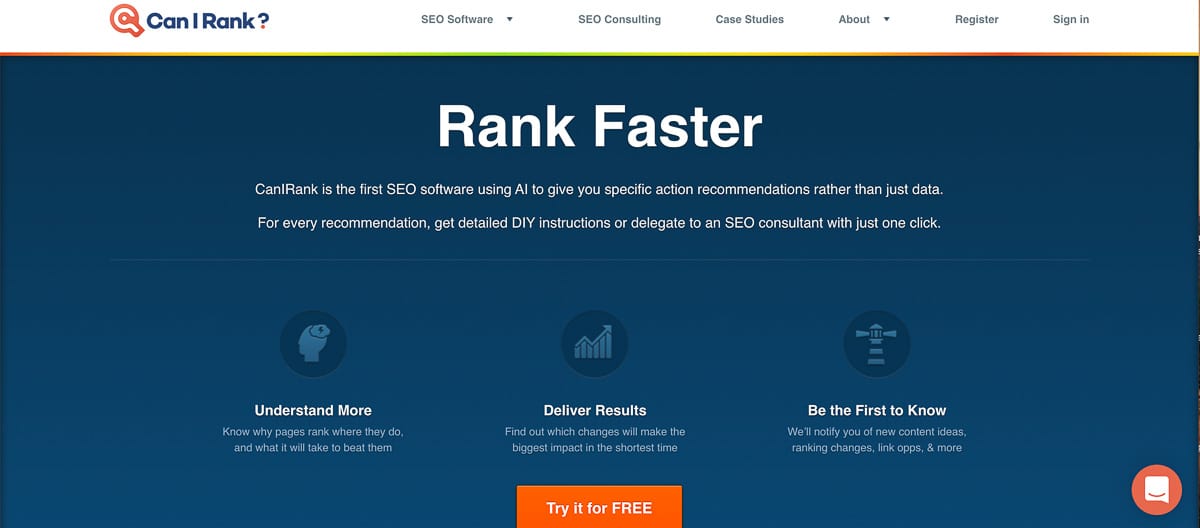 Can I Rank is an online marketing tool based on a simple concept- data-driven recommendations from the opportunity to execution.
This AI SEO software finds keywords you can rank for, links you can get, & on-page optimizations to increase rankings. For every recommendation, you will get detailed instructions aimed to improve your rankings.
Some of the main features they offer are:
Link building
Keyword research
Keyword difficulty
Competitor's analysis
CanIRank helps you find keywords where your site is already competitive to achieve results quickly. This AI SEO software can also calculate a Keyword ROI Score to find the best balance between ranking difficulty and keyword value specifically for your website.
Lastly, its SERP Analysis tool collects hundreds of data points for every keyword, including leading paid SEO tools such as Moz and SEMRush. Then, it will notify you of any changes you need to pay attention to, like rank changes, competitors on the move, or new link opportunities.

Diib is another popular AI SEO Software aimed to grow your business presence. It tells the user in plain English what is going on with the website.
It starts by analyzing your website and identifying the biggest opportunities to grow your traffic and sales.
Diib automated tools include:
Answer Engine. This will scan your site and develop a customized growth plan by simply giving you the answers.
Diib analytics. Data measure, and see how you stack up in your industry.
Progress tracker. To Keep track of all your efforts.
Learning Library. With tips, tools, and tutorials.
Finally, Diib helps you find the right keywords to rank. And if a ranking drops, you will get a notification with suggestions on how to fix it.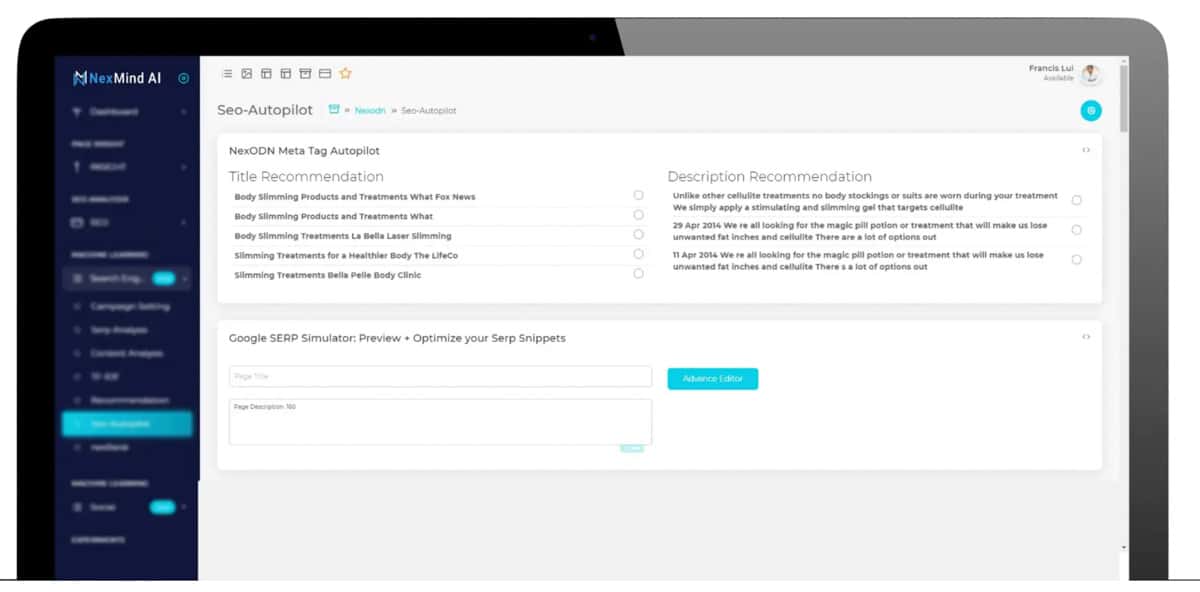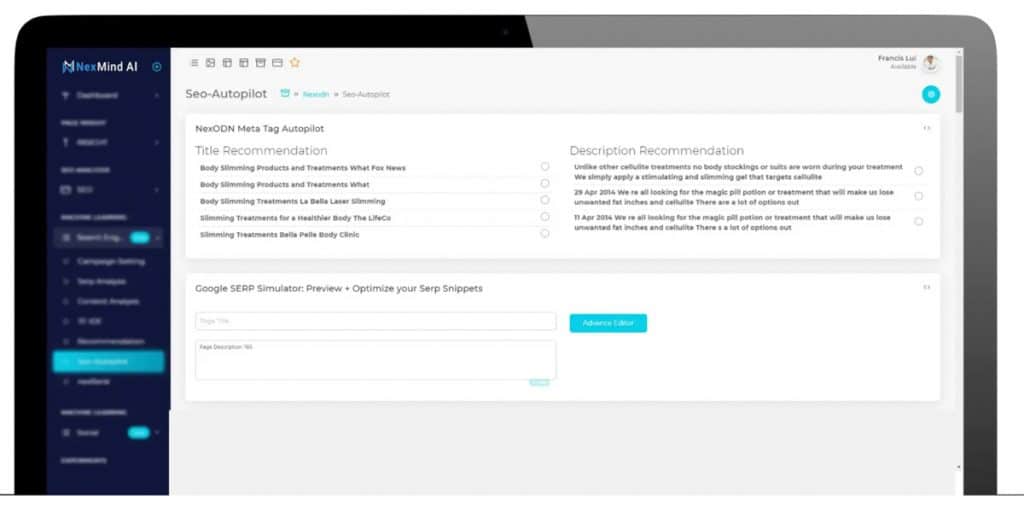 NexODN is an SEO expert system employing various machine learning and deep algorithm to understand exactly what you have to include in your SEO strategy and grow your business, unlike traditional Manual guesswork SEO.
NexODN provides machine learning recommendations on title tags, meta descriptions, headers, paragraph headers, text content, internal linkages, and even the backlink recommendations based on top-ranking competitors.
Also, some of the benefits you can get by using this tool are:
Discover the competitive term or keywords you want to rank – Rank Them For Your Business.
Reveal highly relevant & profitable topics (keywords and terms), include them in your content – Optimize Your Content Creation.
Reach the right prospects with the right message at the right time(relevance & intent) – Get More Qualified Traffic & Leads.
Monitor your SEO performance with comprehensive, real-time rank tracking – Get An Insightful Overview of Your Progress.
You might want to read:
Bonus Tip- Boost Your Rankings With Link Building.
Are many who think that you can rank number 1 on Google if your off-page and on-page SEO is perfect, but that is hardly the case. The truth is that many factors impact your SEO and you will also need quality backlinks if you want to have a serious chance. on getting to page one, not to mention to be at the top.
Building backlinks should be part of your SEO campaign, but this can be a very tedious process. That is the reason why many people just pass.
But the good news is that there is an easy way of doing it if you have some budget, and you won't need much: RhinoRank.
Rhino Rank has earned a solid reputation for getting their links on sites with traffic, which is the hardest thing for competitors to achieve. And they can do it for you at a very affordable price that will certainly have an impact on your SEO strategy.
For instance, I submitted a link for my article "profitable niches":


And only one month later my ranking 49 positions! And it is still going up.

I have used this service several times and I can guarantee you it is safe to use and you will see results with time. So if you are serious about improving your rankings I'd suggest you give it a try and you'll see it works.
AI SEO Softwares- Conclusion
In conclusion, AI SEO software is a great resource to optimize your content and achieve better search engine results.
The main advantage they offer is that you don't need to know about SEO to start taking advantage of them. Also, SEO traffic is always more powerful than social media because it helps you drive targeted visitors.
Lastly, these SEO tools are a necessary investment for any serious digital marketer who needs to grow their online presence. Most of the tools in this list provide a free trial. Moreover, they will make a positive impact on your niche keyword research strategy.
Now is your turn!
Are you planning on using AI SEO software to rank higher on Google?
Leave a comment below with your answer.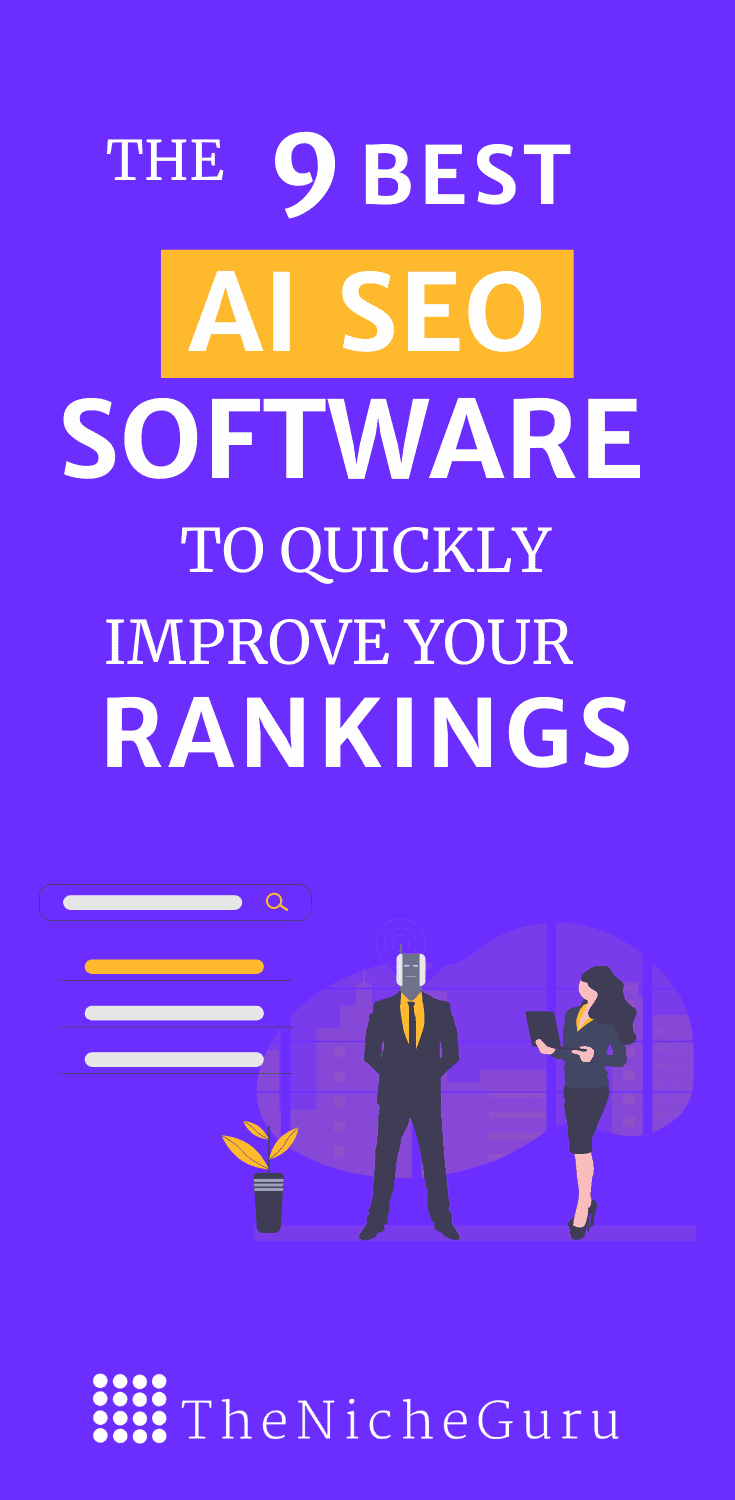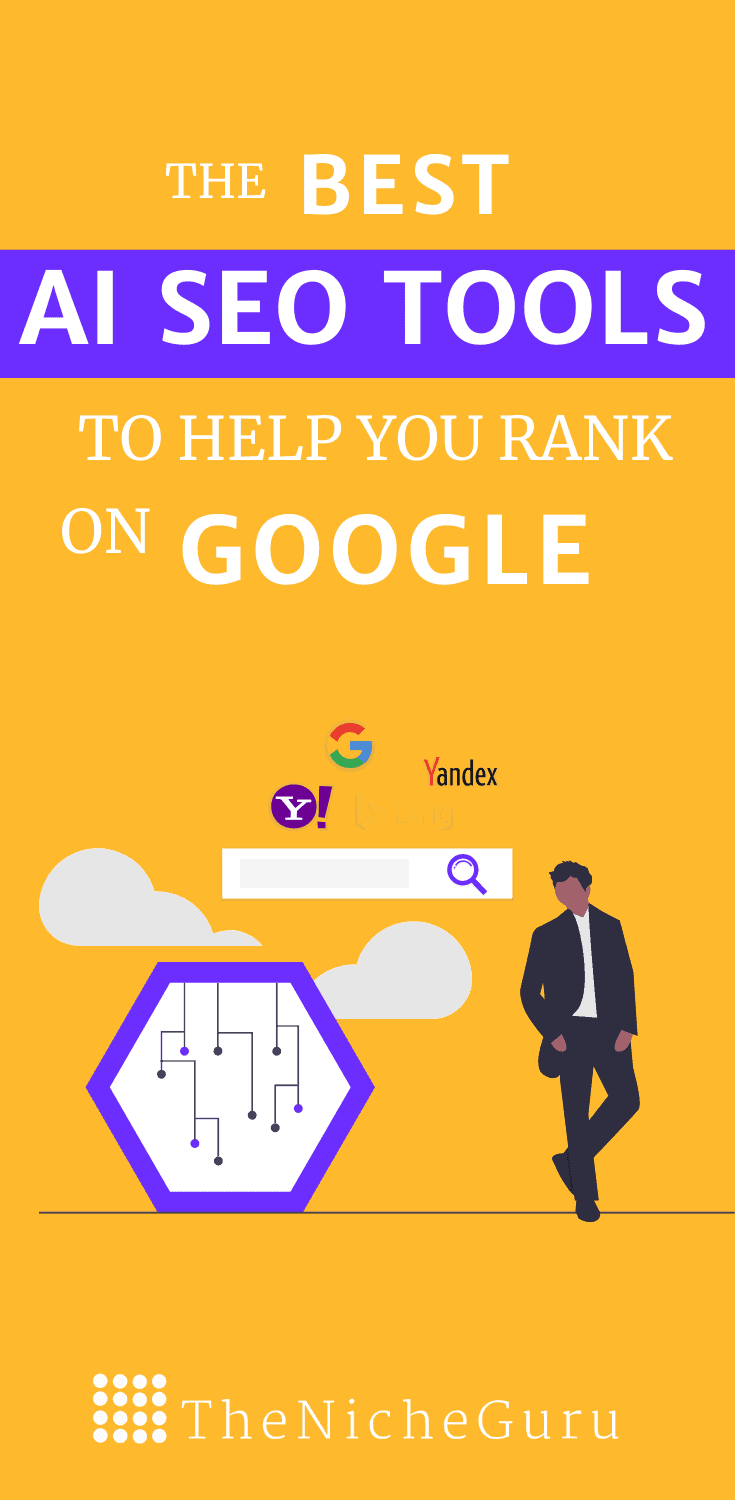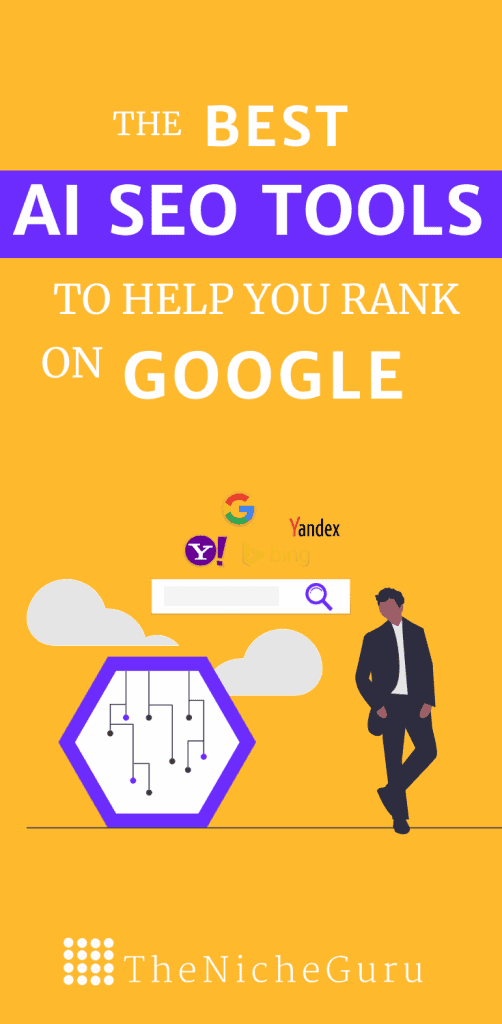 Don't forget to share this article!
RELATED CONTENT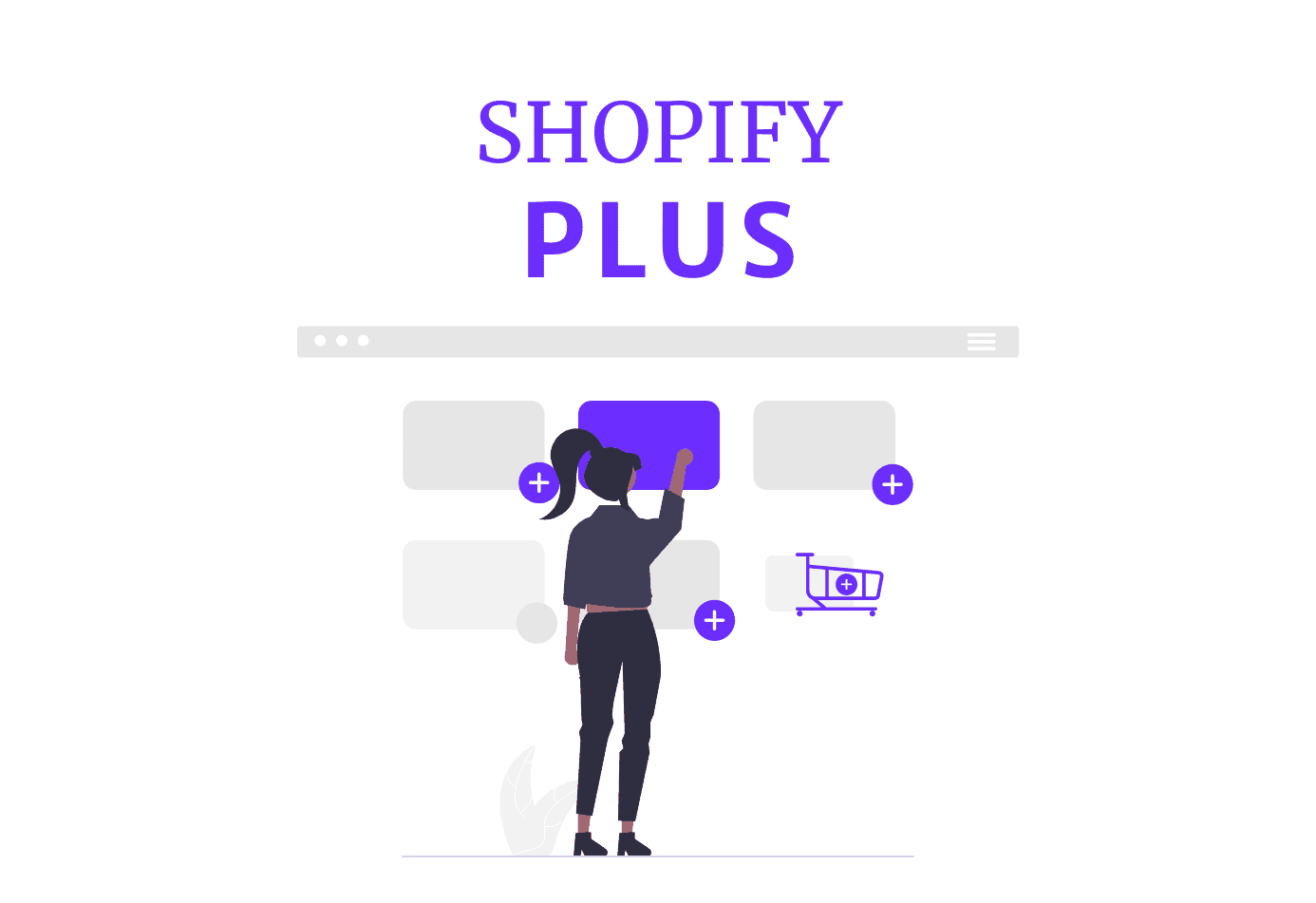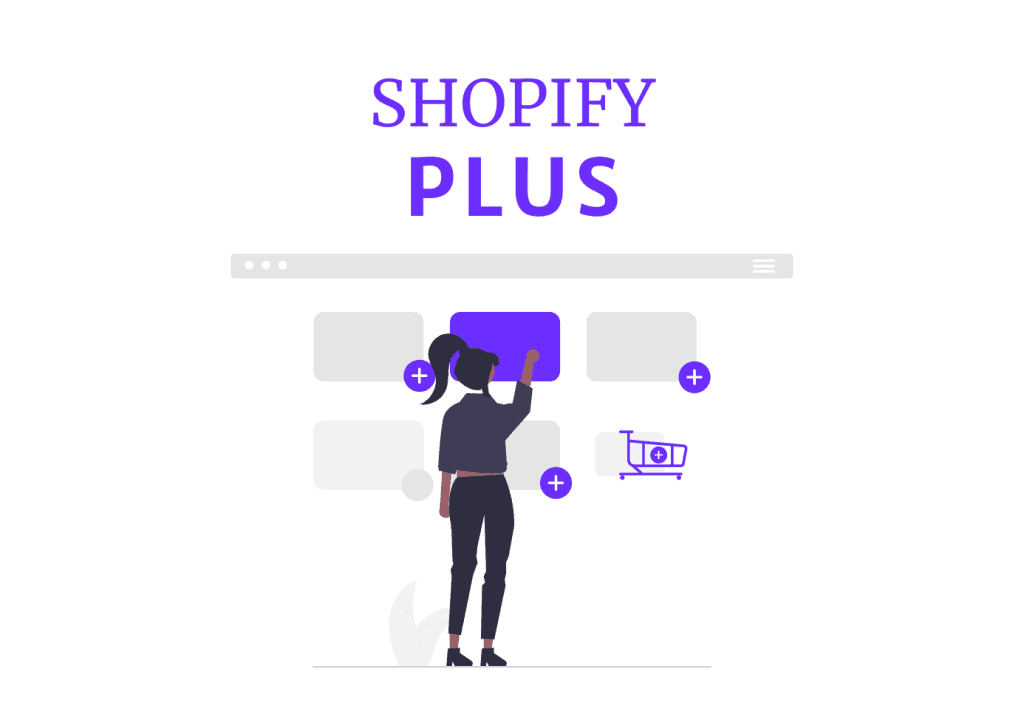 If you're an entrepreneur, then there's a good chance you've heard of Shopify. It's one…